Mystery of blue rocks challenges views about art
By Curtis Riggs | March 18, 2009
CAVE CREEK/CAREFREE – The Mystery of the Blue Rocks public "art installations," which have been ongoing the last couple of years play out like a Nancy Drew mystery.

Carefree winter resident Karen Dunn, who splits her time between Colorado and Carefree, began placing the smooth river stones, which she gets from Foothills Granite in Cave Creek, around town three years ago. She paints the rocks blue, pink and other vibrant colors after she gets them.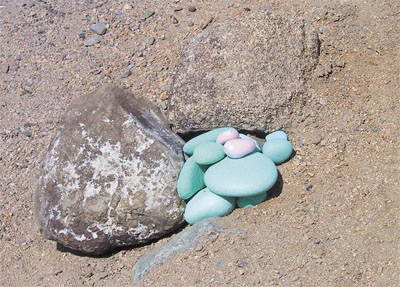 Dunn calls the project an "outside of the box work of art."
People in both Desert Foothills communities were talking about seeing the rocks in road medians, on top of cactuses and on windowsills. The main question last year as well as this year is whether people are supposed to pick them up and take them home or leave them where they found them.

Dunn started the "installations" to get people to think about new types of art and alternative ways to view art. The "monumental task" about her venture is getting the public to understand the art project is not just another Easter egg hunt. The "installations" are often mistaken for Easter eggs because of their bright colors and the time of year Dunn puts them out. In order to keep the "installations" fresh every year, she only places them between Valentine's Day and Easter.

"There is a renewal and freshness that comes with the springtime," she said.
"So much of modern art is about shock value and almost terrorizing to people," she said. The "installations," while not a Pollyanna approach to art, appeal to everyone.
"I didn't really have an agenda, I just put them out there to see what the response would be," she said.

Last year, she numbered the rocks she placed around the community. She put out 1,795 of them. This year, she doubled that amount.

To keep the project fresh this year, she wrote random one-word messages, mostly verbs, on this year's rocks. "They are designed to get people to think," she said.

"The whole project is about making people aware of what is around us," she said.
She wonders if the "installations" make her like a modern-day Johnny Appleseed.

"They go wherever I go," she said. She has placed them in Hawaii and also in the eastern United States

Photo: By Curtis Rigg s. Some of the mystery about the blue rocks, which have shown up, throughout town the last couple of years, has been solved. The "installations" placed by Carefree resident Karen Dunn are designed to get people to look at art in new ways.

Wildflower Hikes offered to enjoy the season

SCOTTSDALE – McDowell Sonoran Conservancy (MSC) will once again provide detailed information to the public about what's blooming where in the McDowell Sonoran Preserve through our Wildflower Watch, providing a comprehensive listing of bloom locations and offering easy access to the trails where they are blooming.

Last year we mounted our most extensive Wildflower Watch to date, getting wildflower reports from volunteers that we identified and augmented with pictures. The resulting list of wildflowers with pictures and locations were posted on the MSC website throughout the spring, with several notable organizations like Arizona Game & Fish and the Scottsdale Convention and Visitors Bureau putting links on their websites to our wildflower postings.

For this spring, we're introducing a more convenient format that builds on all the work of last year. It will list wildflowers and other flowering plants by bloom color, show in a matrix where they're blooming (trailheads and trails), and have links to access color photographs and other information about each plant. As before, we plan to update the matrix weekly based on reports from the field. The MSC Wildflower Watch can be found at www.mcdowell sonoran.org/stewards/WildflowerWatch.htm.

So what can we expect this year? First, we will see at least a few "reliable" wildflower blooms as we do every spring. These include perennial shrubs like fairy duster, brittlebush, ocotillo, globe mallow, and chuparosa as well as annual wildflowers like scorpionweed, fiddleneck, desert marigold, blue dicks, lupine, desert chicory, and even the much-admired poppy. We expect an excellent bloom since there are a lot of wildflower seeds in the upper soil layer from last year and from the great spring 2005 bloom.

In March and April, MSC will offer free public guided hikes Saturdays and Sundays in the Preserve for public enjoyment of the expected wildflowers. Trained Steward hike leaders will share their passion about the McDowell Sonoran Preserve, and the hidden treasures of the McDowell Mountains and surrounding Sonoran Desert. All hikes begin at 8 a.m. For more information visit www. mcdowellsonoran.org.
Caring Corps event to feature "Neighbors Helping Neighbors"
By Curtis Riggs | March 18, 2009
Great food, art and chance to win $20,000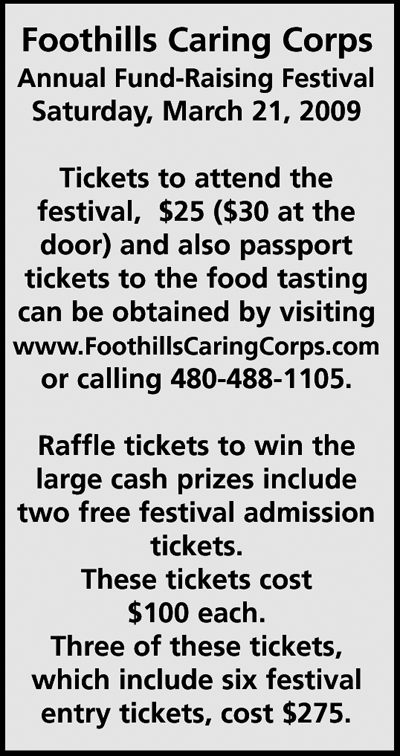 CAREFREE –Neighbors will be coming together to help each other in downtown Carefree Saturday at the Foothills Caring Corps annual fund-raising festival.

The Caring Corps festival, which is the local non-profit agency's primary fund-raiser of the year, will feature great food, fantastic art and artists and four chances to win $20,000. While the Caring Corps and its efforts to allow senior citizens to remain in their own homes longer will be in the spotlight at the festival so will Carefree's new Gas Lamp District, which was completed last year to help attract more tourists to the downtown Easy Street area.

Ten top-of-the-line local eateries, including Cartwright's, Carefree Station and Giordano's, will be serving their signature dishes at the Taste of the Foothills segment of the festival. Passports to sample all of the fine foods offered by participating restaurants will be available at the festival, which will run from 2 to 6 p.m. on Saturday, March 21.

Tickets to attend the festival, for the four chances to win the $20,000, the $25 tickets ($30 at the door) and also passport tickets to the food tasting can be obtained by visiting www.FoothillsCaringCorps.com or calling 480-488-1105.
Raffle tickets to win the large cash prizes include two free festival admission tickets. These tickets cost $100 a piece. Three of these tickets, which include six festival entry tickets, cost $275.

Cave Creek glass artist Carole Perry, who is a volunteer driver for the Caring Corps in the summer, organized the Artists Showcase for the festival, which will be held in the Town Center across from the English Rose Tea Room. There will be 16 artists participating in the showcase. She focused on getting unusual and lesser-known artists so festival attendees will be surprised by what they see.

"Everybody was willing to do it because they know how the Foothills Caring Corps enriches life up here," she said.

The artists participating in the showcase will include Ann Otis, a New River monotype printmaker, local pastel artist Julia Patterson, who is best known for her skills as a graphic artist, and Joan La Moure, who creates one-of-a-kind silk scarves. Local batik artist Katalin Ehling and jewelry maker Joan Gould, who used to own Quantum Art in Cave Creek, along with Perry could be some of the better-known local artists at the showcase.

Downtown shops and art galleries will have artists at their establishments on Saturday afternoon as well.

Renowned Elvis impersonator Charlie Franks will be the headline entertainment at the festival. He will perform from 3 to 4 p.m. in the Town Center amphitheater.

Local acrylic artist Lance Headlee will paint a custom painting within 35 minutes in another popular segment of the festival. His painting will be raffled off when completed.
Headlee's, a painting by local favorite J.D. Challenger, airline tickets, golf packages and a pair of blue suede shoes in honor of the downtown Carefree Elvis sighting will be available at the live auction, which will be held after 4 p.m.

The Caring Corps, which has seen the need for local services increase 200 percent in the last three years, needs to raise significant funds on Saturday to be able to get two new vans, one which will be equipped with a wheelchair lift, and to help finance its move to the new YMCA community center at Carefree Highway and 60th Street this fall.

The Caring Corps has the motto of "Neighbors Helping Neighbors" to describe its mission and what it does.

Caring Corps executive Director Debbra Determan said Saturday's festival also has a

"Neighbors Helping Neighbors" approach.

"The merchants, artists and the town of Carefree are working together to uplift the Foothills Caring Corps," she said.