'Shadowbox Players' do West Side Story proud!
By Pete Mohr | March 18, 2009
Gary Wykoff-directed orchestra provides stirring musical accompaniment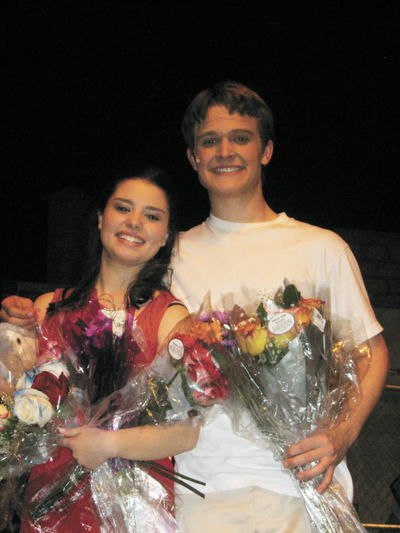 CCUSD – Falcon fans reading this may ask my boss, Publisher and Editor Don Sorchych, "Why was your sports reporter attending the Saturday, March 7, performance of West Side Story?" My answer: I am beyond energized by watching talented high school boys and girls perform – whether Kyle Watkins, in full stride, hauling in a perfect deep throw from Phillip Aholt for the 2006 State Champion Falcons, or Shelby Rose and Michael Schauble, as Maria and Tony, bringing tears to my eyes (literally) with their delicate harmonies on "One Hand, One Heart," among the most moving duets in Broadway history.

West Side Story, today, remains one of the most provocative (and evocative) works in the history of musical theater. This challenging show would be an ambitious undertaking for any theater group (and orchestra) – much less a high school troupe. Congratulations to Director Linda Garvin and Orchestra Director Gary Wykoff for having the professional moxie (and confidence in their young people) to say, "Let's do it!" And did they ever!

Close behind go plaudits to Vocal Music Director Kevin Glenn and Choreographers Liz Lincoln, Lori Hart and Elissa Ericson. Their dancers performed with near-professionalism and brought down the house more than once, especially the comic relief number "Gee, Officer Krupke!" which delightedly featured CSHS Honors Algebra and A.P. Calculus teacher Russ Del Grosso as the beleagured Krupke, trying his damnedest to keep peace between rival street gangs, The Jets and The Sharks. The audience loved 'im!

As most readers know, I'm rarely at a loss for words; but I still can't find the superlatives to hail the performances of Shelby Rose as Maria and Michael Schauble as Tony, the show's culture-crossed "first love" protagonists. What a combination of vocal power (Miss Rose) and energy (Mr. Schauble)!

I had the pleasure of meeting both of them after the show. Shelby Rose's almost diminutive stature surprised me. How could such plaintiveness and emotion come forth from such a small frame?! I silently dubbed her the "Linda Ronstadt" of the Shadowbox Players. The boundless energy of Schauble's stage presence as he sang "Something's Coming!" made credible the exhilaration of young romance between a Puerto Rican girl and an Anglo boy. Good luck to them as they pursue their theatrical dreams.

I suppose my greatest enjoyment of the evening came as I took the accompanying photo from the foot of the stage. Director Garvin had assembled her cast and stage crew for a congratulatory critique of their final performance. I'm estimating there were at least 75 young persons seated on-stage. The pride and satisfaction that deservedly beamed from their faces was beyond wonderful to witness!

In 1957 I thrilled to the original cast performance of West Side Story. Congratulations to every person who contributed to the dramatic, musical and production success of West Side Story, Shadowbox Players edition. I'm humbled to have lived 52 more years to equally enjoy yours! Thank you all for an unforgettable evening.

And to you, Linda Garvin: you were right on in mid-November 2006, "There are a lot of talented kids at Cactus Shadows." I hope each of those "talented kids" is already aware they've created a lifetime memory.

Photo: By Pete Mohr, Shelby Rose & Michael Schauble
Amber Underdown, Gracie Goulder pace Softball's win in home opener
By Pete Mohr | March 18, 2009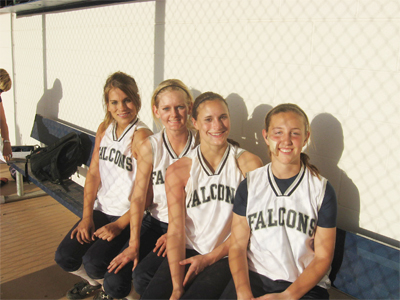 Photo: By Pete Mohr, From left: Sophomore Amber Underdown pitched a two-hitter, striking out five; Senior 1st baseman Tia Jorde's throw to nail a baserunner at 3rd was the defensive "Play of the Game"; Soph Gracie Goulder was flawless at shortstop and scored the Lady Falcons' winning run in the bottom of the 7th; and SO Elyssa Hartsock bounced a single over 3rd to drive in Goulder, as the LadyBirds came from behind to defeat Higley, 3-2, in their home opener, Wed., March 11.

Spinasanta's hat trick leads "Frozens" into semifinals
By Pete Mohr | March 18, 2009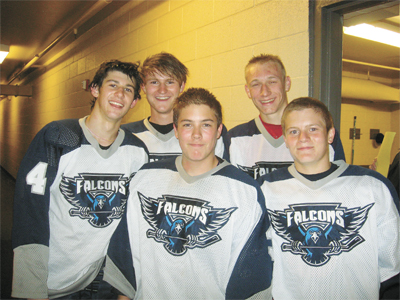 From l-r: Nick Spinasanta's hat trick (three goals, one "short-handed"), Goaltender Scott Moggel's 31 saves ("Phenomenal!": Acting Coach Joel Van Conant), Trevor Smith (2nd period goal) and (back, from left) Alternate Captain Ryan Mohr (3rd period goal; strong penalty killing), Mitchell Lyons (2nd period goal) sparked the "Frozen Falcons" into Varsity "B"

Playoff Semifinals (vs. Boulder Creek, Saturday, March 21, Alltel Ice Den, 7:55 p.m.) with a 6-3 win over Sandra Day O'Connor's Eagles at Alltel Ice Den, Sunday, March 15. "Frozens" led wire-to-wire. Unfor-tunately, in the game's final minute, the frustrated Eagles turned nasty; but to their credit, the "Frozens" kept their cool. Good luck, Falcon skaters!

~ Pete Mohr