My View
By Don Sorchych | March 4, 2009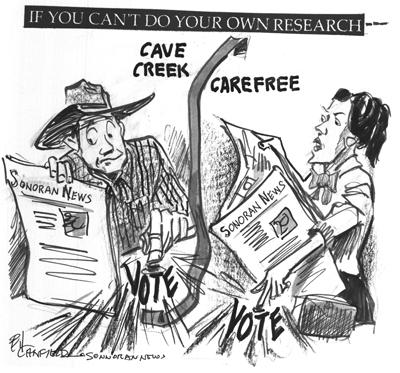 Election time!

As ranchers would say it is time for the nut cuttin', or the election is just around the corner. Elections for Carefree and Cave Creek are March 10, so this is the last issue before you see tentative results.

Carefree makes it easy to vote and has only mail in or drop off ballots while Cave Creek has an election day at town hall in addition to early voting and mail-in ballots.

Both towns face substantial challenges. Nobody has a crystal ball and the future is more than clouded. It is virtually impossible to plan but towns need to be flexible and assume the worst. Obama's stimulus will have no, little or unpredictable results.

While Sonoran News bends over backwards to be fair and its Emcee, Shelby Wilson, is unaligned the Arizona Republic sent Robert Ledger to emcee their forums and both were questionable.

Carefree Mayor Wayne Fulcher asked the Scottsdale Republic to conduct a forum. Ledger threw softballs during his one and a half hours. He didn't ask Fulcher why he didn't recognize the downturn but he sure asked the Cave Creek Council specific questions.
Not surprisingly, the Republic said the public should stand pat and vote in the incumbents. They gave a pat on the back to Doug Stavoe but did not mention Peter Koteas or Susan Vanic.

Sonoran News urges votes for Coady, Stavoe and Koteas. We still advocate no votes for Mayor Wayne Fulcher and Vice Mayor Lloyd Meyer.

We incorrectly wrote Meyer was against Quiet Skies; he was, in fact, for it. Fulcher was against it but doubled the amount Carefree contributed.

I noted in several editions of the Scottsdale Republic side-by-side quarter-page advertisements for the Gemmill Tea Room and a Town of Carefree "Free Concert."
Since Councilman Bob Gemmill is both an owner of the Tea Room and the head of marketing for Carefree is that a conflict of interest? The Carefree ad is for paid by taxpayers.

An official of Carefree said the Carefree ad was probably placed by Chamber Executive Director Ian Ellison. It probably was, but he doesn't place ads without direction from town hall. Who other than the marketing appointee?

Let's not forget that Ellison allegedly urged Cave Creek Councilman Dick Esser to run against Mayor Vincent Francia, while assuring funds from Carefree sources.
And why would anyone advertise in the Republic when Sonoran News delivers 2500 papers to the Carefree post office while the Republic delivers 571?

Ledger pimped for the staggered four-year terms and I hope the public ignores his weak arguments. By all means maintain the two year terms. I hope the public pressures the council for direct vote of the mayor - it is long overdue.

Carefree Candidate Doug Stavoe published a guest editorial last week. He made a decimal mistake and wrote billions where he meant millions and we have a correction in this issue.
But at taxpayer expense Carefree COINS stated: "The information provided by Mr. Stavoe is not only untrue it is reckless and irresponsible." Linda Bentley's front page article deals with this issue. which appears to be in violation of statute. According to Carefree town sources it was developed by Fulcher. At least one complaint has been filed with the Attorney General's Office.

Not surprisingly Anna "Snoop" Marsolo (she does not live in Cave Creek) let out a whoop and clapped while saying, at the Republic Cave Creek forum, that Ledger asked "her" question. That would probably be the multipart question, where Ledger asked the council whether Town Manager Usama Abujbarah was doing a good job and if he caught the downturn early enough. Right out of Councilwoman Grace Meeth's play book.
Dark side politics again!

While Bob Coady's occasional vote against Carefree's spending ways are appropriate, Meeth's lone positions are untenable.

In her recent flyer, Meeth, mentions "closed door meeting" twice. What closed door meetings? The only prohibition to such meetings is when a majority of council is present and I can assure you that does not happen in Cave Creek.

That is what is called "reckless and irresponsible." Note there have been no instances cited.
Meeth's dark side buddy Terry Zerkle has filed complaints. I have published two in which two agencies have defended Cave Creek's actions as appropriate.

She is adamantly opposed to "Big Box" development when we already have a lesson from kicking Home Depot out of town only to have Phoenix benefit while we pay the price of its close location.

I am guilty of that and have learned an important lesson.

Wal-Mart is our way out of economic malaise.

Her goal is to eliminate the finest Town Manager this town has ever had.
And don't forget she chose to skip the eighth forum held by Sonoran News in favor of the Republic, where her friends reside. No one has ever complained our forums weren't fair and above board. She still hasn't answered our phone call to explain her absence.

Can anyone say annexation, a functioning water company and a developing sewer plant? How about quick response to economic issues that has blind- sided every municipality in the Valley?

Thank God flip flopper Gil Lopez has retired.

Among the remaining incumbents, Kim Brennan should go run her real estate interests and her restaurant. She is much too involved in local matters to sit as a council person. Anyone on council, including Brennan and Meeth, should know the rules and both were involved in violations of open meetings laws.

The Republic's choices won't be made until it is too late to comment in this newspaper but they rode into town with an agenda that smells like a collection of Meeth look alikes.
The Republic editor said he would have trouble choosing six to endorse.
Really?

To me it is clear. Vote for Ernie Bunch, Jim Bruce, Dick Esser, Steve LaMar, Thomas McGuire and Ralph Mozilo.

And don't forget to vote for Mayor Vincent Francia, even though he is unopposed.

All of those mentioned are experienced, thoughtful and will lead the town appropriately to deal with the challenges facing the town.