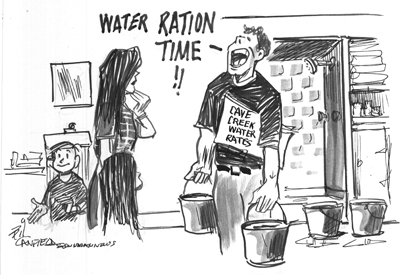 Comrade Meeth
Ernie Bunch | Cave Creek Councilman

I received Grace Meeth's mailer this week and am completely astounded by her statements.

I understand how it is she continues to be re-elected. It is ingrained in Americans to have a distrust of the Government at any level, and she plays to this trait.

I have served for nearly 2 terms now and am amazed by her antics.
She habitually votes against "Final Plats" and this is scary.

If 4 council members were to deny a "Final Plat" the only question left is how large a check the town writes to the developer. Does she want to lose yet another lawsuit?

She stated in a recent Forum she didn't care about Private Property Rights; she cared about Community rights. Well Comrade Meeth, wrong country!

She also blames the current council for the worldwide financial crisis. Here's a News Flash: Cave Creek didn't cause the Global Financial Crisis; we're victims too.

She voted to buy the water company with the rest of us, but does not support the improvements to get it up and running efficiently.

We can't recall a bullet!

Remember our purpose, Grace? It's Health, Safety, and Welfare.

Secret Meetings?? If they're happening they must really be secret, because nobody but conspiracy theorists knows about them.

She says we're reactive. Well, that may be true. We have to react because previous opportunities were missed. Remember Home Depot, Rawhide, and a Scripps-type aquarium? Glendale got the aquarium, which would have made us more eclectic, and their businesses are expecting another 35 million dollars in trade (most of it taxable). She supports open space, trails, streetscape and other programs, but where does the money come from for these amenities?

No shared information? Well if she hadn't practiced self-ostracization things would be easier for her.

She can still get information, but it is her interpretive skills that are suspect. Misinterpretation, misinformation, and fear are her tools. I could go on and on but I think you get the picture.

So the question is, do the voters of Cave Creek want to move forward and survive the current Global Financial Crisis or muddle around in the past?

Back to Top

Thomas McGuire for council
Mike O'Rourke | Cave Creek

In the upcoming Cave Creek election I am supporting Thomas McGuire's candidacy for re-election to the town council. Tom is very active in the community, keeping him in touch with his constituents and the needs of the town. He supports the 'open space' and rural environment we want to preserve. Tom fully understands and will support the short term and long term plans to make Cave Creek fiscally sound once again. His knowledge, experience and integrity will benefit the newly elected members of the town council.

Back to Top
Dick Esser for town council
Jim Caldwell | Cave Creek

I have known Dick Esser for several years. He has always shown me to be truthful and forthcoming with respect to all of my questions regarding issue of Cave Creek. More often than not, he has explained his vote to my satisfaction. I respect that he thoroughly researches the issues before arriving at his vote.

His tenures with the state and county have given him a unique view of how everything works. Also, he has made enumerable contacts over the years with state and county governments.

He has earned your vote.
Vote Dick Esser for town council

Back to Top
In favor of Prop 404 and Bob Coady
N. Mark Freedman | E-mail

I want to thank the anonymous CARING ABOUT CARFREE PAC for their attack on Bob Coady in a mailer I received today. The fact the members of the PAC do not have the courage to disclose who they are leads me to believe that other Carefree councilman are involved. This fact and the attacks on Bob Coady have encouraged me to vote in favor of PROP 404 and Bob Coady in the upcoming election.

Back to Top
Gary Kiernan | Cave Creek
On Friday, the Arizona Republic published an article entitled "Merchants fear Walmart Plans." After reading the article we discover one merchant, Madelyn Hines of The Town Dump opposed it, and Bonnie Bishop of B Emporium thought it would be "convenient." So one wonders why the reporter found it necessary to use the plural in the title, when the singular would have been more accurate. Also, no disrespect intended, but the aforementioned Bonnie's store and residence are both in Scottsdale, so her opinion on a Cave Creek matter is relevant in what way?

The reporter mentions some very damning figures from a 12 year old study by economist, Kenneth Stone, stating "small towns lost up to 47% of their retail trade" in the vicinity of a Walmart. She neglected to mention what he also said, as I suppose it did not fit the narrative:

Kenneth Stone, in his study of the impact of WalMart on smaller cities, developed two primary conclusions that are worthy of note.

Businesses that sell goods or services other than what WalMart sells tend to experience higher sales because of the spillover effect. The additional traffic attracted to town by WalMart will shop at these stores.

Businesses that sell the same goods as WalMart tend to experience reductions in sales after WalMart opens.

I cannot think of any stores that sell products in the town that would directly compete with Walmart. We have a unique core of restaurants, novelty stores, thrift stores and furniture stores that will most likely benefit from the resulting increased traffic.

Finally, Ms. Hines states that Walmart could "spell trouble" for merchants. Ask yourself this. What causes more trouble? A store that openly allowed criminal aliens to congregate in its parking lot for years, and maybe even employs them [who knows], or one of the most successful retailers in the world contributing tax revenues to the town?

Incomplete Ballot
Ralph G. Smith | Cave Creek

I have received my early voting ballot for the forthcoming town election and unfortunately, I do not see any place for a vote a lot of us would like to make: NONE OF THE ABOVE.

Perhaps I am somewhat hasty since two or three of the candidates are not incumbents, but in thinking over the actions of the council during the past several years, I feel compelled to vent my spleen. Maybe the newcomers are different from the incumbents, but I have not seen anything to really indicate this.

I still grit my teeth and clench my fists every time I drive past the sidewalk in front of the old Cave Creek Store and the old Exxon Station, which is now somebody's "Greasy Eats" and owned by council member Kim Brennan. In the past few days I have tried to find out, from the town officials, just how much the town, which is now trying to cope with huge deficit, paid for this so-called "beautification." Our Town Manager, a very courteous and apparently conscientious man, couldn't tell me, right off hand, but he thought it was somewhere between $500,000 and $700,000. Later I was told that the bill was something over $500,000. The plat produced by Mr. Ian Cordwell, the Town Planning Director, showed that the 500 feet of sidewalk, with a few palo verde trees and other desert plants planted, cost the town about $1,000 PER FOOT. When was the last time you paid that much for cement work? Yet the town got bids, I am told, and all the planning people and the council looked at them and still entered into a contract, and the council UNANIMOUSLY agreed to the work at that exorbitant cost. Council Member Brennan did not recuse herself, even though, it appears to me that she had a direct conflict of interest, since the sidewalk goes right in from her "Greasy Eats" establishment.

The town's files show that the original bid, covering more of the town core, was for $788,000. The bid called for such things as $123,000 for "L. Sum-Demo" whatever that was to consist of; 29 "Surface Select Boulders" at $21,750; and $48,000 for two steel trellises," to go who-knows-where. When the matter came up for hearing, the council was unanimous in its voting, and in its fulsome (and use whichever alternate meaning of that word you choose) praise of the project. When the matter of a transfer of funds was considered, Mr. George Ross spoke in "public comment" saying "people came here to spend money." The council apparently decided to follow the trend. Mr. Esser agreed with Mr. Ross and commented, "It's nice to have money."

Then there is the matter of the new water storage tank. This is another example of the action of the council, which appears to seem more like the Keystone Kops every time they pass a new ordinance or approve a new project. I am told that the town officials and the council knew perfectly well before the project started that they would have to deal with the owner of the encroached land on the owner's terms. And who was the owner's real estate broker? None other than council member Kim Brennan. The council went ahead anyway. I am told they simply had to get the tank constructed or the town would run out of water. Well, duh, do you suppose that no one on the town staff or the mayor or any other of the number of planners have, could have foreseen that circumstance before the start of constructions and done something to save the town $1 million or so?

It has been several years since the town acquired, with great fanfare, Spur Cross Ranch. Unfortunately, the cheerleaders for the project did not realize, or did not pay attention to the fact that, while they had both physical and legal access, they could not utilize the physical access without getting an easement from the owner of the land. They decided, I am told, that to make the legal access passable, they would have to spend – $1 million or so, was it? – for grading, etc. Again, this fact was either unknown or ignored, so the town paid (about $1.2 million was it?) for a parking lot (the old Phoenix Mine) so the low-slung passenger vehicles could get to the "Ranch," and in the process they closed Spur Cross Road, so we can no longer drive into the National Forest. Now those of us who can no longer hike, nor ride horseback are shut out. The old miners who worked at Liscomb, which was the town there when the mine was working, never had these problems.

There are lots of other things to which the council paid either too much attention, or not enough – such as the silly zoning regulations which prohibited (and maybe still do) the planting of grass, or palm trees or Lord knows what all. I think it was our resident rug-weaver (what is her name??!) or the lady "activist" who teaches something-or-other at the local Middle School who engineered this. And we still have no municipal garbage service and no municipal fire protection, except by subscription to money making enterprises.

It pains me that the townspeople have not raised up in wrath to prevent some of this foolishness and/or neglect. Although I am way too old to care any more – I do. Cave Creek did not use to be such a hotbed of control freaks and power-seekers. I long for the "good old days," which were, in truth, just that.

Back to Top

Leadership among CC candidates

Terry Smith | Former Cave Creek Councilman

Where can we as Cave Creek residents look for leadership in this field of candidates?

Number one would be Ernie Bunch. His voting record shows he puts the town's interest first. Ernie has not been swayed by the dark side naysayers or crybabies that always say, "not in my back yard." Many times he has been a lone voice on the existing council.

I believe Ralph Mozilo is running because he knows the town needs leadership. Ralph is smart, knows finance, and brings with him his experience as a former council member and vice mayor. Having served on council with Ralph for two years I know if elected he will have the respect of the other council members and take a leadership role.

Steve LaMar is running for all the right reasons and he is well qualified. I don't know Steve as well as I know Ernie and Ralph, but after reading his letter in Sonoran News I believe if he is elected he is ready to jump to the top when it comes to leading this council in the right direction.

Cave Creek has always been a stand alone unique town in what seems a sea of sameness. On March 10th we will need to choose wisely or our Cave Creek may follow in the footsteps of the other Creek (Queen Creek) and become a member of the Village of Sameness.

Back to Top
Carefree, don't waste a single vote
John Traynor | Carefree

Every time I feel I have come to an understanding of the level to which the group of six puppet council members will stoop in their blatant effort to retain power, I'm stunned to discover I still have a lot to learn about human nature. Their poison PAC supporters are correct when they say experience counts; the experience of the 6 lock-step incumbents at misdirection, manipulation, and deception is unparalleled, even in Carefree's ever evolving, rabid election process. Cheerleaders, who could possibly have names like Matt, Hugh, Ralph, Ray, Ron, Gary, George, Larry, Moe, or even Curly, have turned an overtly American election process into a circus of vicious misstatements surrounded by fear, because they know fear sells. Remember, half truths are half lies.

In my opinion, Carefree voters should throw the six bums out of office; don't waste a vote on a single one of them. You don't have to vote for 7 candidates. Starting with their self chosen mayor, kick them out and elect some real talent, people who can bring a higher level of integrity to the office for which they 'volunteer' to serve you. While most councilmen have heavily financed their prior election, something for which they have criticized another candidate, Coady, Koteas, and Stavoe understand the meaning of representing residents instead of special interests, and they aren't trying to buy an election. Nor are they trying to retain their seats for 4 years, another insult the 6 incumbents are trying to pull over on voters this year.

Have you noticed how the lock-step-6 tried to focus your attention on the Coady initiative? It would allow voters to decide if they wish to elect their mayor. They have tacitly supported personal attacks against him, and have demeaned him because of the initiative language, which they have described as 'flawed.' One PAC which supports this unworthy group went a step further. Using the names of petition signers, which they obtained from the town, they mailed personalized letters which stopped just short of voter intimidation. Voters' making their own choices is the fundamental principal here, a principal the 6 incumbents have essentially trampled. They haven't said much about their grab for 4 year terms (Prop 403) because they don't want you to ask why. Continuity, cost, and the other flimsy justifications they offered were simply makeup, you know, the stuff often used to hide less desirable realities.

You can support the good works of your club, organization, or the community at large without giving up on reason. Don't succumb to the fear mongering or the misguided, unnecessary personal attacks directed at good people. Vote NO on Proposition 403, and vote your conscience, but only for those who deserve the opportunity to serve you.

Back to Top

Thank you
Linda Koteas | Carefree

I would like to thank you, Shari Jo and Don Sorchych, Sonoran News, Carefree Resort and Villas and Shelby Wilson for the time and effort you put forth for the Monday, February 16 Carefree Council forum. It takes a lot of work to coordinate a meeting like this one, which could very easily get out of hand. Thank you also, to the many citizens of Carefree that attended.

Back to Top

Mr. Coady is my pick
Mildred R. Horky | Carefree

I was born in Springfield, Mass. and lived with my parents in Longmeadow, Mass. until I was married. My husband and I lived and brought up my three children in Columbus, Ohio. We retired in Port Orange, Fla.

I have never seen or heard of such goings on as in Carefree, Ariz. Our United States Constitution gives us the right to vote for our mayor and believe me I go by the Constitution. Mr. Coady is my pick. He is smart.

Back to Top




Carefree Town Council
Gary Beier | Carefree

Imagine my dismay when I picked up my mail Saturday, and found the most blatant attempt at character assassination I have ever seen. The gutless PAC that purports to care about Carefree, and yet prints no name or return address on their junk, has gone too far. General Delivery – give me a break! Talk about cowardly. Messrs. Hayward, Nelson, and Hoch fit the description.

Having lived 5 months of each year in Carefree since 1996, and having 10 years experience in town government in a town the same size of Carefree, I cannot believe what the present council and the "good ol' boys" will stoop to.

The Kiwanis Club, of which I was a member for a year, until I saw how its purpose was to perpetuate the "ol' boys club" should revisit their purpose and get out of local politics.
Fulcher, the mayor, told me last year when I called him to express my opinion of an issue the town was considering, told me, and I quote, " If you don't vote here, I don't give a damn about what you say."

Bob Coady has always listened to opinions, whether from voting or non-voting citizens. His record of only 9 no votes out of 255 votes speaks well of his concern for the town. The distortion of his voting record by the gutless PAC is abominable. The rest of the council voted yes all 255 times. They all agree on everything??

While I don't always agree with Bob Coady, common sense, which is lacking on the current town council, says that he must have struck a nerve with his proposition. The objective is to have fairness on the council and have a mayor that the people, not the "good ol' boys" club elect.

One must also wonder why they want to extend their terms to four years. Most state laws and town ordinances require each member of a current council to stand for re-election before any change in term limits or salary increases are considered. Why doesn't Carefree?? What did Shakespeare say about "protesting too much?"

As a non-resident taxpayer and property owner in Carefree for almost 13 years, I encourage those who vote in Carefree to support proposition 404, allowing direct election of the mayor. Hopefully, those of us who do not vote here, but are affected and disturbed by the town council's antics, will encourage our neighbors and friends who do vote here, to support it also.

Back to Top


(Not) Caring For Carefree
Kevin Tully | Carefree

If the Caring about Carefree PAC really cared about Carefree they would cease and desist attempting to smear and misrepresent Councilman Coady's long service to our town. The shameless distortion of the facts not only discredits the PAC itself, but more importantly, it represents an embarrassment to our town. As Americans and Carefree residents, we are better than this.
The Caring about Carefree PAC should realize Carefree voters are well qualified to choose their representatives. They do not need or appreciate uninvited interference and propaganda from a few who seem to feel that they alone have exclusive access to the vision of Carefree's future.
Let's take the "high road" and show all the candidates the respect and tolerance they deserve.
Please be advised my family and I are offended by PAC junk mail that arrives in our mailbox and remove our name from your mailing list.
Thank you.

Back to Top