Water customers brace for first rate hike in over 20 years

By Linda Bentley | February 25, 2009
'It should be a criminal offense to raise rates by that amount'

CAVE CREEK – The Feb. 17 public hearing for the first reading of an ordinance to adopt the water advisory committee's recommendations to amend the town's water rates, to become effective April 13, attracted a standing-room-only crowd.
More...

Inaugural Out West Art Festival a great success

By Curtis Riggs | February 25, 2009

Stagecoach Village show pleases artists and organizers
CAVE CREEK - Any doubts Sonoran Arts League organizers had about the inaugural Out West Art Fest being a successful art festival evaporated within a few hours last Friday.

Festival chairwoman Michelle Russell was concerned about attracting large crowds of art buyers at the first-ever art show at Stagecoach Village because of the stagnant economy, competition with other festivals and the newness of the Stagecoach Village venue.
More...

Threat of sanctions confirms suspicion Obama has something to hide

By Linda Bentley | February 25, 2009
Active-duty officer says Obama is not his Commander in Chief or President, but a usurper to the office – an impostor

SACRAMENTO, CALIF. – Former U.S. Ambassador Alan Keyes, a 2008 presidential candidate for the American Independent Party, is a plaintiff in a lawsuit challenging President Barack Hussein Obama's constitutional eligibility to serve as president.
More...

Medical helicopter makes "hard" landing Sunday evening
By Curtis Riggs | February 25, 2009

Responding to motorcycle accident

CAVE CREEK – A medical emergency helicopter, which was responding to transport an injured motorcycle rider, made a "hard" landing into the parking lot at Flapjacks at the southeast corner of Cave Creek and Basin roads on Sunday evening.

The pilot of the helicopter was blinded by parking lot dirt, which was kicked up by the hovering craft when the landing was attempted, according to Rural Metro Battalion Chief John Kraetz. The incident occurred just before 7:30 p.m. on Sunday, Feb. 22.

"It does happen occasionally in the desert environment when loose fine soil gets kicked up," Kraetz said.

The emergency medical crew in the helicopter, Rural Metro EMTs and Maricopa County Sheriff's deputies were responding to treat and transport a 34-year-old man who received head and internal injuries when he crashed into a road median near Cave Creek and Basin roads.

The driver of the motorcycle was transported to John C. Lincoln-North to be treated by a ground ambulance. Kraetz said he died at the hospital.

The helicopter pilot and the two EMTs on board were not injured.

Boulders protected resident

February 25, 2009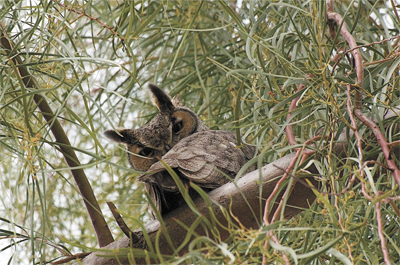 Courtesy Photo/Linda Covey
This Great Horned Owl lives at The Boulders Resort. He is very camera-shy and hangs out in a very tall tree, however Linda Covey convinced him to turn his head 360 degrees for this portrait.
Two more Habitat For Humanity Hidden Valley condos given P&Z nod
By Linda Bentley | February 25, 2009
'You need to do something with the kids to keep them out of the parking lot and off the street'

CAVE CREEK – The planning commission voted unanimously last Thursday, with Commissioner Steve LaMar abstaining, to recommend approval to amend the final plat and site plan for a two-unit increase to Habitat for Humanity Desert Foothills' (HFHDF) Hidden Valley condominium project.
More...
Carefree ready to hear cell tower proposal
By Curtis Riggs | February 25, 2009
CAREFREE – A wireless communications company is seeking to place 18 wireless towers throughout the community in the near future.

Open houses will be held at the Lutheran Retreat Center, 7414 E. Elbow Bend from 4 to 8 p.m. on Friday, Feb. 27 and from 10 a.m. to 2 p.m. on Sat., Feb. 28.

Neighbors in the Carefree Rolling Hills subdivision were recently notified one of the facilities is planned for Quail Trail and Wildflower Road. The proposal is for a 24-foot faux cactus and a four-foot tall. electrical meter pedestal.

Carefree Planning Director Gary Neiss said the placement of the communications facilities by Newpath Network is in the "embryonic stage" and will be discussed at a variety of community forums.

"They will be spread out through town. They could reduce the number or decide not to do it," Neiss said. "Anything is possible."
Carefree water use down
By Curtis Riggs | February 25, 2009
CAREFREE – Carefree Water Company officials highlighted a 7.5 percent reduction in average household water use in 2008 in a report to the Arizona Department of Water Resources.

Average water use by the 1870 Carefree Water Company households went from 15,000 gallons a month to 12,000 gallons a month in 2008.

"My own personal feeling is it had something to do with higher water rates," Carefree Water Company General Manager Stan Francom said. "The whole spectrum has shifted with the economic downturn. People are using less water and there are also fewer people here now for shorter times."

The ADWR report focuses on Carefree Water Company's reduction in its unaccounted water percentage to between 4 and 7 percent.

"ADWR pushes for 10 percent or lower," Francom said about unaccounted for water.

He credits a CWC meter replacement program, checking water storage tanks for leaks and a leak survey program with the reduction in the percentage of lost water.
"We knew where the leaks were and we fixed them," Francom said.