My View
By Don Sorchych | February 18, 2009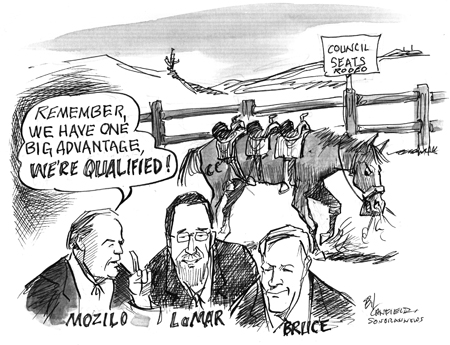 Cave Creek Publisher's picks

Sonoran News held its eighth Cave Creek Town Council candidate forum at Cave Creek Town Hall on Wednesday, Feb. 11. Thanks to my wife, Shari Jo, who attended to myriad details, it went off without a hitch. Many thanks to the Cave Creek Coffee Company for providing coffee, gratis!

Once again, Carefree Architect Shelby Wilson brought the house down numerous times with his grasp of the personalities involved and his over the top humor. What a guy! He had spent the day ramming a souped up Corvette around the track.

You can read about The Forum in Linda Bentley's front page article.

It was a friendly event since Councilwoman Grace Meeth chose not to attend. Also, I only counted one known dark sider and the event was sane for a change.

Winners and losers have become obvious.

For starters, there are only three qualified non-incumbent candidates. Ralph Mozilo is the most experienced having served with distinction as Vice-Mayor, councilman and the chair of several committees. He also has years of industry experience in financial matters.

Next, two attorneys, Jim Bruce and Steve LaMar not only have years of professional experience but have served on the Planning Commission. You can read further details in the Feb. 4 edition of Sonoran News.

Who would they replace?

Gil Lopez will be out June 1.

Grace Meeth and Kim Brennan are unsuited for office.

Meeth hired an attorney to defend against the town's assertions she had violated open meeting statutes. She is the only councilperson who does not have e-mail so she sent a message to the mayor with copies to council members. She not only asked that an item be put on the agenda, she gave her opinion about it, a violation.

She considers Town Manager Usama Abujbarah an enemy and loses no opportunity to slam him and his staff during public and private meetings. She is typically a NO vote for no good reason except her weird ideas about the town. Being a control freak, she wants to run the town albeit without the risk the town manager has.

Commenting on Meeth's absence after the forum, one wag said, "I see Grace Meeth's chair was empty. Reminds me of every council meeting I have attended."

Kim Brennan is a conflict of interest sitting at the dais. She is a realtor and a town core business owner where every step she takes benefits her. She has had to recuse herself several times but only leaves the chambers if the mayor or town manager force her to leave.

Although her current sideline of teaching pole dancing and an admitted ten years working as a stripper raises eyebrows, it is her conflicts of interest that should cause voters to send her back to her labors, whatever they might be.

When Cave Creek had the debacle with the Neary water tank Brennan as the land owner's realtor, advised him on the price he should charge the town to sell the property to town.

Brennan sent a letter to all the council members seeking to have them remand their stipend ($300 for council members and $500 for the mayor) to pay for a PR position in town hall.
When called on it as an open meeting violation, she claimed the town attorney said it was not after having misrepresenting her communication with him. The attorney, after seeing her actual communication, said it was a violation. There is more but I lack space.

Recently, in her submission to Sonoran News she suggested one percent of sales tax be used for branding and PR. Depending on how you read it, is more than we can afford or an insignificant amount.

By the way, all council members except Gil Lopez and Grace Meeth are returning their stipend to the town since it won't be gone until June 1.

Vincent Francia is unopposed but he needs 50 percent plus one vote to be seated in the first round and is very deserving of that honor.

The remaining councilmen Ernie Bunch, Dick Esser and Thomas McGuire are experienced and able councilmen and should be returned to office. In a large majority of votes they have brought us accomplishments we are proud of. You will not find suitable replacements for these accomplished gentlemen among those discussed next.

Among the remaining challengers we find little competence and much controversy.

Reg Monachino gave his act away at the Sonoran News forum. In his closing argument he assailed the staff and sounded exactly like his missing friend - Meeth. He got on commissions in attempts to satisfy Meeth but is a mole in town affairs. He has attended dark side forums and appears to be Meeth II.

We have seen Shea Stanfield as councilwoman and she remains an arrogant and angry woman. She brags of her background as a school teacher and counselor. What exactly is learned in a tax supported union dominated school system?

I knew Stanfield as Lucy Kastelic, an honorable and delightful woman. I don't know why name changes affect personalities, but they do.

Adam Trenk is a kid of 25 years and a law student. He has lived in Cave Creek for a year and still says we are a "city." A cowboy hat does not a Creeker make.

A New York transplant, he is fond of Western regalia although at best a pseudo cowboy, drugstore style. His platform is mostly about plans already accomplished or in the execution stage.

You will see his signs on the front page. Even a second year law student should have legal signs. Trenk has a PAC. Two of his campaign contributions are from the east coast and two are from Scottsdale. His $1,000 loan was the sole Cave Creek contribution.

PACs are required to print on their signs the name of the committee funding the advertisement..

ARS 16-912D requires the following: "The disclosures required pursuant to this section shall be printed clearly and legibly in a conspicuous manner,"
Bolding is mine.

The ballpoint pen written statement on the upper left hand corner of his signs is not "conspicuous" at less than one-half inch high. Check them out and see how close you have to be to even notice.

Webster's dictionary defines Conspicuous as "Obvious to the eye or mind and/or attracting attention."

Maybe you don't have to know English to be accepted by law schools any more.

Perhaps ten years on various commissions will prepare the young man for a council seat.

He is far too young and inexperienced to be a town leader.