Francia delivers surprise ending to candidate forum

By Linda Bentley | February 18, 2009
'The six people you send to help the mayor cannot be someone spreading fear in this town'

CAVE CREEK – The eighth Cave Creek candidate forum sponsored by Sonoran News had Architect Shelby Wilson literally racing to get there in time to emcee the event from the Bob Bondurant School of High-Performance Driving in Chandler.
More...

Ten years overseeing the community's chosen goals

By Linda Bentley | February 18, 2009

'This year it was chosen for us – the economy'
CAVE CREEK – Running into Mayor Vincent Francia in Spur Cross Conservation Area is finding the mayor completely in his element.

After all, preserving Spur Cross was the most significant defining moment for Cave Creek, as it brought an eclectic mix of Creekers together to proclaim the town's true identity.
Francia said for the past ten years he's served as the town's mayor, the community has always chosen its goals – Spur Cross, Saguaro Hill, access to Black Mountain and, most recently, the water company.
More...

Election rules headline Sonoran News forum

By Curtis Riggs | February 18, 2009
Nastiness mixed in with Prop. talk

CAREFREE – An upcoming ballot measure, which would lengthen town council terms, the May proposition intended to allow the mayor to be selected by citizens and the age-old divide between supporters of area non-profits and those seeking to make a change in town government dominated Monday's Sonoran News candidate's forum.
More...


Shelby Wilson steals show at candidate's forum
By Curtis Riggs | February 18, 2009

In Carefree long enough to have an attitude

CAREFREE – The irony of Monday's Sonoran News Carefree Town Council candidate's forum is the views of the 10 candidates on election processes and what makes Carefree special were not nearly as strong as forum moderator and prominent Carefree architect Shelby Wilson's.
More...

Second year law student's first lesson in campaign finance law

February 18, 2009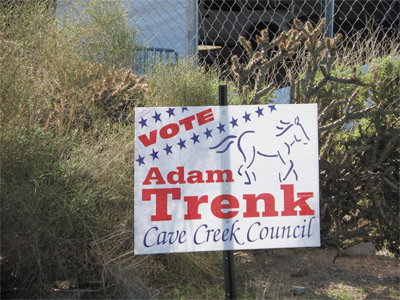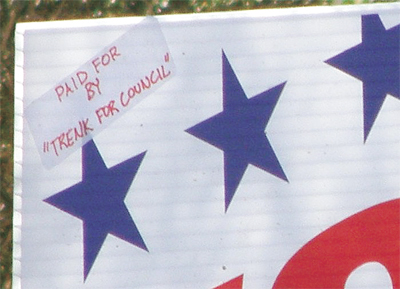 Photos by Linda Bentley
A.R.S. § 16-912 requires political action committees advocating for or against a candidate to have a disclosure statement on its advertising that states: "paid for by," followed by the name of the committee. The disclosure statement must also be "printed clearly and legibly in a conspicuous manner." The Merriam-Webster Dictionary defines conspicuous as: 1) obvious to the eye or mind; 2) attracting attention. Trenk for Council's disclosure meets neither definition. See "My View" page A-4.