Montessori pre-school begins Community Food Drive

By Curtis Riggs | February 18, 2009
Instilling a sense of community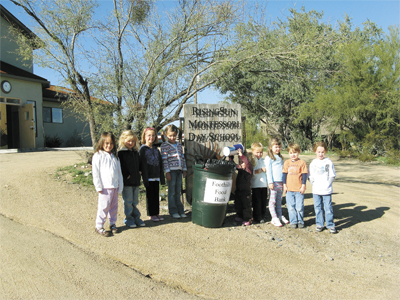 CAVE CREEK –Students at RisingSun Montessori Day School will experience being part of the community next week when they kick off the Community Caring Food Drive.

The students will collect food from Monday, Feb. 23 until Friday March 6 to benefit the Foothills Food Bank.

School Principal Mara Fishman Gossack and School Directress Miss Anna Gebhardt stress the pre-schoolers and kindergartners have been learning about the community of Cave Creek this year in conjunction with lessons about developing a sense of community.

The youngsters often climb to the platform on top of the slide in the school's playground, a favorite vantage point from which they can keep an eye on Cave Creek Road. Miss Anna said they get excited whenever they see a fire truck go by or hear a siren. They often ask if they should go help during such emergencies.

"From day one the focus in the classroom is on taking care of the community, themselves, their friends and the environment," Fishman Gossack said. Demonstrations about recycling and visits from local Rural/Metro firefighters this year have helped to enhance their sense of community.

"They often think about how they can give back to the community," Miss Anna said. "When they decorated the school recently they said, 'Wouldn't it be nice to decorate the whole town.'"

To celebrate Earth Day and personally experience a sense of community, the students will clean up a section of Cave Creek Road, from the Rancho Mañana curve to Schoolhouse Road, in April.

"The kids really take it to heart about the environment and cleaning it up," Miss Anna said.
Food bank executive director Pam DiPietro said having preschools hold a food drive is good because it teaches the youngsters "there are people who are not always full of food."

As has been the case during the current challenging economic times, the food bank is now in dire need of food because of its rising number of clients. She said the food bank's move to a visible Cave Creek Road location just before the end of the year has helped to keep it a busy place.

"The need keeps growing," she said. Many clients now buy into the food bank's Care Club, which allows them to get more food in a month by paying $10. The club is important because without it clients are only able to get food from the food bank once a month.
During the Community Caring Food Drive the donation bins will be in the lobby of the school at 38246 N. Hazelwood Circle. There will also be a bin in front of the school during class-time so as not to disturb the students' work. For more information about specific items needed by the food bank visit www.risingsunmontessori.com.

Photo by Curtis Riggs
Students at RisingSun Montessori Day School will hold a food drive to benefit the Foothills Food Bank from Feb. 23 until March 6. Pictured, from left to right, Erin Berkner, Paige Berry, Meghan Schouten, Cadence May, Delaney Funk, Daniel Valeev, Annaliese Drewry, Carter Nelson, and Zachary Heinstein.
DAMS student Ciara Petronzio honored

February 18, 2009

State Honoree, The Prudential Spirit of Community Awards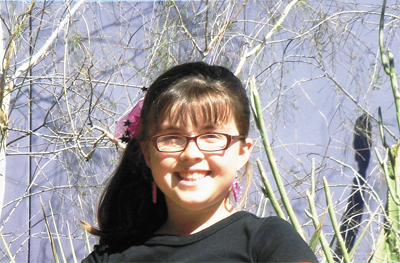 Ciara Petronzio, an 11 year old student at Desert Arroyo Middle School, was recently named Arizona's top middle level youth volunteer of the year and a State Honoree in The Prudential Spirit of Community Awards program. She is one of Arizona's two State Honorees for 2009. Ciara will receive a $1,000 award, an engraved silver medallion and an all expense paid trip to Washington D.C. for a series of national recognition events from May 2 – May 5, 2009.

During the Washington D.C. events, Prudential will name ten National Honorees – five high school students and five middle school students – who will receive additional $5,000 awards, gold medallions, crystal trophies for their nominating schools or organizations and $5,000 grants for the charities of their choice. Ciara is one of the 102 honorees being considered for these additional awards.

Because of the number of hours Ciara volunteered, she has also qualified for the President's Volunteer Service Award, which recognizes Americans of all ages who have volunteered significant amounts of their time to serve their communities and their country. Ciara will receive a President's Volunteer Service Award certificate and a letter from the president.
In the award letter Ciara received, co-signers John R. Strangfeld, Prudential Financial Chariman and CEO, and Gerald N. Tirozzi, Executive Director, National Association of Secondary High School Principals, stated, "Young volunteers like yourself are inspiring examples to all of us; you are our brightest hopes for a better tomorrow."

Congratulations, Ciara!

Courtesy Photo
Desert Arroyo Middle School student Ciara Petronzio, 11, will travel to Washington, D.C. early in May for a series of Prudential Spirit of Community Awards national recognition events.
Historians will speak Feb. 26 at Winfield Scott birthday

February 18, 2009
SCOTTSDALE – Five historians will speak during the 172nd annual birthday celebration of Scottsdale founder Winfield Scott from noon to 2 p.m. Thursday, February 26 in the courtyard of the Scottsdale Historical Museum, east of the intersection of Brown and Main streets in Old Town.

The free event, open to the public, will be held on Scott's 172nd birthday and will take place next to a life-sized statue of the Scotts and their mule, Old Maude. Mayor Jim Lane will read a proclamation, followed by short talks relating to Scott's founding of the city in 1888.

Historic memorabilia will be displayed and refreshments will be served, said Roberta Pilcher, a longtime Scottsdale resident who has organized this event for the past 13 years.

The speakers, who will be introduced by Scottsdale historian Joan Fudula, are Jose Burrel, author of "Mexicans in Scottsdale;" longtime resident and writer Paul Messinger, sharing stories about Scott; Scottsdale city-history author Patricia Myers, "Arts in Early Scottsdale;" historian Bill Phillips, schools and education; and Arizona official state historian Marshall Trimble, tales of "Arizona Oddities." No reservations are required; information is available by calling Roberta Picher at 480-990-1690.

The annual event is presented by "Friends of Winfield Scott," who include Jerry Copinger, Kathy and Bob Littlefield, Darlene Petersen, Bill Phillips, Roberta Pilcher, Tom Silverman, Marshall Trimble, Ron and Helen Wunderley, Paul Messinger, Joan Fudula and JoAnne Handley.
Community Gears Up for McDowell Sonoran Challenge
February 18, 2009
SCOTTSDALE – The McDowell Sonoran Conservancy (MSC) is pleased to present the inaugural McDowell Sonoran Challenge - Bike, Hike, or Run.

The timed challenge will be held on Saturday, February 28, 2009 in State Trust Land designated for conservation, to help spread the message that the Preserve needs to be completed. Through a special land use permit, we have been granted access by the Arizona State Land Department for this special event to support McDowell Sonoran Conservancy.

Registration will begin at 7 a.m. at Alma School Road, north of Dynamite. Parking is available at the shopping center on the corner of Alma School Road and Dynamite thanks to Hurd Real Estate, and a shuttle will be available to take people to the trailhead. Separate courses for mountain bikes, trail runners and hikers will lead participants through beautiful mountains and desert. Hikers will experience the historic Brown's Ranch on their 9 mile trip, riders will bike a 22 mile course past Granite Mountain and Balanced Rock and runners will race 15K past Cone Mountain.

The post-challenge fitness expo and celebration will be held from 9 a.m. until Noon and will include food and beverage, music, merchandise and fun for hike, bike and runner enthusiasts of all ages.

Registration is required and space is limited, so register early! Reservations can be made on www.active.com or at www.mcdowellsonoran.org/special_events.html or by calling Linda Raish at 480-998-7971 x101.

About McDowell Sonoran Conservancy
Since its founding in 1990, the McDowell Sonoran Conservancy has championed the need for, establishment of, and safe public access to Scottsdale's McDowell Sonoran Preserve. The Conservancy works with the City of Scottsdale to: ensure completion, management and public appreciation of the Preserve; educate residents and visitors about the Preserve's environmental and archaeological significance; ensure the public has appropriate access to the land they have repeatedly voted to protect.
The McDowell Sonoran Conservancy envisions the completion of the Preserve at a size of 36,400 acres, or 57 square miles, which would protect as natural, open space nearly one-third of Scottsdale's 185-square-miles.
What's going on at the Desert Foothills Library?

February 18, 2009
Children

DFL reptile program introduces children to Ranger Jim and his friends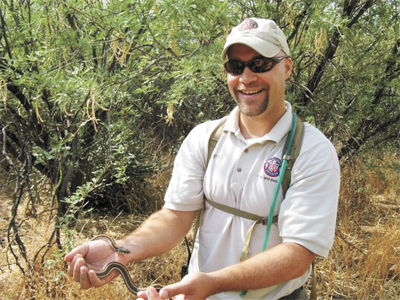 Ranger James Terrell is a friend to all the creepy crawlies that live in the desert. As a park ranger at Cave Creek Regional Park, he leads hikes and teaches about all the plants and animals that live outside in the area. So Desert Foothills Library Youth Services Coordinator, Cynthia Wetter, asked him to bring some of his wiggly friends to share with children on Wednesday, February 25 from 10:45 to 11:15 a.m. in a special program about reptiles.
Ranger Jim will be bringing several critters, including a Desert Spiny Lizard, a snake and a Desert Tortoise. Children and parents will be delighted with these fascinating animals of the desert as they learn all about their lives and how to respect their habitat. This program is geared for children ages five and under who are accompanied by an adult caregiver. For more information, or to make reservations, call (480) 488-2286.
All Star Kids Tutoring
The Library has teamed up with All-Star Kids Tutoring to help improve literacy in our community. This program meets once a week and pairs adult and teen tutors with children in grades two through five. The program is designed to help those students who may be one to two years behind in their reading abilities.
If you are interested in being a tutor or have a child who may need tutoring, please contact All-Star Kids Tutoring at (480) 624-9950 or visit their website at www.askt.org.
Story Time
1 -1:30 p.m. Wednesday, Feb. 25
Story Time with Ms. Anna. She will dazzle you with stories, songs, and other great little activities to keep your minds busy.

Adults

AARP Tax Preparation
12:30 – 4 p.m. on Wednesdays
Please call the library for an appointment: 480-488-2286.
You will need to bring the following documents with you:
Copy of previous year tax return. If necessary, contact the IRS for a copy of last year's return. W-2 forms from each employer
All 1099 forms (1099-INT, 1099-DIV, 1099-misc., etc.) showing interest and/or dividends as well as documentation showing the original purchase price of your sold assets
If you were paid Social Security benefits, bring your SSA-1099. If you received a pension or annuity, bring your 1099R
All forms indicating federal income tax paid
If applicable, unemployment compensation statements
Child care provider information (name, employer ID, SSN)
If itemizing deductions, bring all receipts or canceled checks for items such as medical expenses, taxes paid, mortgage interest paid, and charitable contributions
Social Security numbers for all dependents
Author's Podium
Discussion and Book Signing
1 - 2:30 p.m. on Friday, Mar. 6th
Lamont Cole
Whisper of Cosmic Law
Unlocking Secrets of the Mind
Lamont Cole has traveled the world most of his life and draws from all that he has seen and felt—while taking you on a journey of the inner mind. Reclaim many of the secret tools, feel and see energy flow, and build a life of true power by tapping into the energy and power of others. Whisper of Cosmic Law begins this voyage of the mind and beyond. Cole lives in South Dakota during the summers and calls Cave Creek home during the winters.
The Desert Foothills Library is located at 38443 N. Schoolhouse Rd. For more information call 480.488.2286 or visit www.desertfoothillslibrary.org.
Courtesy Photo/Maricopa County Parks and Recreation
Ranger Jim Terrell with a Black Necked Garter Snake