Double OT loss to P.V. spoils Hoop Guys "Senior Night"
By Pete Mohr | February 18, 2009
Tournament hopes gone in regular season finale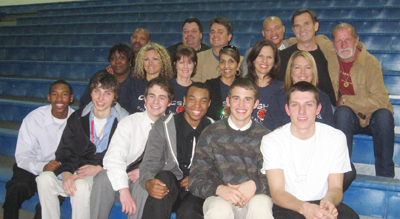 BARRETT GYM - Feb. 10. The Basketball Falcons' "Senior Night" was an agonizing millisecond away from sending the largest (and most boisterous!) crowd of the season home in delirious excitement. Knotted with P.V., 67-67, seven ticks left in regulation, Tri-Captain Andrew Stauth put up an off-balance shot that was rebounded by Tri-Captain Brock Frederiksen to the right, almost behind the glass. Frederiksen's difficult attempt for the game-winner bounced twice off the rim before dropping through! The jubilant "Birds Nest" rushes the floor! But the Zebras spoiled the celebration by waving off Frederiksen's basket as put up too late. Come in (the late) Jack Buck: "I can't bee-leeve what I just saw!"
The "mo" lost, and with (in order) J.J. Miller, Tri-Captain Elijah Knox, Blake Smalley and Stauth eventually fouling out, the reprieved Trojans, sparked by the 14-of-14 foul shooting by guard Naheer Mirza, pulled away in the 2nd overtime to an 89-80 decision.

With 12 seconds left, No. 12, senior David Byrne hit a three-for-pride from the left corner, ending his hustling, never-quit CSHS career with a game-high 24 points. Stauth (19) and Knox (10) were the other 'Birds in double figures. The gut-wrenching loss ended the Falcons' hopes of qualifying for the State Tournament.

Falcon Basketball has a bright future. In the prelims, Freshman Coach Troy Freese's "BabyBirds" and Coach Tyler Dummett's Jayvees downed P.V. by big margins, ending their seasons at 19-0 and 17-2, respectively. For the Frosh, it was their second consecutive undefeated season.

The six senior Moms (in alphabetical order), Carol Bennett, Susan Byrne, Kristi Frederiksen, Yvonne Knox, Denise Miller and Daljit Smalley are to be congratulated for putting on the best "Senior Night" this writer has ever covered. And how 'bout "The 'Birds Nest?"
When the pre-game recording of our "National Anthem" failed, they stepped up to spontaneously sing it! That's the spirit, guys & gals!

Would that I were 55 years younger. Where's Ponce de Leon now that I need 'im?!
Chappies turn shootout tables to beat Falcons in Semis
By Pete Mohr | February 18, 2009

Record soccer crowd makes "road trip!"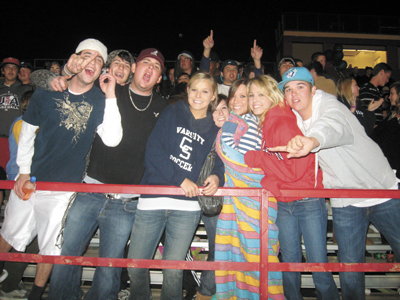 So what happened in the Soccer Falcons' 3-2 (5-4 shootout) loss to the Firebirds?

Deadlocked at 2-2 after 100 minutes (80 minutes regulation plus two 10-minute overtimes) of exciting, hard-fought soccer, for the Falcons and Firebirds, it all came down to the second Penalty Kick shootout in 14 days to determine which team would advance to Saturday's Finals at Tucson High. Five selected Falcon shooters and All-Desert Sky Region goalkeeper Nate Barker squaring off versus five Chappies and their netminder, Brett Dinner. "Our best against their best!" – in whatever team sport, the classic confrontation.

Alternating teams, Falcs shot first. Bradshaw (upper left corner!), Hammer (lower leftside!), Hartman (dead right!) and Curt Gilbertson (high right!): Falcons went up, 4-3. The fourth Firebird sent a high rocket directly at Barker, who leaped to get both gloves on the ball, but failed to deflect it over the crossbar: now it's 4-4. Next up, Co-Captain Matt Moorer, for four years a mainstay of Cactus Shadows soccer. He drilled his kick left, only to have Dinner guess correctly and make a chest-smothering save. Matiski, who had scored the second Chap goal in regulation, got extra redemption by sending the shootout/game winning kick high left, cleanly past Barker.

The loss was an anguishing end, for sure, to Moorer's and Barker's outstanding CSHS careers. Senior striker Max Hammer fared better, netting both Falcon goals in regulation, his first (on a beautiful feed from Hartman) at 6:39 of the 1st half. Later, with the Firebirds leading, 2-1, midway through the 2nd, Hammer controlled the ball in the left corner, dribbled past two defenders, and scored the tying goal.

Congratulations, Falcons, on your great season – especially in the face of a bizarre development (as yet unresolved) that snatched Head Coach Mat Evans from your sideline.
With Assistant Coach Enda Crehan more than ably stepping in, you didn't miss a beat. Yes, you lost the February 12 on-the-field "battle" to Chaparral; but over these last ten days, you've won a "war" of character you'll never forget. Hail to each and every one of you "Soccer Lads!"

I know that Coach Crehan, Assistant Coach Tony Vos and their squad would have me end this report by expressing their appreciation to the 100-plus Cactus Shadows students who made the 60-mile roundtrip. Your show of "Falcon Pride" turned Chappie Town into Birdsville! I'm still hearing "Cac-tus Shad-ows! Cac-tus Shad-ows!"

Keep that school spirit going, Guys & Gals.
Basketball Annual Banquet gives Lady Falcons festive send-off to State
By Pete Mohr | February 18, 2009

The numbers tell the success story of 2008-2009 Girls Basketball: Varsity (Head Coach Ryan Pletnick, Assistant Coach Stacie Fitzgerald), 25-4 (including tournament play); Junior Varsity (Coach Lance Seveska), 19-0; and Freshmen (Coach Emily Shoulders, Assistant Coach Ruth Santiago), 16-3. Their combined 60-7 record was enthusiastically celebrated at the Girls Basketball program's Annual Banquet, ably organized and enjoyably emceed by Coach Shoulders. Congratulations, Basketball Ladies!

Fueled by winning their last seven games, including "must" victories at McClintock (A), Jan. 30, and Shadow Mountain (A), Feb. 6, the Lady Falcons vaulted into the #3 ranking in A.I.A. Power Points, positioning them to host, significantly, 1st Round State against Chaparral (Feb. 17). If the Ladies beat the Chappies, they'll play at home again, Friday, Feb. 20, in the State Quarterfinals, taking on the winner of #6 (Tucson) Sahuaro vs. #11 Peoria. On December 5, the LadyBirds, at home, downed Sahauro by 15 points; but as Coach Pletnick points out, "Once a team gets in the Tournament, anything can happen."

Without jinxing the LadyBirds, Sonoran News bestows upon Coach Pletnick's resilient squad this slogan: "WE'RE GONNA JIVE AT FIVE!" meaning should the Lady Falcons advance to their fifth consecutive trip to "The Final Four" (at Jobing.com Arena), they'll make good the opportunity to bring home Cactus Shadows' first Girls Basketball State Championship.

Coach Pletnick to Sonoran News pre-banquet: "I'll take a #3 seeding any day; but we know that beating Chaparral won't be easy. Any coach will tell you that defeating a team three times in one season is very difficult, because they've learned a lot about who you are and your tendencies." The Lady Falcons decisively defeated the Lady Firebirds at home (December 10) and away (January 23). See Front-Page Sidebar for Feb. 17 results.
If the Ladies advance to Friday night, as they should, let's have a big home crowd to root 'em on to Glendale!