Heard Museum North exhibits American Indian portraiture in Beyond Face Value
February 18, 2009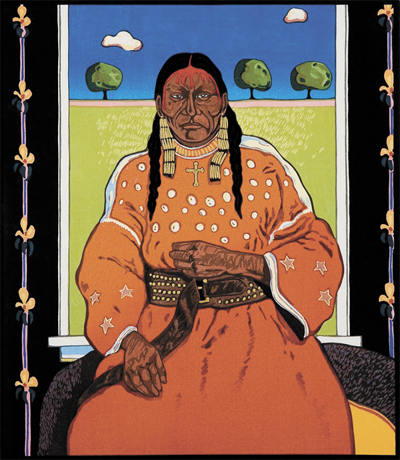 Featuring 25 paintings and sculpture dating from the early 20th century to the present by masters such as Fritz Scholder, Luiseño, R.C. Gorman, Navajo, T.C. Cannon, Caddo/Kiowa/Choctaw, and Harry Fonseca, Nisenan Maidu; established contemporary artists like Mary Morez, Navajo and Ruthe Blalock Jones, Delaware/Shawnee/Peoria; and emerging artists like Marla Allison, Laguna Pueblo. Most of the paintings come from the Heard Museum's collection. Portraits made by American Indian artists tend to focus less on visual likeness and more on conveying cultural information or other social commentary.

The exhibition offers a chance to view work by several generations of artists, including master artists who have influenced artists who are currently creating new works. Not to be missed are self portraits by Fritz Scholder and R.C. Gorman, which give insight to their exceptional lives. Scholder is considered the most influential, prolific, and controversial figure in contemporary Native art. Gorman was once referred to as "the Picasso of American art" by the New York Times.

The exhibition also features several busts by legendary modernist sculptor Allan Houser. Houser was the first member of his family from the Warm Springs Chiricahua Apache tribe born outside of captivity since Geronimo's 1886 surrender, and the tribe's imprisonment by the US government. His sculptural work continues to influence the current generation of American artists and sculptors, and can be seen up-close in this exhibition.

Marla Allison's "Mother," a multi-media painting of her mother, Sharon Allison, incorporates a digital DVD player into the top right side of the canvas. The image is in what appears to be a photograph hung on the wall, hung behind her mother, who appears sitting in a chair embroidering. "For all she has done, how her life was brought to be, I could not cover it all in one painting without the help of the multi-media aspect. The use of digital media was my alternative to making a series of paintings. This painting not only shows where I came from but also my mother and where our family found their roots on the matrilineal side of my family," says the artist who is both Anglo and American Indian, and is represented by the museum's retail gallery, the Berlin Gallery. Allison is currently working on a companion piece portrait of her father. "Mother," won Best of Class for Innovation at last summer's SWAIA Indian Market.

The exhibition opens to the public Saturday, April 18 and runs through October 4, 2009. Conversation with the Curator is at 12:30 p.m., Saturday, April 18 at Heard Museum North Scottsdale, The Summit at Scottsdale, 32633 N. Scottsdale Road.

Admission: Adults: $5, Seniors (65+): $4, Students: $2, Under 6 years: free, American Indians: free, Heard Museum Members: free. Second Sunday of the month: free for all. For more information: call 480-488-9817 or visit heard.org/north for information.

COURTESY PHOTO
T.C. Canon, Caddo/Kiowa, 1946-1978, Woman in the Window. Woodblock, print, paint, ink, pencil and paper.

Wine & Art Meet the West

February 18, 2009

Artist Lance Headlee Unveiling Set for February 21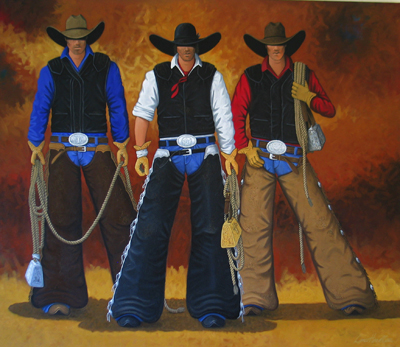 Enjoy a spirited, gallery style evening on Saturday, February 21, as Brix Wine Spot, located in Cave Creek's Stagecoach Village, comes alive with a dynamic pairing of wine and art.

Local artist Lance Headlee, whose works have attracted collectors worldwide, brings his bold and captivating contemporary paintings to the warm and rustic atmosphere of Brix beginning at 5 p.m. Headlee will hold a special showing of his latest works, including "Cowboy Caddy" and "Tickled Pink" – along with the unveiling of a new Brix piece titled "Wine & Roses" at 7 p.m. that will hang on permanent display.

"Brix is the perfect place in Cave Creek to enjoy good company and great wine," says Headlee. "I look forward to sharing my work here with owners Nancy and Bryan, along with the rest of the community."

Starting at 5 p.m. guests will enjoy fabulous wine and hors d'oeuvres, while viewing the works this nationally recognized artist's never ending palette of unique, unpredictable, yet formidable style. With his signature style of contemporary icons with attitude, mixed with natural and vibrant color and composition, Headlee's brush is always in motion creating fresh, unique portraits of the new West.

Stop by and pick up a free signed limited edition print of Bonnie & Clyde, meet the artist and let him share with you the special story behind each work – all while sipping your favorite wine in the welcoming surroundings of Brix. For information, call (480) 575-9900 or visit www.brix winespot.com. For more information on Headlee, visit www.lanceheadlee.com.

Courtesy Photo:
"Let's Ride"