Herring Saddle Co. and Desert Palms Equestrian sponsor horse for Ben Davidson
Donations being accepted for new horse for saddle stand maker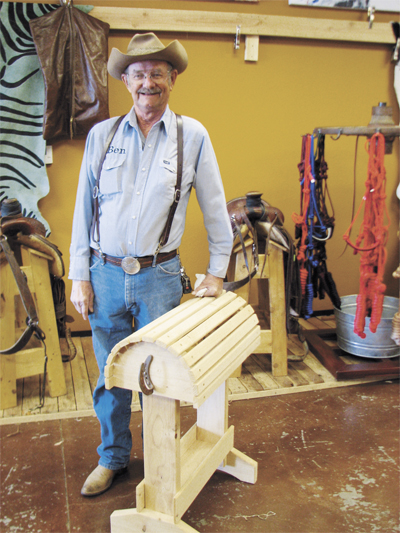 CAVE CREEK – When it came to the attention of Clint Herring of Herring Saddle Co. and Michelle McVey of Desert Palms Equestrian that Ben Davidson's 22 year old mare was terminally ill, they collaborated on a plan to find a replacement for the void they knew Ben would experience in his life.

Michelle found a well trained six year old Buckskin Quarter Horse/ Appaloosa for which she dramatically reduced the price. To make up the difference, in addition to his own contribution, Clint is accepting donations at the shop and will put all the names of donors in a hat for a drawing for one of Ben's saddle stands.

Ben Davidson moved to the valley in 1957 when there were still cows at Central and Indian School. He has been involved in the horse community ever since. His custom made, wooden racks are familiar to most horsemen and women throughout the valley.

Donations can be dropped off at Herring Saddle Company at 28325 N. Tatum Blvd. (NE corner of Tatum & Dynamite) or call Clint at 480-650-8158.

Courtesy Photo: Ben Davidson with his saddle stand at Herring Saddle Co.
After School Riding Program Begins March 2


Eight week program for students in Grades 1-8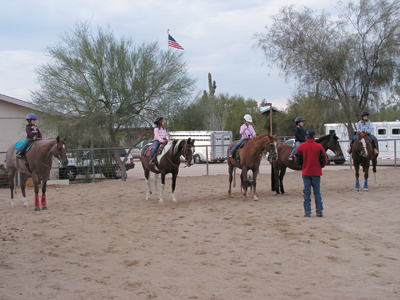 CAVE CREEK – Kristi Frederiksen, a first grade 20 year veteran teacher at Horseshoe Trails Elementary School, envisioned a program to give children the opportunity to experience the equestrian way of life. The A+ After School Riding Program for students in Grades 1-8 was developed four years ago and incorporates Arizona academic requirements for an after school enrichment program. Last year the program received the Arizona A+ Exemplary Program Award. The next session starts March 2 with participants meeting weekly in 90 minute sessions on Monday or Tuesday from 4:00 to 5:30 p.m. for eight weeks.

Along with coordinator Shawna Timberman, who has a BS in Equestrian Studies, Mrs. Frederiksen conducts the program at the SR Tucker Quarterhorses Ranch in Cave Creek. The sessions are divided between 45 minutes in the classroom covering grooming, tack, nutrition and breeds and 45 minutes of riding.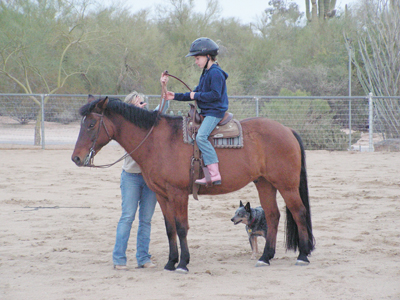 Stacey and Randy Tucker teach the riding portion and emphasize safety, balance and control of the horse in the sessions. The lessons are individualized on retired show horses of different breeds. Students draw the name of the horse they work with the entire program. They get to know the horse and progress towards the final "show" where ribbons are awarded in an obstacle type class.

Space is limited in the program to twelve students per session and is divided according to experience. Cost is qualified as a tax credit donation. Contact Kristi Frederiksen at kfrederiksen@ccusd93.org or call the Horseshoe Trails Elementary School Office at 480-272-8500.

Courtesy Photo
Curves® Of Cave Creek Tatum Ranch rolls out red carpet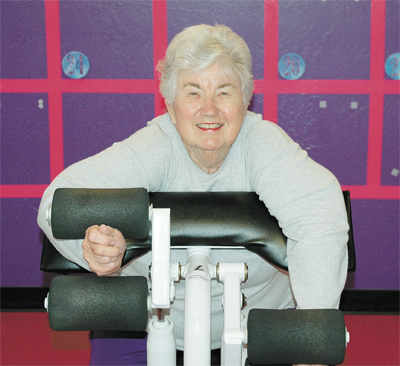 Tatum Ranch – Curves of Cave Creek Tatum Ranch is rolling out the red carpet to members of the award-winning Healthways SilverSneakers Fitness Program, the nation's leading exercise program designed for older adults. Beginning January 1, 2009, SilverSneakers members are eligible to join Curves of Cave Creek Tatum Ranch at no cost.

"We are so pleased to welcome local SilverSneakers members to Curves of Cave Creek Tatum Ranch," said club owner Sheryl Cresswell. "As you age, your risks for debilitating disease increase, and being overweight or obese significantly adds to that risk. At Curves of Cave Creek Tatum Ranch, we have programs that help women of all ages do the three most significant things they can do to decrease their risks – manage their weight, exercise regularly, and eat healthfully.

"We are open Monday to Friday from 5:30 a.m. – 7 p.m. and Saturday from 7 a.m. – 1 p.m. Bring your health card in during club hours and we can sign you up today."

There are 6,500 Curves locations and more than 2.5 million women in the U.S. who are eligible for the SilverSneakers program.

For more information about Curves of Cave Creek Tatum Ranch, please contact Sheryl or Charlie Cresswell at 480-473-0123.

About Curves
Curves works every major muscle group with a complete 30-minute workout that combines strength training and sustained cardiovascular activity through safe and effective hydraulic resistance.

Curves also works to help women lose weight, gain muscle strength and aerobic capacity, and raise metabolism with its groundbreaking, scientifically proven method that ends the need for perpetual dieting.

Founders Gary and Diane Heavin are considered the innovators of the express fitness phenomenon that has made exercise available to around 4 million women globally, many of whom are in the gym for the first time.

With nearly 10,000 locations worldwide, Curves is the world's largest fitness franchise. For more information, please visit: www.curves.com.

Courtesy Photo: New member Dorothy Sydnor just joined Curves® of Cave Creek Tatum Ranch with Silver Sneakers.
Antique Emporium at Cave Creek takes off
By Curtis Riggs | February 11, 2009
Waltons "found a niche"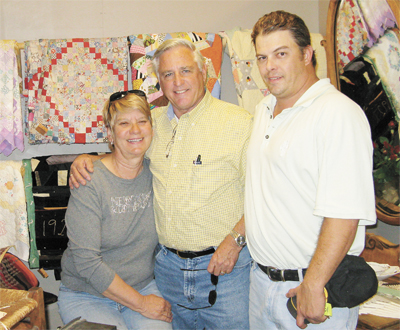 CAVE CREEK – Twelve-year Cave Creek residents Mike and Sherrie Walton found a "niche" when they created an antiques business in their building at the southwest corner of Cave Creek and Basin roads (behind Flat Tire Bicycle Shop).

Antique Emporium at Cave Creek has been doing so well since it opened just after Christmas the Waltons now intend to expand the shop and take up the entire 3,800-square-foot building in the next few weeks. With help from their son Brett who manages Antique Emporium, Valley antique dealers rent space and showcase their own inventory. The Emporium features a wide variety of antiques and good prices because the Waltons and their dealers know their business well.

Visitors can see 25 dealers' antiques, soon to be 45, ranging from primitive turn-of-the-century furniture to a poker table from a historic Arizona saloon to quilts and aviation memorabilia.

"We created a good niche," Mike Walton said. All merchandise in the store is either vintage (50 years old or older) or antique (pre-1900).

The shop filled up with antiques within three weeks because of "word of mouth." Mike said the two main comments he hears from their customers are 'it is nice to have a shop with only vintage and antique goods' and 'prices are fair' at Antique Emporium.

"The other dealers set their own prices. They just rent the space, move their stuff in and maintain their own inventory," Mike said. "They keep their prices low by buying and selling right."

Sherrie Walton said locals are pleased there is a bona fide antique store in town, "People who live up here are real happy they no longer have to drive to Scottsdale for an antiques store."

She enjoys the crystal and silver in the shop as much as the other antiques.

"It's hard to keep Western stuff in the store because people from overseas all want Western stuff," Mike said. "Every week it gets better and better. We get a lot of locals in, but it is mainly tourists."

Antique Emporium is open from 10 a.m. to 5 p.m. seven days a week. To learn more about the shop visit the website www.azantiques.net or call 480-575-0590.

Photo by Curtis Riggs: Sherrie, Mike and Brett Walton are having a great time operating and, now expanding the Antique Emporium at Cave Creek.