Feb. 12: Falcs vs. Firebirds; Chaparral a "neutral site?"
By Pete Mohr | February 11, 2009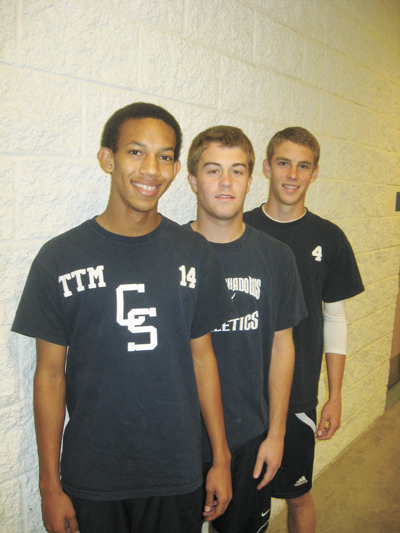 CSHS - I've enjoyably known (former) Boys Soccer Head Coach Mat Evans for the last five years. I admire Evans' coaching skills and his dedication to growing his players — both on and off the "pitch." I'm aware that at some point on Tuesday, Feb. 3, serious allegations were lodged against Evans that resulted in (i) his dismissal as a substitute teacher (physical education) at Cactus Shadows and (ii) relieving him of his coaching responsibilities – only one hour before his "Soccer Lads" took the field in their State 1st Round match against the visiting Nogales Apaches. [In the last 12 minutes of the contest, the understandably-stunned Falcons rallied to a 4-2 victory.] Until Evans is tried, I shall not comment further.

The #1-seeded Falcons and Acting Head Coach Enda Crehan are to be praised for their resiliency and character, which have propelled them into Thursday afternoon's State Semifinals against #5-seeded Chaparral, 5 p.m. start. With the further threat of inclement weather looming this week, the A.I.A., both schools consenting, shifted the match to Chaparral's artificial playing surface.

Are the Falcons unnerved by this change to a "neutral" site? Senior striker Max Hammer: "Anything to avoid the three-hour bus ride to Tucson! That really takes a lot out of your legs." And Junior midfielder Jordan Hartman: "Because of our smaller crowds, there really isn't a 'home-field advantage' in soccer. What's most important to us are the dimensions and quality of the field where we play." Sonoran News opines that the "fast track" of Chaparral's artificial surface should complement the Falcons' speed.
Good luck, Coach Crehan and Falcons!

Photo by Pete Mohr
SCORING TRIO: Senior strikers (l-r) Tyler McClendon notched the first two goals, and Max Hammer and Cody Williams provided the fire-power as the Falcons dominated McClintock, 4-1, in last Saturday's State Quarterfinals at Tucson High School.
Two more home games?
By Pete Mohr | February 11, 2009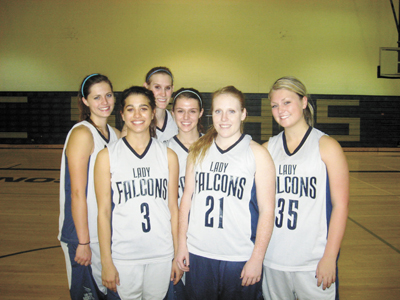 That's what these six seniors (above) are hoping for if the heavily-favored LadyBirds defeat the Lady Trojans at Paradise Valley, Tuesday evening, Feb. 10. The win could vault Head Coach Ryan Pletnick's squad into a "Top Four" seeding in A.I.A. Power Points. That would guarantee the HomeBirds a State 1st Round hosting on Tuesday, Feb. 17, 7 p.m. tip-off.
If the Lady Falcons win on the 17th, they would host a Quarterfinals game on Friday, Feb. 20, also a 7 p.m. start. What a dramatic finish at Shadow Mountain's "Senior Night," Friday, Feb. 6! Leading 40-38 on Modzeleski's free throw with 10 seconds to play, the Lady Falcons and their fans agonizingly watched the Lady Matadors' Lexi Kresl go to the line shooting three. If Kresl nails all three, Shadow breaks Falcon hearts – again! Two out of three will tie, likely sending the contest into overtime. Kresl clanks her first attempt, then swishes the second: 40-39. Her third shot rims off to the left into the determined hands of Modzeleski. Game over!

Postgame, "Mods" to Sonoran News: "I wanted that ball! No way were we going to lose that game!" Hoop Guys gave it their best shot; but on "Senior Night," with their "Hecklers" cheering section at full strength (and volume!), the Matadors prevailed, 81-71.

Photo by Pete Mohr
(Front, l-r, with parents in parentheses) Co-Captains Alex Easterbrook (John & Lori) & Nicole Farrell (Tim & Sandi), Lindsay Goeke (Paul & Susan); (back, l-r) Liz Shoulders (Randy & Helen), Lacey Modzeleski (Kenneth & Dana), Shantay Stoddard (Brett & Terri).
His dream comes true!
By Pete Mohr | February 11, 2009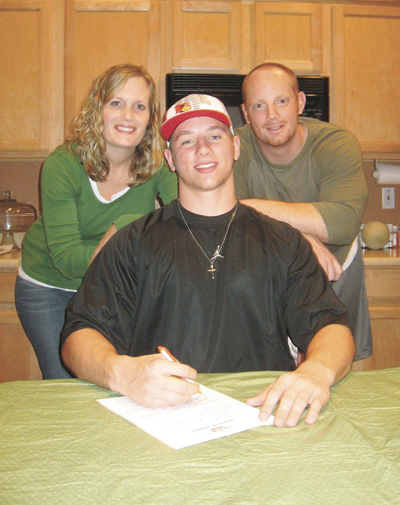 It's not an easy decision to relocate away from your high school senior year. Jason Link had the courage to do that, moving in with his Desert Foothills godparents, Chris & Emily Kemmer, to pursue his "dream" of playing college football.

On Monday morning, February 3, Jason Link's dream came true. Illinois State University Head Coach Brock Sprack telephoned, "Jason, how'd you like to be a Redbird?" Jason could hardly restrain his immediate acceptance. Recruited by NAU and Western Ill., he executed his Letter of Intent to ISU on February 4, National Signing Day.

Jason becomes the second Football Falcon to sign with a "D-I" program, Kyle Watkins (CSHS '07), being the first. Jason was quick to thank "all of my Cactus Shadows teammates for accepting me, and Coach Chad DeGrenier and his staff for giving me the chance to play."

Close behind on his appreciation list were George Bennett, who filmed son Nick Bennett on offense (Jason on defense), and Debbie Gibson (Kyle Watkins' Mom), "who showed me how to put together my recruiting presentation."

Jason will report to ISU in mid-June. "I'm expecting to 'redshirt' my freshman year while they grow me bigger and stronger by at least 30 pounds," he volunteered. "Sometime this summer, my parents (Greg & Miriam Link) are moving to Peoria, Ill., about 30 minutes from Bloomington; so it'll be great to be playing right in my own backyard! " he enthuses.

"Because of my size, I had a lot of doubters along the way," Jason recalls, "but I never gave up." I could see that he hadn't – even in the agony of last August's "gassers" in triple digit temperatures. Congratulations, Jason! Wherever life may lead you, keep on dreamin'. I'm confident you will. "How 'bout this Redbird!"

Photo by Pete Mohr: Chris & Emily Kemmer, Jason Link