F.A.R. halfway toward fund-raising mark for new home
By Curtis Riggs | February 4, 2009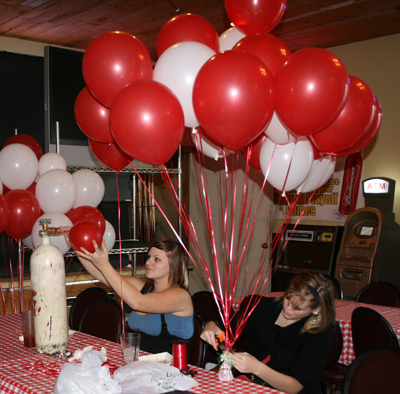 CAVE CREEK – Foothills Animal Rescue is halfway toward reaching its $200,000 goal to get into a new home. Last week's Pasta For Paws fund-raiser exceeded organizers goals and puts the animal rescue operation in a good position to find a local piece of property.

Over $20,000 was raised at the Jan. 29 Pasta For Paws event. F.A.R. officials were expecting to raise far less. Before the event, which brought in a crowd of 500, F.A.R. volunteers talked about raising an amount similar to the $7,500 brought in at last year's Dog Walk, which was held in downtown Carefree.

"We were blown away by all of the tickets that were sold and all the dinners served," said F.A.R. Executive Director Dawn Kavanaugh.

Half of the money raised for the new F.A.R. home, which hopefully be equipped with a self-sustaining surgical center to treat at-risk dogs and cats, came from a silent auction, bake sale and balloon pop at the fund-raiser. The balloon pop, an event where people pop a balloon to get to the prize matching a raffle ticket inside, was so popular event organizers had trouble finding enough balloons to keep the game going.

F.A.R. is hoping to find a property with a minimum 3,000-square-foot building on it or a vacant one-acre piece of land to serve its growing needs.

"We would love to stay up here," Kavanaugh said about remaining in Cave Creek. "But we will go further south if we have to."

F.A.R. President Tracy Didier said, "it feels amazing" to already be halfway toward its goal in the capital campaign, which was begun last fall.

"We didn't expect to be so far so quickly," she said. "We have the community's generous outpouring of support to thank for that."

Didier said a group has already agreed to help F.A.R. with the cost of setting up a surgical center if the rescue group can find a new home. A grant is also available from the Nina Mason Pulliam Foundation, which would pay for the cost of a veterinarian for a year.

Didier said money was still coming into F.A.R. in the days just after Pasta For Paws. People can contribute to the capital campaign at the F.A.R. website, foothillsanimal.org or send contributions to Foothills Animal Rescue, P.O. box 4865, Cave Creek, AZ., 85327.
The Gypsy Rider's women's motorcycle group will hold a fund-raiser for F.A.R. in April.

Courtesy Photo/Nina Spitzer
F.A.R volunteers Kessa Switzenberg, left, and Hilary Graves work rapidly blowing up balloons at last week's Pasta For Paws fund-raiser at Harold's. The volunteers had to place gift claim numbers for raffle prizes inside the balloons before blowing them up. Those at the fund-raiser waited patiently for the balloons. Over $20,000 was raised for F.A.R. at the event.
Just ask Gus

Dear Gus:
My human keeps trying to brush my teeth. Is that really necessary?
-Kassie

Dear Kassie:
February is National Pet Dental Month, dedicated to bringing awareness to oral hygiene for pets. The key to avoiding gum disease is prevention, so your human is on the right track brushing your teeth. If not treated, plaque and tartar buildup can lead to gingivitis or worse periodontal disease, which can result in severe infections affecting your heart, liver or kidneys.

In addition to daily brushing there are a wide range of products available to help keep your teeth and gums healthy. To complement the wide variety of pet toothpastes and brushes on the market, there are also gels, wipes and water additives that reduce plaque and tartar buildup. In addition, chews that work the jaw muscles and scrape off tartar are a great addition to your dental hygiene program. Look for things like raw bones, antlers, bully sticks and dental chews, including Flossies and Texas Toothpicks. Even the toys you choose can promote dental health. Make sure to include textured rubber toys, fleece and rope in your collection.

Finally, stop by your vet's office once a year to wow him with your smile. It will give him a chance to check the health of your gums and check for any broken teeth.

-Gus

Gus is a Senior Product Researcher at See Spot Shop at the Summit.
Have a question for Gus? Send it to seespotshop@qwest.net.
Heritage at Carefree lady celebrates her 100th birthday

By Curtis Riggs | February 4, 2009
Immigrated from Germany in 1925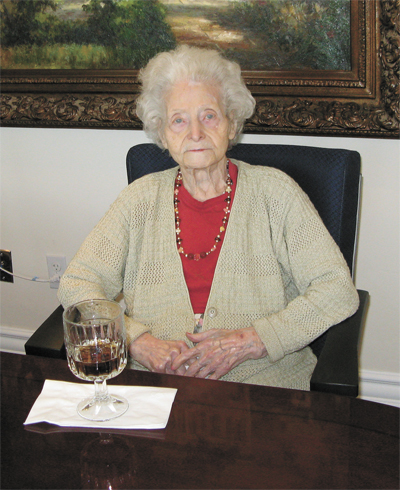 CAREFREE – Heritage At Carefree resident Elly Herrmann passed an important milestone earlier this week, turning 100 years old on Tuesday, Feb. 3.

She was born in Berlin, Germany and lived a hard life during the years of World War 1. She attributes her love of most any, and all, food to having to stand in line for food during the war years.

"I'll eat most anything. I was never fussy," she said. "There was never much to eat when I lived in Germany so we had to line up at the stores."

Her daughter Joan Seabaugh, who now makes her home in Cave Creek, attributes her mother living a century to the early years she survived in Germany.

"She had a hard life early on and I'm sure that helped her get to this point," she said about her mother's frugality and survival skills.

Elly immigrated to America in 1925. The 16-year-old was fortunate to meet her future husband, Arthur Herrmann, on the boat from Germany, which landed in New York City.

Arthur Herrmann was a naturalized American citizen who was living in St. Louis at the time.

The couple made their home in Cape Girardeau, Mo. for many years where Arthur was the president of a meat packing plant. Elly was a housewife who attended to things at home while raising two children.

Elly uses the simplicity of one who has lived a century when describing the important moments in her life.

"He must have done the right things," she said about meeting her future husband and their marriage four years later. "I liked him and he liked me."

While Elly is happy to eat most anything, she does love her chocolate and Coca Cola.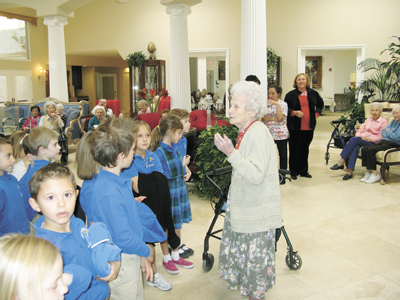 Her family members and some of her life-long friends came in for a birthday party for her at the Heritage on Sunday, Feb. 1. She enjoyed it a great deal when first graders from a new school at Our Lady of Joy Catholic Church sang Happy Birthday to her last week. The young singers were amazed to be singing to someone who was going to be 100 within the week.

"One-hundred is a big number," she admits. "I didn't really do anything special to get to be 100 – I just kept on breathing."

Photos by Curtis Riggs:
Elly Herrmann
First Graders from a new school at Our Lady of Joy sang Happy Birthday to new centenarian Elly Herrmann last week