Desert Foothills Theater pays tribute to Neil Simon
January 28, 2009

Hilarious Last of the Red Hot Lovers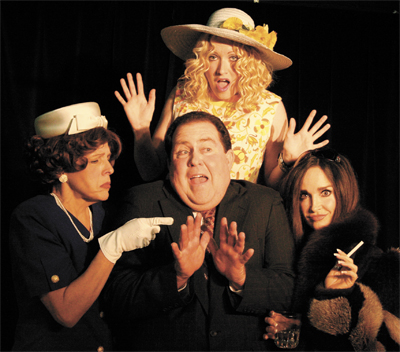 CAVE CREEK – Just in time for Valentine's Day, Desert Foothills Theater (DFT) will present Neil Simon's hilarious play, Last of the Red Hot Lovers, running Thursday, February 5 through Saturday, February 21 at the intimate Black Box Theater at Cactus Shadows Fine Arts Center, 33606 N. 60th Street, in Scottsdale.

Meribeth Reeves, DFT managing director, encourages those interested in seeing the show to purchase their tickets early.

"Neil Simon is pretty consistent when it comes to comedy, and we're already receiving calls to reserve seats," Reeves said.

Directed by Petey Swartz, of Phoenix, the witty play takes the audience into the life of Barney Cashman, who at age 47, wants to join the sexual revolution before it is too late. He is a gentle sober soul with a true blue wife of 23 years. He has absolutely no experience in adultery, and his efforts don't quite produce the results he intended.

"We can all relate when our hapless hero, Barney Cashman, bemoans the fact that the total sum of his mundane existence has been nothing more than "nice." He yearns, for one brief afternoon, to change the pattern of his life, and at last, not just to exist, but to live!"

Roy Hunt, of Carefree, plays the lead role of Barney Cashman.

Cindy Pruett, of Scottsdale, is making her first appearance with DFT as Elaine Nevazio.
Pruett said Elaine is the "perfect Neil Simon character" with witty one-liners and razor sharp comebacks that challenge her to focus on her delivery.

Morgan Ottersbach, of Cave Creek, plays Bobbi Michele; and Pat Drapac, of Anthem, plays Jeanette.

"This is an outstanding cast," she said. "As a newcomer to Desert Foothills Theater, I feel honored to be a part of it. Our director, Petey Swartz, is amazing! She has an eye for detail that colors every single aspect of the performance process. She brings incredible energy to every rehearsal and just inspires greatness," she said.

Last of the Red Hot Lovers opens on Thursday, February 5 with a Preview Night show at 7:30 p.m. Thereafter, the show runs Fridays and Saturdays at 7:30 p.m. and Sundays at 2 p.m. through Saturday, February 21. A special 2 p.m. matinee will take place on Saturday, February 14 in addition to the scheduled 7:30 p.m. show due to Desert Foothills Theater's Sunday, February 22 "Oscar Night: Turning the Oscar Party on it's Head" event. Tickets to Last of the Red Hot Lovers cost $18 per adult and $10 per student. Admission on the special Saturday, February 7 "A Peak at the Theater Night" is free.

For information, visit www.desertfoothillstheater.com, or call (480) 488-1981.