Longtime Creeker Grace Frederick dies at age 103 "Amazing Grace" was amazing to the end
By Curtis Riggs | January 21, 2009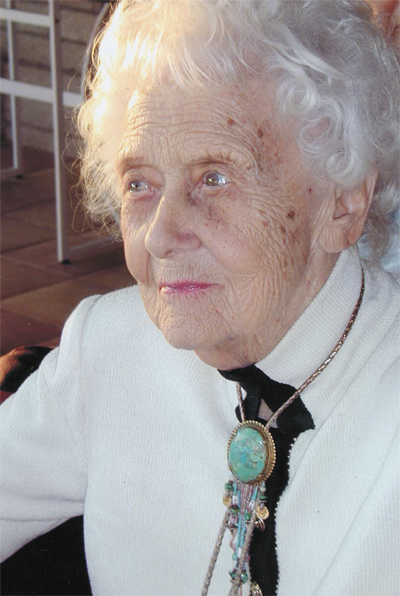 America lost a great patriot and Cave Creek lost a good friend last week with the passing of 103-year-old Grace Voss Frederick.

Grace was so passionate about being an American she built the 18,000-square-foot Grace Museum for the Preservation of Americana so young and old people alike could learn the story of America.

"She was proud to be an American," said Cave Creek Tom O'Reilly, who had known Grace for many years and made many trips around the museum at the end of Fleming Springs Road with her in the golf cart she used to get around the huge facility.

More...

The Desert Foothills Woman's Club Celebration
January 21, 2009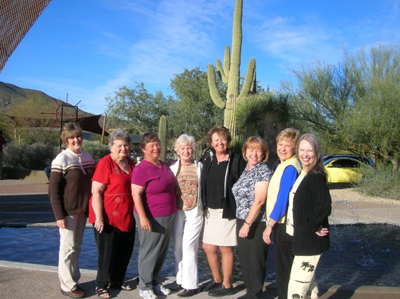 The Desert Foothills Woman's Club, the oldest club in the Desert Foothills area, will be holding their annual fundraiser on Saturday, February 7, at Terravita Country Club, from 5 – 9:00 p.m. The event, called "Celebrating Music of Our Decades," will salute the Club's 40 years of friendship, fun, and the satisfaction of supporting worthy community organizations and providing scholarship funds to enable some special young women to continue their schooling after high school graduation.
More...

Foothills! "All A-b-o-a-r-d!"

Pete Mohr | January 21, 2009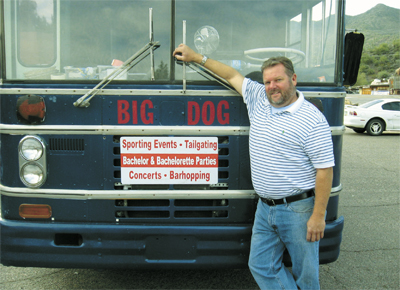 Close to 4 a.m. on New Year's Morning, Jay Sabanosh (above) finally parked "The Big Dog Luxury Liner" (the "Liner") at his Cave Creek home and went to bed without waking his family.

His accomplished mission? Ferrying safely home from various Foothills watering holes New Year's Eve celebrants too intoxicated to responsibly drive.

He usually cranks up the " Liner" for more conventional bookings: birthday outings, bachelor/bachelorette parties, weddings, concerts and tailgating expeditions (including grilled eats) to your favorite pro sports event. Sabanosh acquired a retired Blue Bird school bus in 2008; had the engine overhauled; painted the bus a Cactus Shadows blue; and (with the assistance of Creeker friends Jim Griffin & Joey Nochta) refurbished the interior, complete with bench seating for 22, racy tiger-striped wall coverings, ample refrigeration & food storage spaces, and an on-board restroom. Perhaps the "Liner's" most distinctive feature? A locomotive-sounding air horn donated by retired Santa Fe Railroad engineer, Creeker John Gray: "Wah-wah!" Here comes the "Liner"! All in all, a fun and safe way to celebrate, whatever the event. Remembering the years-ago Greyhound slogan: "Take the bus…and leave the driving to…" – Jay Sabanosh!

Young Musicians Showcase to feature 'Top' artist

January 21, 2009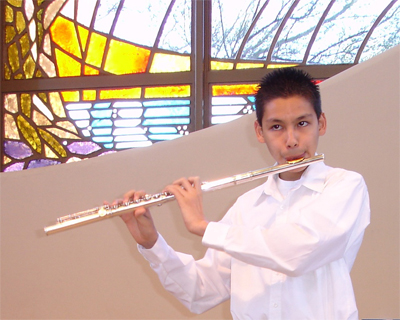 The Barnabas Society / Arizona Musicfest Young Musicians Showcase concert, at 7 p.m. on Friday, January 23, in Lincoln Hall at St. Barnabas in the Desert Episcopal Church features flutist Chaz Salazar; Joy Gunderson, harp; and Derek Goad, viola. These very talented young artists will be performing individually and as a trio. Joy will play "Fantasie pour Harpe" by Camille Saint-Saens; Derek will play Alexander Glazunov's "Elegy," and Chaz will play Movement I. Allegro, of "Concerto for Flute and Orchestra" by Jacques Ibert. As a trio, Chaz, Joy and Derek will perform Claude Debussy's "Sonata for Flute, Viola and Harp." More...

New Desert Foothills Library Story Times Children's delight
January 21, 2009
CAVE CREEK – Eager audiences will love the two new story time presenters that have just begun in January at the Desert Foothills Library. They both have extensive qualifications in working with children and have volunteered to do this very important job.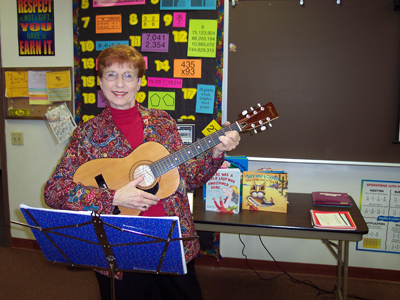 Sharon Ritt does Tuesday morning Stories and Songs at 10:45 a.m. every week. She has a been a teacher and reading specialist and uses her guitar with storytelling and singing. Ritt enjoys designing activities for the children integrating art, music and storytelling to help them develop self-confidence, oral language skills and a lifelong interest in reading.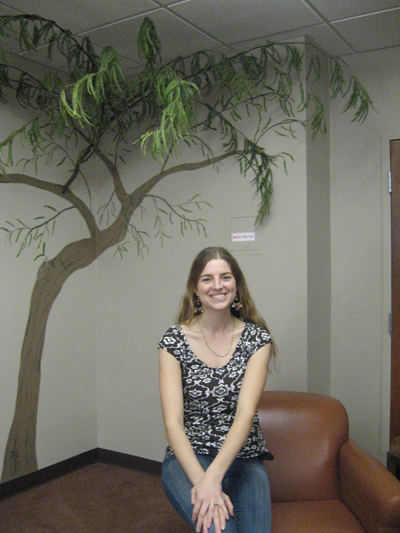 Anna Gebhardt presents Stories and Songs with Ms. Anna on Wednesday afternoons at 1 p.m. She has a long successful history with childhood education and is currently the Directress of Rising Sun Montessori Day School in Cave Creek. Each story time with Ms. Anna includes stories, songs, movement and fun!

Cynthia Wetter, Youth Services Coordinator for Desert Foothills Library, is delighted to have these two talented story time ladies every week. "The Library has been extremely fortunate to have these two commit to the children and parents," says Wetter.

For more information on Desert Foothills Library Children's Programs, call 480-488-2286 or visit the calendar at www.desertfoothillslibrary.org.

Courtesy Photo: Sharon Ritt, Anna Gebhardt