Hoops split with "P.V."; Gals rank 6th, Boys 13th
By Pete Mohr | January 21, 2009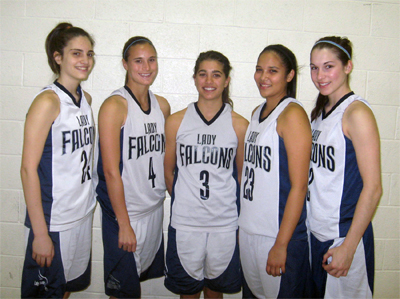 CSHS – "To win Region, we've got to run the table; and, we need help." That was Head Coach Ryan Pletnick's candid assessment to Sonoran News before Monday's late morning practice. McClintock sits unbeaten in D-Sky play. Lady Falcons must beat the Lady Chargers, at "Mac," by more than one point, Friday, Jan. 30, and count on Shadow Mountain to score a home victory over McClintock – in head-to-head competition, Falcons, 45-46 losers to the Lady Chargers on January 6, would win the tie-breaker.

The LadyBirds, still fuming over their January 13 home embarrassment, 45-52, by Shadow Mountain, laid it to P.V., 49-11, at Barrett Gym, Friday, Jan. 16. "The Ac Attac" (Kate Accola) led CSHS scorers with 18, with The LadyBirds' "dee-fence" allowing the Lady Trojans only three 2nd half points. Non-Region at Thunderbird, January 20, with the Ladies in a "must-win" match-up, at home, against Chaparral, January 23. Lady Falcons currently stand 6th in A.I.A. Power Points rankings.

"We've got to show up for 32 minutes," Boys Head Coach Dirk Walker lamented to Sonoran News after his Falcons played helter-skelter basketball in the final 48 seconds to let a win at P.V. slip away, 46-50, Friday, Jan. 16. Sparked by five "threes" and Kyle Gunter's work on the boards, the 'Birds jumped out to a 26-18 halftime advantage; trailed, 33-36, at the end of three; then wasted Tri-Captain Elijah Knox's dramatic tying "trey" in the last minute.

"Stallions without saddles" was the post-game description by an understandably disappointed Basketball parent. Falcon JV (now 10-1) and the 18-0 BabyBirds both won.

Tied for 13th in Power Points rankings, Falcons, at home, need to beat Thunderbird, January 20, then upset the Firebirds at Chaparral, Friday, Jan. 23. Both games tip at 7 p.m. With gas well below $2.00 per gallon, "The Birds Nest" ought to be out in full force at Chappie Town.

C'mon, Guys & Gals! You get only one high school go-round.

Photo by Pete Mohr
Firin' again! (l-r) Kaila Peluso, Gracie Goulder, Co-Capt. Alex Easterbrook, Maria Carranza and Kate Accola combined to lead the Lady Falcons to a 49-11 home runaway over P.V., January 16. Lady-Birds were at Thunderbird, January 20, before hosting Chaparral, Friday, Jan. 23, 7 p.m. tip.
Cards: "good news," Twice in 21 years!
By Pete Mohr | January 21, 2009
"Sure could use a little good news today!" – Anne Murray, mid-1980s. For the second time in going on 21 years, Owner Bill Bidwill and his Arizona Cardinals have given this economically reeling Valley a bigtime confidence shot-in-the-arm. First, in the disaster that was spring 1988, when Bidwill dropped out of the NFL ceiling like the Groucho Marx duck to announce his relocation of the St. Louis Cardinals to Phoenix; and then, last Sunday, when Kurt Warner, a 37-year-old quarterback who never stopped believing in himself – and his teammates – led the Redbirds to a thrilling 32-25 at-home upset of the Philadelphia Eagles to win the National Football Conference Championship. Next stop: Tampa, Sunday, Feb. 1, when the Cardinals will challenge favored Pittsburgh in Super Bowl XLIII. Credit owner Bidwill for finally letting the moths out of his wallet to pay up for a quality head coach, Ken Whisenhunt, and the quality staff Coach Whisenhunt then assembled. Player talent plus coaching talent equals the sure-fire combination that is sending delirious Cardinals fans on their way to Tampa. Congratulations to the Cardinals organization – and especially to their fans, who've "kept the faith" for 21 l-o-n-g years.
-Pete Mohr
"Hold that (Falcon) tiger!"

2008 was a big year for Carefree native Brett Jacobson (CSHS '05). In June, "The Big Righthander" was selected in the 4th Round of the MLB amateur draft by the Detroit Tigers. Assured by his agent, Creeker Gregg Clifton, that Detroit had offered him a competitive contract, Brett reported immediately to the Tigers' training complex at Lakeland, FL for his physicals and pitching mechanics evaluations.

Assigned to the Western Michigan (Grand Rapids) Whitecaps in the Class "A" Midwest League, Brett, only in relief "as a 7th-8th inning guy," put up some impressive numbers: 1.52 ERA in 29 innings, with 31 strikeouts and only five walks. Then came "Fall Ball" with the Tigers' Instructional League squad until October 17.

He had just enough time off to marry former (and lovely!) Creeker Sierra Briggs (also CSHS '05) in Franklin, Tenn. on November 30. Brett & Sierra came out from their Nashville residence for a January 6-13 Foothills visit with Mike & Barb Jacobson.

Brett volunteered to Sonoran News that he's satisfyingly "learned how to simplify the game. Make the right pitch in the right location: that's all I need to concentrate on. Keep it simple." Acknowledging that pitching in relief requires "a different mentality," he welcomes "the challenge of having to be ready to pitch in each game – not just once every five days."

On March 8, Brett returns to Lakeland for Spring Training, where he'll be under the watchful eye of ex-New York Met Jon Matlack, the Tigers' director of pitchers development.

His 2009 assignment: High "A" with the Lakeland Flying Tigers (Florida State League)? "AA", Erie, PA Sea Wolves (Eastern League)? Or "AAA", Toledo, OH Mud Hens (International League)? Could he follow Vanderbilt teammate David Price's fast-track from the 2007 Draft (by Tampa Bay's Rays) to relieving in the pressure-packed 5th game of the 2008 World Series at Fenway Park?

Brett smiles modestly, " I suppose that's entirely possible; but for right now, I just want to make the best of whatever opportunity the Tigers give me."

Chanced upon at "The Bad Donkey," Saturday lunchtime, January 10, Gregg Clifton quietly confides to this writer, "The Tigers love 'im!" Yes, now "The Big Righthander" is on track to become the first basesball Falcon to pitch in the Major Leagues!

Photo by Pete Mohr: Brett & Sierra Jacobson