Mojito Cigar Lounge: A true smoker's dream
By Curtis Riggs | January 14, 2009
Touch of Caribbean in the Desert Foothills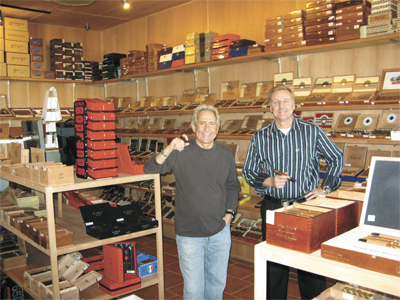 PHOENIX – The folks at Mojito Cigar Lounge encourage their smokers to sit back, relax and enjoy a good cigar in their Carefree Highway shop, which is modeled after a Caribbean village complete with many reminders of the islands and the best in cigar smoking.

The warm and inviting 2,500-square-foot cigar lounge invites the best in cigar smoking with its atmosphere, all kinds and prices of cigars and the camaraderie of its members.

"We wanted to create a Caribbean atmosphere," store manager Bob Conrad said. The spacious lounge features large leather chairs, H.D. TVs and a staff that places a premium on going the extra mile with their customer service. "The word lounge is key because we want people to come in and stay awhile."

Carefree Sentinel Rock resident, and Southwest Airlines pilot, Bill Niederer fulfilled his dream, to own a cigar store, last October when he opened the store at the Shops at Dove Valley (southwest corner of Carefree Highway and 48th Street).

"I wanted people to come here to smoke and for the camaraderie," Niederer said about the atmosphere he wanted to create. "I wanted to have a place where people could come to smoke that has all the comforts of home."

Mojito Cigar Lounge offers over 100 brands of Dominican Republic, Honduran, and other Latin cigars like Padron, Ashton and Gurkha. Southwest Airlines flight attendant Beth Lyons, the weekend "Hostess with the Mostest," takes care of the needs of Mojito club members and customers to see they have a fine smoking experience whenever they come in.

"When people come in we want them to have a welcoming feeling so they will come in and stay awhile," she said about all the amenities offered at Mojito including Wi-Fi for those wanting to use their laptops while enjoying a relaxing smoke.

Mojito offers 64 cigar lockers for club members to store their smokes, half of which are already in use.

According to manager Conrad, what separates Mojito Cigar Lounge from local cigar outlets and the many other cigar stores in the Valley is the 400-square-foot humidor, which is made of Spanish cedar. There are large windows in the humidor so people inside choosing a cigar can look out and see what is going on in the rest of the store and vice versa.

"The humidification device is top of the line," Conrad said.

Conrad says cigars are "the great equalizer" because it is not uncommon for doctors and lawyers to be smoking in the lounge along with motorcyclists.

To find out more about Mojito Cigar Lounge, 4705 E. Carefree Highway, ste. 116, visit the website www.Mojito CigarLounge.com or call 480-595-7833.
Photo by Curtis Riggs: Mojito Cigar Lounge owner Bill Niederer, right, and store manager Bob Conrad are proud of the 400-square-foot humidor that keeps the cigars fresh at the store at 4705 E. Carefree Highway, Ste. 116.