A passion for Arabians
January 7, 2009
RIO VERDE – In 2003, Mary Lou Houge acquired 20 acres in Rio Verde and started building her dream facility for horses. Her passion for Arabians and introducing new people to the breed is reflected in her Rio Estancia Ranch with the Rio Verde foothills and Four Peaks as a backdrop.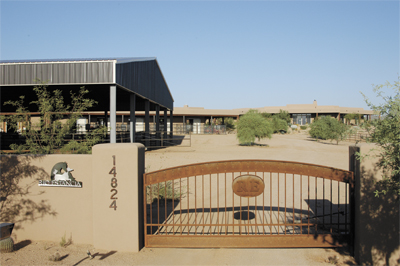 In these last six years, Rio Estancia has grown to include two barns, one enclosed 14 stall barn with wash/tack stalls and another 18 horse barn with partially covered outside pens on one half and the other half with inside stalls. The first structure you notice, however, upon entering the gate, is the 100' X 200' covered arena which is lit for night time riding and provides welcome relief from the summer sun (as well as the winter rain we have been experiencing). There is also a 150' X 300' arena.

Arabians are the specialty breed at Rio Estancia and Mary Lou has two trainers to work with her own and her boarder's horses. Enrique Carranza is very patient and specializes in teaching the babies very slowly and working with owners on how to handle their young horses. Mitch Sperte works with training horses and riders in English saddle seat and has taken many to national shows.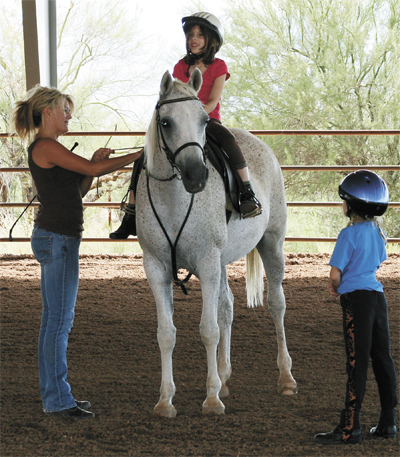 But Houge's real passion is starting new people from children to adult amateurs. She enjoys seeing the transition from lessons to ownership to the show ring. Resident instructor Alicia Ward of Scottsdale Riding Club works with the "newbees" and beyond. The lesson horses at Rio Estancia are quiet and safe, retired show horses who know their job. Alicia has a BA in Equestrian Science and is also a registered yoga instructor. A lesson with Alicia can involve stretching exercises and carrying a large ball above the head to develop balance as a rider.

Mary Lou and her 19-year-old former reining horse, Clancy, have developed their own form of Arabian "diplomacy" to give back to the community. Clancy regularly visits the Phoenix Children's hospital to offer the kids the chance to experience an Arabian up close and personal. Having kids come up to him hooked up to medical tubes and braces doesn't faze the beautiful gray horse. He's even had a wheelchair bound patient roll right under his belly.
For more information on training, boarding, or just to come out and meet the yearlings and young Arabians, call Mary Lou at 480-473-3520 or visit www.rioarabians.com. For lessons contact Alicia Ward at 480-201-7039 or visit www.scottsdaleridingclub.com.

Courtesy Photo: Entrance to Rio Estancia Ranch in Rio Verde.

Courtesy Photo: Alicia Ward adjusting the stirrup for one of her young students on Clancy.