Gals breeze, guys wheeze in tourneys; Resume regular
season play Jan. 6
By Pete Mohr | January 7, 2009
Gals, Guys vs. "Mac", Jan. 6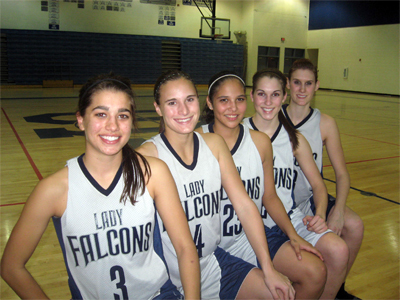 CSHS – Whatever the sport, a tournament host's dream is that the #1 and #2 seeded teams will make the finals. At Centennial's Coyote Classic, Tuesday, Dec. 30, the Championship Game matched the #1-seeded Deer Valley Lady Skyhawks (5A-II) against the #2-seeeded CSHS Lady Falcons (4A-I). A 'dream' finals? Not hardly. Head Coach Ryan Pletnick's LadyBirds were a bad dream for the 'Skys,' using a clamp-down defense to run away, 60-29! Hail to the Champeens! A modest (but somewhat smug) Coach Pletnick to Sonoran News: "Well, we did what we had to do." Right, Coach.

The Lady Falcons limited the DeeVees to three points in the 1st quarter, only ten at the half; then cranked up their offense in the second 16 minutes. Co-Captain Alex ("A.E.") Easterbrook (18), Gracie ("Quickness") Goulder (17) and Kate ("The Ac-Attac") Accola (15) scored in double figures.

The Ladies had little time to admire their Championship plaque. Perhaps their biggest Desert Sky test, McClintocks's Lady Chargers, led by All-Stater Amy Patton, came into Barrett Gym, Tuesday evening, Jan. 6, to be followed by Saguaro's Lady Sabercats, Friday evening, Jan. 9. Varsity tips at 7 p.m.

Meanwhile, at Boys Ranch, Head Coach Dirk Walker's Hoop Guys will try to get back on the 'W' track – but they'll face the tough task of Region road games: at McClintock (Jan. 6); at Saguaro (Jan. 9). Mark your sports calendars for the Tuesday, Jan. 13 doubleheader (Boys and Girls), at CSHS, against Shadow Mountain.

Photo by Pete Mohr: Lady Falcon starters against the Lady Chargers (McClintock), Tuesday evening, Jan. 6, were (l-r) Co-Captain Alex Easterbrook, Gracie Goulder, Maria Carranza, Kate Accola and Lacey Modzeleski. See front page sidebar for results.
Soccer(s) bow in N.D. Semis
By Pete Mohr | January 7, 2009
Opened home schedules, Jan. 6

SCOTTSDALE – CSHS Soccer Head Coach Mat Evans' Boys and Head Coach Jeff Vittorio's Girls, didn't have much of a post-New Year's celebration in Notre Dame's "Soccer Classic", Friday and Saturday, Jan. 2 -3 at Cap Basin Sports Complex.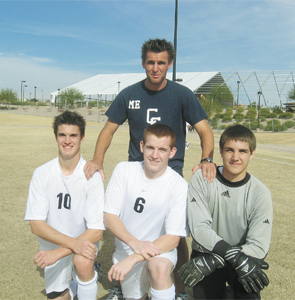 After advancing to Friday afternoon's Semis with a 2-0 morning shutout of Copper Canyon, the 5-0 unbeaten, unscored upon "Soccer Lads" jumped out to what should have been a commanding 3-1 halftime lead over the Agua Fria Owls only to snooze their way to a 3-4 upset – and a downgrade to Saturday morning's consolation vs. Willow Canyon. On goals by Max Hammer, Tyler McClendon, Cody Williams, Jordan Hartman and Ethan Pikoff, the 'Lads' woke up for a 5-1 'right-the-ship' win. Coach Mat to Sonoran News: "Now the Lads know what it feels like to lose. Get it out of their system before State. I liked the way they bounced back on Saturday. We want that State Championship!"

The Soccer Ladies should've have back-pocketed at least two goals from their 7-4 victory over Boulder Creek, getting ousted, 1-0, by Millennium later in the afternoon, then blanked by the same score Saturday morning by Desert Sky arch-rival Chaparral.

Lads and Lasses both opened their home schedules Tuesday, Jan. 6, against Moon Valley.

Photo by Pete Mohr
Co-Captains, The 'Keep' and The Coach: In a better mood after their 5-1 consolation win over Willow Canyon, Saturday, Jan. 3, were (l-r) Co-Captains Matt Moorer and Jake Walker and goalkeeper Nate Barker. Monitoring his 'lads': Head Coach Mat Evans.

Varsity Roster
Enda Crahan, Asst. Coach Nate Barker (SR)
Tyler Bradshaw (SR) Jordan Brock (SO)
Kurt Gilbertson (SR) Max Hammer (SR)
Jordan Hartman (JR) Jack Huettner (SO)
Cody Kirschner (JR) T.J. Marsh (SR)
Tyler McClendon (SR) Co-Capt. Matt Moorer (SR)
Brendan O'Hearn (SR) Ethan Pikoff (JR)
Donovan Rico (JR) Garrett Sherman (SR)
Danny Trittler (JR) Bobby Silva (SR)
Craig Wadas (SO) Co-Capt. Jake Walker (SR)
Cody Williams (SR) Phil Wiltfong (SO)