Cave Creek is getting greener!

January 7, 2009
Sonoran Villas an Energy Star Winner
CAVE CREEK – Sonoran Villas, 6434 E. Military Rd., developed by Wold Development and built by Pacific Devcon, has just received Energy Star Certification. To earn the certification, home must meet guidelines for energy efficiency set by the U.S. Environmental Protection Agency (EPA). According to the EPA these homes are at least 15 percent more energy efficient than homes built to the 2004 International Residential Code (IRC) and include additional energy-saving features that typically make them 20–30 percent more efficient than standard homes.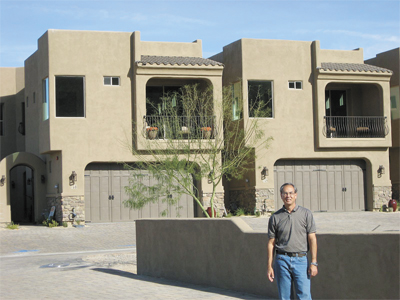 Home designs, layouts, and option packages need not change to incorporate energy efficiency.

At Sonoran Villas:
• Every room and closet has windows or solar tubes for natural daylight.
• The windows are Super low E glass (SunCoatMax).
• Air Conditioning is Zoned and High Efficiency 14 SEER.
• Insulation is R20 in walls and R40 in ceiling.
• The duct space is insulated.
• Appliances and lighting are Energy Star Certified.
• Homes have been pressure tested for air leaks.
• Inspections by Energy Star inspector verify each critical construction step.

Though it costs more to build an Energy Star home, the $2,000 tax credit and 20 percent in energy savings are well worth it.

Kudos to Wold Development for making Sonoran Villas in Cave Creek an Energy Star Winner! Stop by, give them a call at 480-563-5640 or visit their website at www.SonoranVillas.com to learn how you can become a Sonoran Villas home owner.

What makes a home an ENERGY STAR home?

Builders can choose from a variety of "tried and true" energy efficiency features to meet ENERGY STAR performance guidelines including:
Effective Insulation: Properly installed and inspected insulation in floors, walls, and attics ensures even temperatures throughout the house, while using less energy. The result is lower utility costs and a quieter, more comfortable home.

Tight Construction and Ducts: Advanced techniques for sealing holes and cracks in the home's "envelope" and in heating and cooling ducts help reduce drafts, moisture, dust, pollen, pests, and noise. A tightly sealed home improves comfort and indoor air quality while lowering utility and maintenance costs.

Efficient Heating and Cooling Equipment: In addition to using less energy to operate, energy-efficient heating and cooling systems can be quieter, reduce indoor humidity, and improve the overall comfort of your home. When properly installed into a tightly sealed home, this equipment won't have to work so hard to heat and cool the home.

High Performance Windows: Energy-efficient windows employ advanced technologies, such as protective coatings and improved frame assemblies, to help keep heat in during the winter and out during the summer. These windows also block damaging ultraviolet sunlight that can discolor carpets and furnishings.

Efficient Products: ENERGY STAR qualified homes may also be equipped with ENERGY STAR qualified products-lighting fixtures, compact fluorescent bulbs, ventilation fans, and appliances, such as washing machines, refrigerators, and dishwashers.

Third-Party Testing: With the help of an independent Home Energy Rater, ENERGY STAR builder partners choose the most appropriate energy-saving features for their homes.
Additionally, the rater conducts onsite inspections and testing to verify the energy efficiency measures, as well as insulation, air sealing, and duct sealing details.