Last Friday's disappointment ...
By Pete Mohr | September 17, 2008

CSHS – To upset the Cactus Cobras in their house, Head Coach Chad DeGrenier knew that his Falcons "had to be close going into the 4th quarter, then take our chances." Bo Jackson (uh, I mean "Mike Brown"), one of the premier running backs in Arizona high school football, personally saw to it that didn't happen. At the end of the 3rd quarter, Brown had torched the Falcon "D" for 237 yards on 21 carries, scoring the Cobras' first five touchdowns! (The West Side 'Snakes tacked on a "garbage" TD with only 21 seconds left in the game.)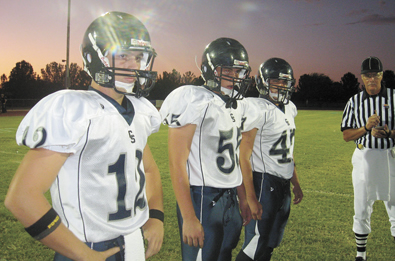 As the teams broke for the 4th quarter, the Falcs gamely held up their four-fingered tradition. But trailing 7-35, Brown, "The Fat Lady" was already warming up to sing. For the 'Birds and an encouraging crowd of their supporters (how 'bout them Cheerleaders and Dancers who never lost their spirit?!), it was "Disappointment City."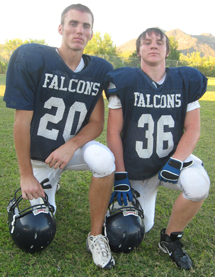 After Brown had raced the Cobras to a 14-0 lead at the end of the 1st quarter, Tommy Murphy pounced on a Brown fumble at the Cactus 40. Then the Falcons drew close on Dillon Classen's four-yard bullet to Brady Dombrowski who outfought two Cobras to make a leaping TD catch with 3:57 left in the half. Bryce Redmond converted, 7-14. Only 1:32 later, "Bo" swept left for 39 yards and his third score. "Terrible tackling," Defensive Coordinator Matt Bradshaw lamented to Sonoran News after Monday's practice.

Coach DeGrenier's analysis: "Mental mistakes killed us! We made plays against Higley that we didn't make at Cactus." Right, Coach; but 4A-II Higley (on the road) ain't 4A-I powerhouse Cactus (at home).

In five seasons, I've never heard "Coach D." make excuses for a loss; but I would offer this explanation: at least nine times out of ten, any team (Cactus) that suits up 65 players is going to wear down and beat their opponent (CSHS) with only a valiant 35 on its sideline. Falcon fans, I say it's all about the numbers; and until football becomes a want-to-play "tradition" at Cactus Shadows, I regret to opine that I don't see that manpower deficit improving.

Top photo caption: "CAPTAINS COURAGEOUS": For game captains (l-r) Dillon Classen, Tyler Souva and Danny Prodan, the rose-colored sunset would give way to a dark night, as the Cactus Cobras whacked the visiting Falcons, 42-7, Friday, Sept 12.
Lower photo caption: Brady Dombrowski's (left) first TD reception and Zach Sexton's play ("A warrior on both sides of the ball," praised Head Coach Chad DeGrenier) couldn't save the Falcons.
Photos by Pete Mohr

This Friday, at Sinagua …
Colors: Blue & Gray
Head Coach: Paul Wolf
How to get there: I-17 North to "Flag"; cross I-40; before first traffic signal, turn right onto McConnell Circle, leads directly to NAU's Walkup Sky Dome.
Last season (at CSHS): Falcons scored an unanswered 18 points in the 2nd half to pull away to a decisive 30-6 win over the Mustangs.
This season: Mustangs are 0-3, having been embarrassed by Apache Junction (0-65), Coronado (0-38) and Seton Catholic (16-42). That start makes the 'Hosses potentially dangerous in their second home game.
What Falcons must do to win: "First, we've got to get healthy. (Nicked up 'Birds are Dillon Classen, Anthony Stephens, Brady Dombrowski, Jackson Donahue.) Then we must play disciplined football, meaning no mental mistakes!" Head Coach Chad DeGrenier.