Learning from pros during Summer Art Studio

By Curtis Riggs | September 3, 2008

Abstract painting taught this year

CAVE CREEK/CAREFREE – The Sonoran Arts League's Summer Art Studio once again accomplished its mission o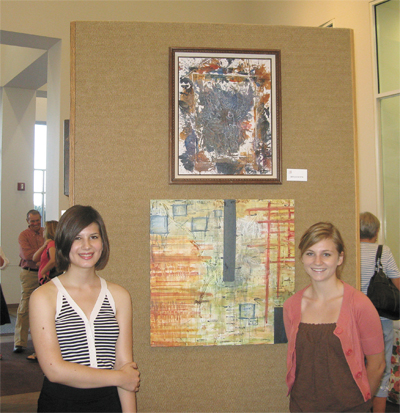 f teaching art to young and old alike in the Desert Foothills.
The effectiveness of the summer studio in helping young aspiring artists learn more about their craft and hone their skills, is proven by the number of Cave Creek art students who take summer studio classes every year.

Cactus Shadows High School art students Merritt Thompson and Megan Koth, who take Advanced Placement (A.P.) art classes in school because they earn college credits, enjoyed this year's summer studio because they were allowed to learn about abstract painting. Both are juniors at Cactus Shadows who enrolled in the summer studio last year as well as this year.

"The studio helps us as artists because we are able to receive extra instruction from real artists," said Koth, who freely admits she can see a difference in her art from last year to this year.

"It helps to grow our own techniques," she added. "Before I didn't do any abstract painting and now I enjoy it."

Thompson had done "a little" abstract painting prior to summer studio.

"When they teach you it helps to make you feel more comfortable painting," she said. She now enjoys abstract painting.

She described what she learned at this Summer Art Studio "experience she couldn't do without."

Just over 40 students receive instruction in different art styles and genres from the S.A.L. artists in the Summer Art Studio every year.

Photo by Curtis Riggs
Cactus Shadows art students Megan Koth, left, and Merritt Thompson painted abstract paintings as part of this year's Summer Art Studio.
New western art gallery anticipated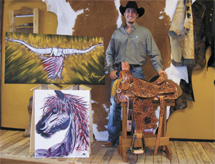 Photo by Joanne Holmberg

Clint Herring, custom saddle maker and owner of Herring Saddle & Western Living Décor, is developing his own gallery of acrylic paintings of his western contemporary art. There will be a gallery opening in October (date to be announced). Several paintings can be viewed, including the two above, at his store on the NE Corner of Tatum and Dynamite. Call 480-650-6158 for more info.