The "B" in "Bidwill" stands for "Billionaire" – NFL style
By Pete Mohr | August 13, 2008

This issue marks the seventh anniversary of Publisher and Editor Don Sorchych's acceptance of my offer to write "sports" for Sonoran News.

My first article profiled newly appointed CSHS Athletic Director Dale Nicol, now three years departed to the same position at Peoria's Raymond Kellis High School. For the same issue, I authored a commentary in which I opined that the Phoenix powerbrokers had made the right choice in late Spring 1988 when they welcomed the totally unexpected Bill Bidwill and his Cardinals, thereupon sacking the all but guaranteed awarding of the next NFL franchise here for Bart Starr, Governor Joe Foss, Bart's Green Bay teammate and fellow Hall of Famer Willie Davis and their financial partner whose name honestly escapes me.

After seven more seasons, 2001-2007, of mediocre-to-lousy football, my opinion has not changed. Please understand, readers, that position is very difficult for me to restate, because I've had the privilege of knowing Bart Starr since I was a 14-year-old 9th grader in our native Montgomery, Alabama.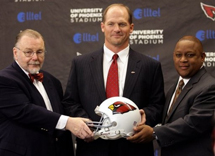 So this article is for all you "Bidwill Bashers" out there, frenzied yet again by the Cardinals (translate, the Bidwills) fumbling and bumbling contract negotiations with Anquan Boldin, arguably the team's most outstanding player.

About two weeks ago, "Q" had "had it" with the Cardinals; so went public with the accusation that he'd been "lied to" by the Cardinals in their promise to negotiate a new contract with him prior to the start of this upcoming season. To prove he wasn't bluffing, Boldin instructed his representative, super agent Drew Rosenhaus, to withdraw from any further contract negotiations with the Cardinals.

Pretty serious stuff when any employee accuses his (or her) employer of lying. My prediction? Anquan Boldin will give the team his best this season, because that's the only way he knows how to play – but be gone in a "trade-me-or-I-sit" position before the 2009 NFL Draft.

The evening of the storybreak, I listened to an interesting analysis by Dave Burns, host of KTAR's (620AM) "Sports Line." Burns had researched the rosters of the last 20 Super Bowl Champions, finding that only one (maybe two) had two "premier wide receivers." Burns ended his broadcast by posing this question to his audience: "Can the Cardinals afford Larry Fitzgerald and Anquan Boldin?" Try this "math" on, Dave.

In early December 1990, a former investment-banking colleague, Rod Dowling (lawyer, CPA and highly successful corporate financier) had reason to show Bart Starr and me the "fairness opinion" rendered as one of the closing documents in Jerry Jones' February 1990 purchase of the Dallas Cowboys. The "fairness" confirmed price for "America's Team?" One hundred twenty million ($120,000,000). Using that valuation as a definitive benchmark, I offer that it's on the generous side to ascribe not greater than $100,000,000 to the value of the Cardinals franchise at the time of their spring '88 arrival in the Valley.

In 2007, Wayne Huizenga, Blockbuster Video-fortuned owner of the Miami Dolphins, sold a 50 percent interest in his "Fish" for $750,000,000. You don't have to be a math wizard to reach the conclusion that a 50 percent interest in the Dolphins at $750 million makes 100 percent ownership (exclusively Bill Bidwill's) in the Cardinals worth at least one billion! From $100 million to $1 billion while in this Valley! Readers, that's some kind of capital appreciation and certain to go higher.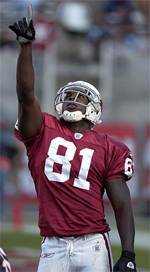 So welcome to the club, "Q." The Bidwills have been lying to Cardinal fans for the better part of 20 years about their commitment to put a winning football team on the field. You'll be lucky to get out while still in the physical prime of your football-playing career.
"Billy Bow-Tie" to "Billy Billionaire": you gotta love it, Dave! And keep before you the latest Cardinals puking slogan: "We're All In This Together!" Sez who?

Out of loyalty to Bart Starr, I've never been to a Cardinals game and never shall. But in the Spring of 1983, when Phoenix was in an economic (and political) free fall, Bill Bidwill was the only "good news" choice. All you "Bashers" need to remember that.

For every long-suffering Cardinals fan, I sincerely wish for you at least a Playoffs appearance this season. You deserve nothing else. Anquan Boldin, I hail your integrity!

Top photo: IN A TOUGH "MIDDLE" is Cardinals Head Coach Ken Whisenhunt, flanked by the greed of owner Bill Bidwill and the "seven figures" ineptitude of General Manager Rod Graves, reliably a nice guy, but in the financial complexity of today's NFL, in way over his head. Good luck, Coach Whisenhunt!

Lower photo: Cardinals All-Pro wide receiver, Anquan Boldin points heavenward after making a critical catch. It may take "divine intervention" to keep him a Cardinal after he publicly accused management of "lying" about renegotiating his contract.

Courtesy photos