The Axe in the Attic screens at Space 55, Sept. 6

Aftermath of Katrina documentary

"'The Axe in the Attic' is one of the most important, engrossing and compelling documentaries we've screened in our 6 year history. It is the best documentary of 2008."
~ Steve Weiss, Executive Director, No Festival Required LLC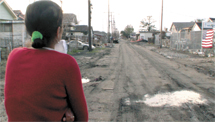 "The Axe in the Attic"
A documentary on the Diaspora of New Orleans
A film by Ed Pincus and Lucia Small
Distributed by Indiepix
Saturday, September 6, two shows: 7 and 9 p.m.
(doors open 15 minutes before show-time)
Space 55, 636 E. Pierce, Phoenix
Admission $7, $1 off for students with current i.d.
Venue info: www.space55.org
Screening info: www.nofestivalrequired.com
Or call 602-265-9524


What does it mean to be exiled in your own country? Drawn together by outrage, documentaryfilmmakers Ed Pincus and Lucia Small embark on a sixty-day road trip from New England to Louisiana, and ultimately into the Hurricane Katrina devastation zone to meet evacuees who have lost their homes. They make the uneasy choice of integrating themselves into the story, "because when you're two white northerners heading South, remaining behind the camera just doesn't feel like an option."

When the film opens, it is six months since Katrina hit New Orleans and the levees breached causing the largest internal migration in American history. We first see the eerie beauty and horror of the shattered landscape, draped in heavy fog and emptied of its residents.

The story of an American Diaspora unfolds – the displaced struggling with loss of home, family, and culture. Emotions range from deep pain to surprising humor, as filmmakers and subjects tackle questions of race, class, and our government's failure to protect its own.

The Axe in the Attic documents the natural and human landscape of Katrina and how evacuees adjust to new environs – some achingly familiar and others wholly alien. Having lost everything, they seek safety and comfort however they can. Amid the grieving and isolation, family, church, cell phones, and consumer goods become life support.

The filmmakers encounter a range of evacuees grappling with the daily grind of their altered lives – from a close-knit African American family that comes from the Lower Ninth in New Orleans to start over in the wintry hills of suburban Pittsburgh, to a single, white working mother raising two teenagers living in a condo on the outskirts of Cincinnati, to Baker, Louisiana, where the residents of FEMA's largest trailer park ("Renaissance Village," with almost 600 trailers) live as if in a refugee camp.

As the filmmakers approach the hurricane zone, the mood darkens. A surreal atmosphere of calm prevails as days are spent managing endless government and insurance paperwork.

Disillusionment runs rampant. Health problems abound. Spouses argue about the future. Grown men weep. Most are still in shock and reeling from the monumental task of starting over. Hope emerges as evacuees cope in myriad ways – by shifting from harrowing tales to humor, or by recreating the foods and smells of their lost homes. Above all they seek meaning in what has happened to them.

Their search for meaning in the world resonates with the filmmakers, whose life experiences bring two different, frequently competing viewpoints to the story. Their personal perspectives shape their filmmaking choices at every turn, becoming an undercurrent of The Axe in the Attic. As they encounter difficult choices and awkward situations with some subjects, they question their approach and the ethics of documentary filmmaking.

The consequences of a breakdown of trust between a government and its citizens, and the capacity of human beings to survive and endure with dignity, form the backdrop for this universal story of the search for home.