Cadeau to focus on fund-raising as Sonoran Arts League coordinator

By Curtis Riggs | August 6, 2008

Replaces Sue Mueller

CAREFREE – A local resident who has a wealth of experience in fund-raising and marketing became the new coordinator of the Sonoran Arts League last month.

Chimene Cadeau replaced longtime League coordinator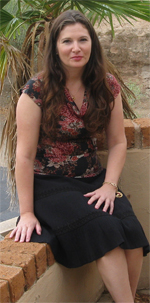 Sue Mueller, who recently retired. Cadeau brings to the League extensive experience in non-profit marketing, community development, grant writing and fund-raising.

"We are so fortunate to have her. She is so experienced and qualified," League President Ralph Deuschle said. Cadeau was chosen for the post out of 60 applicants.

Cadeau grew up in the Upper Peninsula of Michigan. She has lived in Arizona for 14 years and Cave Creek for two. She likes living in Cave Creek because it still has a "small-town, community atmosphere."

She intends to rely on her experience in technology and fund-raising for non-profit organizations to raise the profile of the 356-member league of artists while simultaneously bringing in as much money as possible.

"I just want to bring in more money so we can do more youth programs, community programs and give out more scholarships," she said about her focus as league coordinator.

She is excited to work for the Sonoran Arts League because it will keep her close to home and, "it will be nice to be surrounded by artists and the creative process."

Her fundraising and grant-writing experience will entail applying for state and local arts grants as well as funding on the national level.

She uses the mural League artists painted on a trailer at the Spur Cross Ranch Conservation Association as an example of S.A.L. activities which can be highlighted to receive other grants.

"This is an ideal niche to apply for national grants," she said. "There are a lot of very dynamic people in the Sonoran Arts League. There are a lot of local leaders."

When Chimene is not overseeing S.A.L activities, she can often be found taking in the Friday night bull riding at the Buffalo Chip.
Summer brings Dog Days of August
By Curtis Riggs | August 6, 2008

Chance to win Linda Budge original

CAVE CREEK – Art lovers will get a jump on the up-coming art season this month as wildlife painter Linda Budge's third-annual Dog Days of August contest kicks off.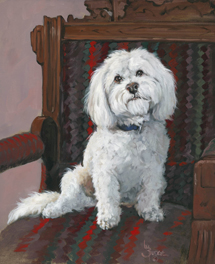 Budge achieved non-profit status for her annual charity contest this year, which contributes to area animal shelters.

The contest, which is now open to all Arizona residents, runs from Aug. 1 through Aug. 31.
The grand-prize winner of the annual essay contest about one's dog will receive an original Linda Budge oil painting of the pet, valued at $2,700. There are more chances to win other pet-related prizes and gift certificates this year.

Applicants need to submit a color photo of their dog along with a 500- to 700-word essay ?about their dog in one of five categories: My Hero; A Laughable Moment; How We Met; Something to Bark About and In The Dog House.

Checks for the $20 contest entry fees should be made out to the animal charity of one's choice. For contest information visit the website at www.dogdaysofaugust.org or call
480-595-9985.