The Phoenix Herpetological Society:
From two lizards to 600 "Critters"!
By Pete Mohr | July 30, 2008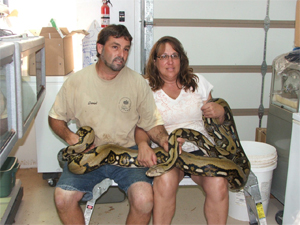 DESERT FOOTHILLS - Daniel Marchand (pronounced "Mar-shaw") grew up fascinated by every creature that crept or crawled in the desert. As a middle schooler, he earned extra credit by capturing rodents and insects for "laboratory" feedings. Today, at 46, Marchand and his partner, Debbie Gibson (for whom he first captured two chuckwallas in 1999) caringly preside over The Phoenix Herpetological Society's (PHS) "zoo" (on Marchand's 2 1/2 acre property) which houses over 600 rescued or seized animals, ranging in size from the Australian Bearded Dragon (see front-page sidebar photo) to the well-publicized "Clem," a 16-ft. alligator who had lived some 20 years (before his Arizona Game & Fish requested capture by Marchand) on Bureau of Land Management property acquired from a reclusive fellow near the Arizona-Utah border.

Earlier this year, a seizure from an illegal owner of 7' 5" alligator "Alice" at Camelback and 50th Street (hardly the Low-Rent District!) … in 2003, a rescue of 76 illegal animals from a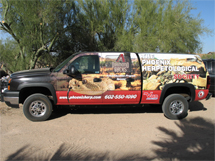 Cave Creek residence … in August 2006, 50 reptiles alive and 32 dead from an abandoned pet store in Surprise … and, of course, the 2004 "bust" on I-10 near Casa Grande that netted 32 gators from an illegal dealer on the lam from California to Georgia. Included in those 32 gators was "Tuesday," who became the unofficial mascot (and good luck charm) for the Florida Gator faithful before their Football Gators chewed up the Ohio State Buckeyes in the 2006 NCAA Championship Game. Upon request, visitors can pet "Tuesday," as did Bridgette Sabanosh, her older brother Connor (soon to be a Baseball Falcon like older brother Chris) and Dillon Facini, their cousin from Ridgefield, Conn., on their July 26 "excursion" to PHS.

"Tuesday," apparently domesticated from hatching by her California owner who gave her up to the illegal dealer, is one of the three "stars" at PHS – and in educational presentations at area schools. Star #2 is "Rowdy," a 6', 50 lbs. Asian Water Monitor from the island of Sumatra. In the giant lizard world, Asian Water Monitors are second in size only to the fearsome Komodo Dragon (one reportedly soon to be acquired by The Phoenix Zoo). Star #3 is Tiger Reticulated Python "Tigger" (see accompanying photo) or her father, "Donnie," most often in residence with PHS President Russ Johnson, a retired business executive, who lives in Scottsdale. You'll see a Cobra, a Gabon Viper (the seventh-deadliest snake in the world), an Eastern Diamondback (the largest of all rattlers) … the list is too long for this article.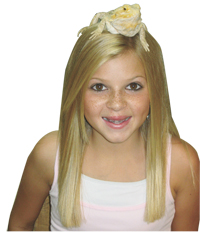 Visits are by appointment only (602-550-7029). Visitors are understandably expected, please, to keep confidential PHS's location. For Foothills residents, you won't burn much gas. Admission charge (tax deductible) is $10 per person – $50 minimum for the 2-2 1/2 hour guided tour. Great fun! Very interesting – and educational. This writer embarrassed himself by asking if turtles and tortoises were amphibians? Wrong! They're reptiles. Curator Marchand and PHS Vice President Gibson recommend 8-10 a.m. or 5-7 p.m. for summer visits; and for fall, winter and spring, 10 a.m. - 4 p.m.

Children, if you behave, Debbie will let you pet one of her six wallabies who hop about the premises. There's also one "Wild Horse" on property, but he leaves for UNLV Football on August 7. Good luck, Kyle Watkins! And thanks, Daniel and Debbie, for a wonderfully-interesting wildlife experience.

Top Photo: IT TAKES TWO, Daniel Marchand and Debbie Gibson, to hold "Tigger," a 12 ft., five-year old Tiger Reticulated Python. "Tigger" is a daughter of "Donnie," who (11 years, 18 1/2 ft., 250 lbs), Marchand assures, is "puppy-dog tamed." Sonoran News will take his word for it. Tiger Reticulated Pythons are the largest snakes in the world! See "Tigger" and "Donnie" (sometimes) at PHS.
Courtesy Photo/Kristen Sabanosh

Middle Photo: TAKING THE SHOW on the road got a lot easier two years ago, when Arizona Diamondbacks Charities generously awarded their $100,000 "Grand Slam Grant" to PHS, which purchased this tow vehicle and a trailer customized for educational exhibits/presentations. Thank you, Baseball 'Snakes!
Courtesy Photo/Debbie Gibson

Lower Photo: During her July 26 first visit to the Phoenix Herpetological Society (PHS) at its confidential north Scottsdale location, young Creeker Bridgette Sabanosh, 12, daughter of Kristen & Jay Sabanosh, gamely models the latest in lizard millinery! This Australian Bearded Dragon is just one of the many fascinating creatures housed at PHS, lovingly cared for by Daniel Marchand and Debbie Gibson.
Photo by Pete Mohr