Cocomo Joe's plans Christmas in July
Event to benefit Mendy's Place


CAVE CREEK – Christmas is for kids – and that will be true in more ways than one when Santa meets Mendy July 25, 26 and 27 at Cocomo Joe's neighborhood restaurant in Cave Creek.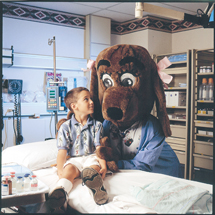 Cocomo Joe's, located at the intersection of Tatum Boulevard and Dynamite Road, is celebrating Christmas in July, with toy collections, donations and part of the proceeds earmarked to benefit young patients at Mendy's Place, the children's emergency center at John C. Lincoln Deer Valley Hospital in north Phoenix.

Mendy, the mascot for John C. Lincoln's pediatric programs, will join Cocomo Joe's patrons on Friday and Saturday evening to rock to the music of Nine Ball and groove to the tunes of the acoustic duo, Javier Garcia and Alan Chadwick. Mendy will also be present Sunday afternoon during the restaurant's "kids eat free" mealtime. More...

2009 Scottsdale Arts Festival - Call for artists
SCOTTSDALE – The Scottsdale Center for the Performing Arts is seeking artists working in all media to exhibit at the 39th annual Scottsdale Arts Festival on March 20-22, 2009. All artists must apply online at www.ZAPPlication.org before October 16, 2008. The application fee is $30.

Long recognized for its exceptional quality and beautiful setting, the Scottsdale Arts Festival features some 200 jury-selected artists from throughout North America who display their work among the gardens and fountains of the Scottsdale Civic Center Mall. Works of art are available for purchase directly from the artists and from the Scottsdale Art Festival's online art auction. Festival goers also enjoy continuous live music, entertainment, family activities and other surprises.

Each year, the Scottsdale Arts Festival attracts tens of thousands of Scottsdale-area residents and visitors, and it receives nearly 1,000 applications from artists interested in exhibiting their work. A jury of arts professionals selects approximately 200 artists to participate in the event and awards prizes in numerous categories. The participating artists work in a wide range of media, including ceramic, furniture, glass, jewelry, mixed media, painting, photography, printmaking, sculpture, textiles and woodworking.

The Scottsdale Arts Festival is produced by the Scottsdale Center for the Performing Arts. Proceeds benefit the nonprofit organization's education and arts programs.

For additional information visit www.scottsdaleartsfestival.org or call (480) 874-4686.
Casting call for Starlight Community Theatre's 'The Taffetas'

ANTHEM – Starlight Community Theatre is holding auditions for its upcoming production of the hit Off-Broadway musical "The Taffetas," about four singing sisters from Muncie, Indiana making their national television, singing debut in the 1950s. "The Taffetas" will open Starlight's fourth season and new venue at the Outlets at Anthem in October with a champagne fundraiser.

Auditions for females only, ages 17-39, will be held at Starlight's new venue at the Outlets at Anthem at the Northwest corner of I-17 and Anthem Way, Suite 300, on the following dates: Friday, August 8 at 5 p.m. and Saturday, August 9 at 1 p.m., with callbacks on Saturday, August 9, at 5 p.m. Auditions are open, so no appointment is necessary.

Preferred audition times for Starlight sponsors and "Star"-level members will be a half hour prior to listed times. Contact production manager Pat Drapac at 623-551-9264 with any questions.

Play rehearsals will begin Monday, August 11, with performances on October 3, 4, 5, 10, 11 and 12 at Starlight's venue at Outlets at Anthem. "The Taffetas" is being directed by Barbara L. Surloff, with musical direction by Christine Powell and choreography by Jennifer Weston. Pat Drapac is production manager.
About "The Taffetas"
It's 1950-something, and Kaye, Peggy, Cheryl and Donna, four singing sisters from Muncie, Indiana are making their national television, singing debut. "Spotlight on Music," a fictitious weekly 1950s television show on the real-life Dumont Television Network, sets the framework for an evening of some of the greatest hits of the 1950s. A tribute to the girl groups of the 1950s, THE TAFFETAS pay tribute to the sounds of The McGuire Sisters, The Fontane Sisters, The Chordettes and the Ed Sullivan Show. Opening Off-Broadway almost two years before FOREVER PLAID, THE TAFFETAS made nostalgia what it is today! Spend an hour and a half with THE TAFFETAS and their three-piece band, and remember what Sunday night television was like on your 12 inch black and white screen!

Audition Requirements:
• Come prepared to sing 16 bars of a song in your range. Bring along sheet music or a CD – no a cappella allowed.
• You may be asked to do a cold reading from the script.
• Wear comfortable clothes and shoes as you'll be asked to dance.
• Bring a resume and a non-returnable picture.
• You will do a cold reading and sing a selected song from the show at callbacks.
• Roles for Females only, ages 17-39 – must be able to sing, dance and act.