Experience Luc's
By Joanne Holmberg | July 9, 2008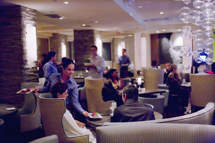 Contemporary american cuisine in an elegant, yet very comfortable setting
Walking up to and through the glass entry doors, the first impression of Luc's at el Pedregal in Carefree is clean and modern. But the sophistication of owner Cliff Skoglund's design goes well beyond the usual sterile atmosphere one has come to expect in newer establishments. The pearlescent mosaic tile on the columns and the stone work on the outer walls and fireplace blend with the sphere lights and dark wood accents. Cliff describes it as "retro 60s contemporary," actually it is an evolution of his 30 years in the business and would more aptly be described as truly unique – exuding elegance from the light blue and brown fabrics to the glass hanging sculpture and mosaic portrait, yet providing the comfort of a home.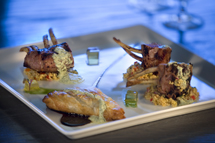 Cliff started his illustrious career in Manhattan managing and owning restaurants. Nineteen years ago, after selling three in New York and one in London, he acquired a property in Santa Fe, New Mexico, naming it Geronimo's after the original owner of the building, which is now the only 4 star, 4 diamond establishment in the state. He came to Arizona at the invitation of an investment group and opened the Spotted Donkey across from Luc's on the second level in el Pedregal in September of 2006. Luc's (short for Lucky, Cliff's nickname as a child) opened in September of 2007 as the fifteenth restaurant that Cliff designed, owned and operated.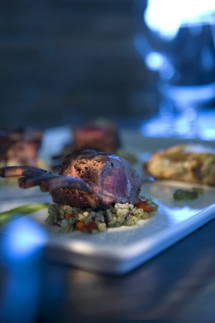 Of course the food is what completes the special experience of dinner at Luc's. Executive Chef, Gio Osso, and Chef de Cuisine, Steven "Chops" Smith took over the kitchen three months ago after working as sous chefs since the opening of the restaurant. "They immediately came up with new menus that complement the atmosphere of the restaurant to give people a sense of contemporary American food while providing value," says Cliff. These are definitely not the "precious" portions diners have come to expect in contemporary restaurants.

On a recent visit, we sampled the scallop appetizer which was served in a sweet corn consommé accompanied by a lobster corn ?fritter. The giant scallop was sweet and succulent. In contrast the other appetizer was the open faced braised beef ravioli providing a slightly salty, but smooth texture from the ravioli and porcini crème sauce. Both were generous portions and set us up perfectly for the main courses of Baby Lamb Rack and Maine lobster with seared scallops served over a banana roasted bread pudding. Again large portions were served on unique plates that complimented the presentation of the food. And not being able to pass up dessert, we sampled one of pastry chef, Regina Barbian's creations, the banana cheesecake – a creamy delight topped with carmelized bananas. These were just a few selections from the sumptuous choices on the extensive menu including main courses of squab with potato soufflé, osso bucco with hand made pappardelle pasta and a dry aged rib eye with a herb cognac demi glace.

But expect the menu to change. You will never hear from a server that they are out of an item. The menu can be changed daily and reprinted on the spot. And the service is impeccable – very attentive and knowledgeable about the menu and food preparation.
The entire experience at Luc's is definitely worth another visit … and another.

Courtesy photos