Roger Kull celebrates 30 years as an artist

CAVE CREEK – You probably remember being warned the first time you visited an art gallery, "Look, but don't touch!" Roger Kull quickly dispels that caveat by encouraging you to touch his work.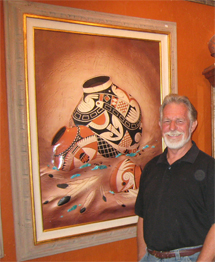 Roger is an accomplished, internationally recognized artist known for his unique, sculpted, Southwestern, three-dimensional, Fine Art Leather paintings. His sculpted leather genre is Native American pottery, portraits, western, landscapes and historical recreations. Each piece is original, one of a kind.

It's fascinating to watch Roger work. Using a saddle maker's knife with a ceramic blade he deftly cuts the freehand image into the leather. The sculpture effect is created using a clay modeler's spoon. The entire drawing and sculpting process is done by hand. When the leather is dry, the details are painted using dye. The final step is to apply the protective coating that allows his work to be touched.
MORE...
Bella Vista Private School offers advanced Placement Arts Program
CAVE CREEK – Talented area ninth grade students now have an option to develop their artistic talents and work towards college credit. Bethany Brown, who will be starting her freshman year at Bella Vista this August, is taking full advantage of the program available at the Cave Creek private school as well as gaining the support of the Cave Creek arts community.

Bella Vista principal, Lisa Atrenian, said that "the decision to offer the Arts Advanced Placement program at the ninth grade level was welcomed by both students and parents since the Cave Creek School District is not offering it to ninth graders. In addition, we have set-up an inaugural scholarship program for the incoming class of 2012 to encourage more budding artists, as well as students in all programs." Four year, full and partial, scholarships will be awarded for academic success and the school will also award scholarships based on financial need.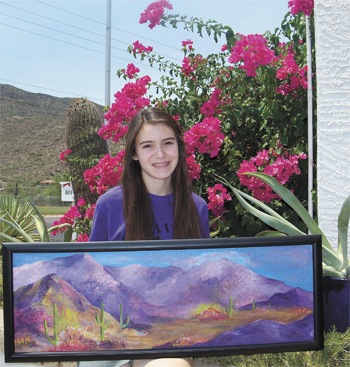 This summer, Bethany was awarded a grant by the Sonoran Arts League for two weeks of classes with local artists including Sergio Ladrone DeGuevara on developing her abstract painting and Nancy Michaelson on watercolor techniques. According to Bethany, "It was great to get to know some professional local artists and learn some new techniques." Bella Vista eighth Grader, Gabrielle Kuyper, was also awarded a grant by the Arts League and studied watercolors as well as sculpture.

This fall, Bella Vista will be working closely with the Sonoran Arts League to organize the Youth Division of Hidden in the Hills. "We are commited to the success of this division and our parents and students will be volunteering their time to coordinate the show," said Artenian. The show is open to all K-12 students in the area.

For more information on the ninth grade AP arts program or the inaugural scholarship program at Bella Vista, contact the school at 480-575-6001 or visit the web site at www.bellavistaschool.com.

Courtesy Photo/BELLA VISTA PRIVATE SCHOOL
Bethany Brown in front of Bella Vista Private School with one of her paintings.
Sonoran Arts League adds spring show at Stagecoach Village to roster

By Curtis Riggs | July 2, 2008

CAVE CREEK – The Sonoran Arts League is adding another spring arts festival to its roster of annual events.

The planned festival, which will be held at Stagecoach Village on President's Day weekend (Feb. 20 – 22, 2009), is so new S.A.L. leaders have yet to choose a name for it. Stagecoach Village is a large retail center at the northwest corner of Cave Creek Road and Galloway Drive.
MORE...