Meet Sage Englund, rising hockey star!
By Pete Mohr | July 2, 2008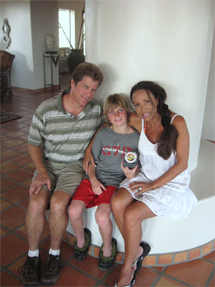 CAVE CREEK – With July checking in at a blast furnace -like 111 degrees, perhaps a story about hockey will give readers at least a mental cool-off. It's my pleasure to introduce young Creeker Sage Englund, 11, just returned from Philadelphia, where he earned "1st Star" recognition (equivalent of "Most Valuable Player") on Team USA 1997 at the 2008 International AAA Summer Tournament, sponsored and coordinated by Team OneHockey, the world's largest team program. Sage was nominated to Team OneHockey by Paradise Valley resident Steve Shapiro, a youth hockey coach in The Valley.

Sage, who'll enter Foothills Academy as a 6th grader, has been skating since age 6. Dad Les Englund, a successful custom homes builder, did likewise, when the Tower Plaza Rink (now Arcadia Ice Rink) was the only ice skating venue in Phoenix. Collegiately, Les played for ASU's club team, and still regularly laces 'em up in a local adult hockey league. So, for Sage, growing up a "hockey nut" comes naturally.

Staring in late August, Sage moves up to "big boy" hockey (meaning slap shots and checking are allowed), when he'll take the ice for the AA Valley of the Sun Hockey Association (VOSHA) Mustangs, coached by Shapiro, Boris Dorozhenko and Englund. For play-making center iceman Sage (who shoots lefthanded), speed and stick handling are his strengths. What will be Sage's concentration in the upcoming season? "My wrist shot and slap shot," he answers quickly.

Mom Jillian, a Christian recording artist for MCA Records, talks proudly of her son's "moves." "Sage has been around me and my music all his life, so it's no surprise that he's a showman on the ice. That's his stage!" And did he ever shine in Philadelphia! Despite being knocked down (but not out!) by food poisoning (likely the shrimp dinner he relished) within hours following the Englunds' Saturday evening arrival in Philly. Still running a temperature when Team USA faced off in its June 25 opening game, Sage registered a "hat trick' (three goals) and two assists. Like they say, "The great players play hurt" – and sick. This engaging young man is plenty spirited – and tough!

Nearing the end of our interview, Sage, with the exuberance only an 11-year old boy possesses, showed me his celebratory "moves" after scoring a goal. First, "The Windmill." I'm wanting to give Sage a nickname, to which "The Windmill" doesn't lend itself. Next, "The Howitzer," with Sage down on one knee, simulating the loading and firing of a cannon. Hey, just right!

So, hockey fans, watch out for Sage "Howie" Englund! The next Wayne Gretzky just may be skating out of the Desert Foothills!

Photo caption: HOCKEY'S 'THREE STARS" are awarded by Sonoran News to Les Englund (#1) and, wife Jillian (#2) for surviving, thankfully, what could have been a fatal "T-boning" one year ago, and (#3), to son Sage, who fought off food poisoning to win "1st Star" for Team USA 1997 at Team OneHockey's invitational tournament in Philadelphia, June 25-29.
Photo by Pete Mohr
Young readers have chance to meet Baxter
Two Dback Mascots coming to the Desert Foothills Library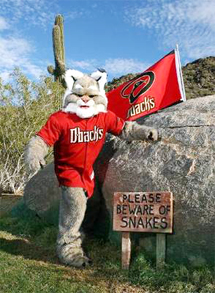 CAVE CREEK – July 7 will find not just one, but two popular mascots appearing at the Desert Foothills Library to entertain young readers in the "Read Your Way to the Ballpark" summer reading program. Sponsored by the AZ Republic and Arizona Diamondbacks, "The Bobby and Baxter Show" will feature Baxter the Bobcat and famed organist Bobby Freeman performing together. The idea for Baxter came in 2000 from Brantley Bell, the oldest son of Diamondbacks second baseman Jay Bell. He suggested the name Bobcat because at the time the team played in the Bank One Ballpark (BOB).

Baxter makes public appearances at all the ball games, hospitals, schools, libraries and other locations throughout the Valley. Bobby Freeman has been the official organist for the team since they started in 1998, and is one of the few remaining live performers at ballparks in the country. His presentations at libraries across Maricopa county, as he reads stories, plays his organ and speaks to children, stress positive thinking and not giving up. The educational and interactive program for all ages will begin at 1 p.m. and fans should arrive early to get a seat.

In addition to the "Read Your Way to the Ballpark" programs, other July events at DFL include Kid's Summer Movies on July 9 and 23 at 1:30 p.m. featuring "E.T." and "Arthur and the Invisables." On July 14 Sandy the Sandwich Clown will perform at 10:45 a.m. and on July 16 author Mary Ann Herzog and her Black Labrador Retriever, Buddy, will have a book signing and dog meeting at 10 a.m. for her book, "The Buddy Tails." Check for details at www.desertfoothillslibrary.org or call (480) 488-2286.