Rosati's at Tatum & Dynamite – World Famous Deep Dish pizza surrounded by Chicago Prohibition Era memorabilia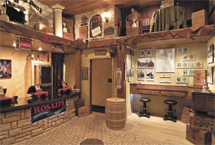 CAVE CREEK – For openers, when you walk in the door you're taken back to old Chicago complete with original photos of the famous Chicago fire, an original man-hole cover from the street, prohibition kegs and bootleg whiskey containers. Then you get a whiff of the hand crafted pizzas being made in the kitchen with quality, authentic ingredients used in the world famous Chicago deep dish style pizzas.

In addition to the scrumptious deep-dish pizza, owner Todd Braun offers the traditional thin crust pizza and a varied menu of pastas, sandwiches and salads. Originally from Chicago, Todd's vision was "to appeal to the other Midwest transplants in the Tatum Ranch area" and has been very successful in reaching them whether they come in or take advantage of free delivery within a 5-mile radius. Todd is offering several specials including 16" pizzas for the 12" price from 2-5 p.m. and 10% off the entire order from 8 p.m. to close when you mention Sonoran News.

Rosati's is located on the northeast corner of Tatum and Dynamite and you can call in your order at 480-538-5380.
Photo Class offered at BTA

June 29 & July 6

SUPERIOR – Explore "The World At Your Feet" with a two-part class in close-up nature photography beginning June 29 and continuing on the following Sunday. Scottsdale naturalist and photographer Paul Kinslow sees images many people miss: iridescent insects glowing like tiny jewels on flower petals, and butterflies, such as the subtly colored Soapberry Hairstreak, camouflaged to blend seamlessly into their environment.

This unique two-part macro photography workshop begins June 29 with a session from 8:30 - 11:30 a.m. and continues the following Sunday, July 6, with a roundtable discussion during which the participants will view, study and critique the previous week's work. The June 29 session will include both indoor and outdoor "in the field" instruction, where this multi-talented painter and photographer will explain camera and lens techniques that allow close-up imagery, and offer tips on where to look for elusive and hard-to-find subjects.

Spaces are limited and pre-payment is required. Enrollment is $20 for Arboretum annual members and $27.50 for nonmembers (which includes the day's admission). To enroll by phone during daytime business hours, call 520-689-2723.
Sumo Wrestlers once again top Gong Show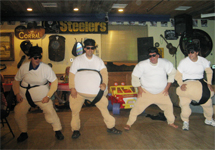 Last week's fireworks fundraising Gong Show was a big hit, thanks to the return of the ever-popular Sumo Wrestlers who once again walked away with first place in the annual talent show. The Desert Cactus Kickers took second and spoon-playing Russell Schmunk came in third.

The Gong Show raised $945 for the upcoming fireworks shows. Nearly all money won that night was donated back to the Chamber and the fireworks.
Rumpelstiltskin spins gold at one week theater camp


?CAVE CREEK – A strange little Gnome appears here, there and everywhere, July 14 – 18, at the Fine Arts Center. He'll spin your straw into gold, and a hot summer day into fantasy and fun for students, kindergarten through twelfth grade, in Rumpelstiltskin, a musical theater camp experience presented by Desert Foothills Community Education in association with the renowned Missoula Children's Theatre.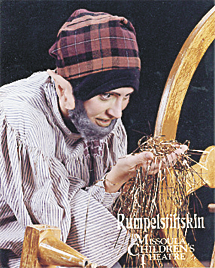 The one-week session, Monday through Friday, 1 – 5 p.m., uses theater games and drama workshops to develop life skills such as self-discipline, strong work ethic and team building.

Theater camp participants will be transformed into Clara, the Jester, Villagers, Magicians, King, Queen, Knights, or busy little Bees for a performance of Missoula Children's Theatre's classic children's story Rumpelstiltskin at 7 p.m. on Friday, July 18, on the Main Stage at the Cactus Shadows Fine Arts Center, located at 33606 N. 60th St.

Call (480) 575-2440; or visit online at www.ccusd93.org for information and registration form; or go to The Learning Center at 33016 N. 60th St. The camp fee is $135 per child and includes rehearsals, workshops, costuming, snack and complimentary tickets to the performance for family and friends. A great summer experience like Rumpelstiltskin is worth its weight in gold!