Introduction to horses and a lifelong passion
Summer always presents a challenge for parents to occupy their children who are off from school. The option of "Horse Camp" is an opportunity for kids not only to learn how to ride, but also to be exposed to all aspects of horse care and meet and cultivate friendships with other kids who are 'bitten by the horse bug'. Two of the riding camp options in North Scottsdale provide a comprehensive yet fun approach to teaching kids about horses by including safety around horses, grooming, saddling, arts and crafts activities and, of course, riding.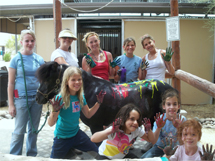 Michele McVey, owner and trainer, and the staff at Desert Palms Equestrian Center on 44th St. at Dynamite, teach English riding and enroll campers from 7 to 18 years old. McVey emphasizes that "In addition to learning proper daily care of horses, campers participate in activities such as a grooming contest to promote learning, teamwork and camaraderie."

Camp Castaña, located at Los Cedros at the corner of Pima and Black Mountain is run by Fallon Reeves who trains junior riders in Western riding. "The goal of our camp is for kids to learn horsemanship from the ground up," according to Reeves. "We encourage the kids to bond with the horse and their new friends by offering a diverse program of activities."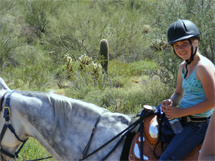 Both camps are offering a session the week of June 23. Camp Castaña also has a session the week of July 7 and Desert Palms Equestrian offers an additional session the week of July 21. Availability is limited so call to reserve a spot for your child.
You can reach Michele McVey of Desert Palms Equestrian at (480) 473-1905 and Fallon Reeves at Camp Castaña at (480) 575-6133.

Photo Captions: (Left) Fingerpainting their pony at Desert Palms Equestrian Center are: Morgan, Katie, Jenna, Lauren and Katie in back row; Jordan, Angelina, Sydney and Morgan in front. (Right) A happy rider from Fallon Reeves' program on a trip in Mexico.
Pet Health Education
Sunscreen for your pet

Dogs and cats are susceptible to sunburn and heatstroke, too. Summertime brings picnics, fun in the sun, and swimming pools or open water. Good times that can be tarnished only by stinging or biting insects, heatstroke, sunburn, skin problems and water hazards, to name the most common summer related dangers that face dogs and cats.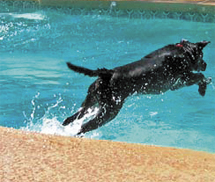 Here are some tips that can help you recognize and prevent problems.
When the weather turns warm, fleas hatch and animals get itchy. This manifests itself as sores and scabs on dogs and cats. Many animals are allergic to fleas, and all it takes is one flea for them to bite and scratch themselves raw.

Bees, wasps, fire ants and mosquitoes are other painful pests of summer. Dogs or cats that take a curious or aggressive interest in bees or wasps are likely to receive payback in the form of a sting on the nose or head.

Fire ants often march onto the abdomen of a pet lying outdoors enjoying the sun, then sting in synchrony, which is a very painful experience. If your pet is being stung by fire ants, hose them off and get your pet to the veterinarian.

Reactions to insect bites and stings range from slight swelling and pain to anaphylaxis, a sudden, severe allergic reaction that can be fatal if not treated immediately. Mosquito bites don't provoke a skin reaction, but they can transmit potentially fatal heartworm disease.

Prevention goes a long way. Fleas and ticks are easily controlled on pets with topical medications. Placing a product on the skin can kill fleas and ticks for as long as a month. The best way to prevent heartworm disease is by giving a heartworm preventive pill orally once a month.

While some flea control medications repel mosquitoes, it's important to remember that they don't prevent heartworm disease if a mosquito does bite your pet.
Heat and humidity affect pets as well, especially those that are brachycephalic, or flat-faced such as Bulldogs, Pugs, Pekingese and Persians, or those that have very heavy coats.

High temperatures can lead to heat exhaustion or the more dangerous heatstroke. Animals that are outside or enclosed in cars are most at risk of heatstroke. Signs of heat exhaustion and heatstroke include panting excessively, fatigue, dizziness, nausea and loss of consciousness. Cool a pet with heat exhaustion by pouring cool, not cold, water on the coat and working it into the hair. It is important to cool the pet down slowly. Cold water or ice water can cause other problems that would complicate your pet's recovery.

Loss of consciousness is an emergency situation and requires immediate veterinary care. One of the most important precautions for preventing both conditions is to never leave your pet in a car during warm months. Within minutes a car can heat up to 120 degrees. If you must absolutely make that quick trip to the drugstore, park in the shade with the windows down, and make sure your pet has access to water.