New Chefs, new experience at Luc's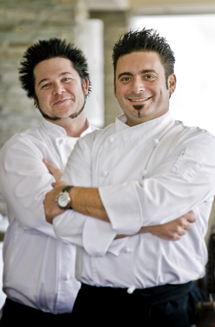 SCOTTSDALE – Chefs Gio Osso (front) and Steven 'Chops' Smith (behind) of Luc's Restaurant in el Pedregal have entirely revamped the menu to offer "challenging" Contemporary American Cuisine with tastes beyond what's available from the average home kitchen. "Dining out should be an experience," said Smith.

The seafood, flown in fresh from Santa Barbara on a daily basis, is highly recommended. If you haven't been there lately perhaps now is a good time to stop back for a visit.

Luc's is located at 34505 N. Scottsdale Rd. in el Pedregal. Phone 480-488-3811 for reservations.