J.Julian offers latest techniques, products for quality skincare
By Curtis Riggs | June 11, 2008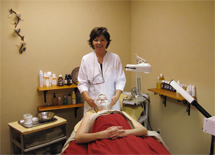 Aesthetician/skincare salon owner JoAnn Julian relies on her 18 years in the industry to provide quality skincare treatments in a soothing, relaxing setting.

Julian owns and operates J. Julian Fine Skin Care in the El Palenque building at 6450 E. Cave Creek Road, Ste. 108, in Cave Creek. She uses her experience and commitment to learning all aspects of her profession to provide quality customer service to her clients and rejuvenating treatments that keep them coming back for more.

She couples her experience and knowledge with quality products to provide outstanding facials, skin peels and other types of skin therapies.

"It's about renewing as well as pampering," she said about her European style treatments, which include a neck and shoulder massage along with a hand and foot treatment. She uses these relaxation techniques along with steam on the face to prepare the skin for the rest of the treatment.

She uses Ultraceuticals skin products from Australia, which cleanse and renew the skin. She said these professional skincare products make her clients' skin look younger and feel more vibrant.

Julian has the personal goal of making each person's visit to her something special.
"I try every day to exceed the client's expectations," she said about her business and customer service philosophy. "I try to be really grounded and very present to each person in front of me."

This summer $50 Microderm-abrasions, $45 Vitamin C Facials, $45 Fruit Enzyme Peels and a $45 Combo Wax Special are being offered at J. Julian.

Carefree businesswoman Karlynn Keyes has been a J. Julian client for quite some time. She called her facials and skin treatments "fabulous" and said "Cave Creek is lucky to have her" as a skincare specialist.

"She is one of the most talented, well educated and most progressive facialists I have ever met. She is no-nonsense, no-hype and really good at what she does," Keyes said. "J. Julian also uses excellent products."

Julian soon plans to offer a woman's day retreat at her cabin in Yarnell. She will take some of her clients to the place near Prescott for a day of facials, tea and to listen to the birds chirp. She calls this her "girl's day out."

Her goal with the Yarnell retreats is to make her customers slow down and appreciate what is around them. It is really nothing new to Julian.

"Most women walk out of here feeling a little more rested and beautiful," she said about what she strives for everyday at J. Julian.

To contact J. Julian Fine Skin Care call 480-595-1281.

Photo caption: JoAnn Julian gives Nicole Agnew a skincare treatment at her J. Julian Fine Skin Care business in Cave Creek.