Gals breeze, guys wheeze in tourneys; Resume regular
season play Jan. 6
By Pete Mohr | December 31, 2008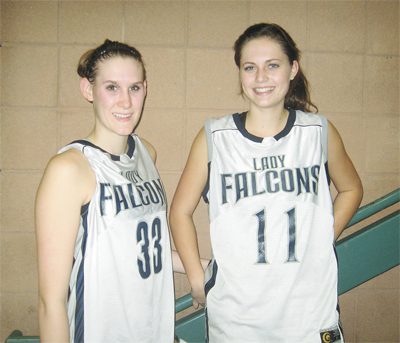 CENTENNIAL/CSHS – At Centennial's Coyote Classic, the Lady Falcons, after blowing away Moon Valley (68-41) and Thunderbird (55-33) on Dec. 27, were flirting with violating one of the oldest adages in sports: "Never let an underdog get (and stay) close."

In Monday's semifinal against Ironwood, the LadyBirds led the Lady Eagles in the opening minutes of the 3rd period; then the 'Birds hit consecutive "threes" with the CSHS defense limiting the Ironwood ladies to nine points in the 2nd half. Final: CSHS, 45 - Ironwood, 28.
The #2-seeded Lady Falcons met the #1 seed Deer Valley, Dec. 30 for the Coyote Classic championship. They return to Barrett Gym Tuesday evening, Jan. 6, against McClintock.

Meanwhile, at the CSHS-hosted Great Desert Shootout, the Guy Falcons gave up 4th quarter leads to fall to Maryvale and La Joya in the Consolation semis. The Falcs beat Higley, 82-60, in the opening round. In the Conso 1st Round, rode P.J. Ubides' seven "treys" to outlast Buckeye, 95-92.

The Hoop Guys travel to McClintock, Jan. 6 and return home Tuesday, Jan. 13 to welcome Shadow Mountain.

Photo by Pete Mohr: COACH'S CHOICES: For Sonoran News' postgame photo, Head Coach Ryan Pletnick sent out Lacey Modzeleski (l) and Liz Shoulders who sparked the Lady Falcon "D" in Monday's Coyote Classic semifinal victory, 45-28, over Ironwood.
"SB Awards" A big hit!
By Pete Mohr | December 31, 2008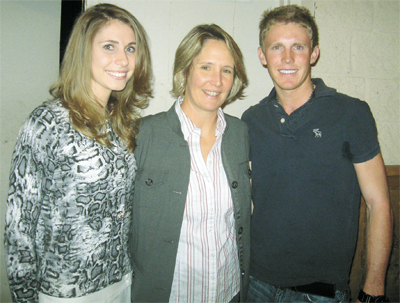 CAREFREE – Say the letters "S" and "B" quickly together: ESS-BEE, right? Pretty doggone close to ESPN's ESPY Awards – exactly what "Local Sports Beat" Editor and Publisher Don Dales was striving for when he conceptualized, sponsored and hosted his first "SB Awards" Monday evening, Dec. 22, at a packed Opera House (Carefree Resort).

From the hilarious opening act (Football Assistant Coaches Matt Bradshaw and Chris Frederiksen as ballet dancers – make that "Dancing Bears") until the final award ("Best High School Boys Team") was presented to the 2006 State Champion Football Falcons, the event could not have been a more enjoyable/positive start to Christmas Week.

Three of the event's most prestigious awards were won by (above, l-r) Sara Pages (CSHS '06), Best Female Athlete; Patty Egan, Best Coach; and Philip Francis (nationally ranked as a junior golfer and now a member of UCLA's NCAA Championship Golf Team), Best Male Athlete.

Congratulations to all award winners – and especially to Don Dales – for putting on such a great, and imaginative show!