Sampson the Skunk – "An unlikely patient"
December 17, 2008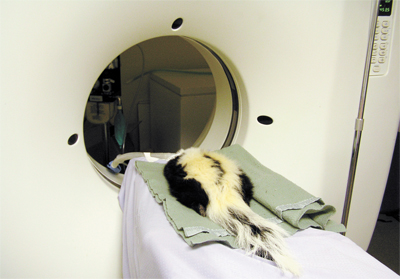 CAVE CREEK – Adobe Mountain Wildlife Center presented "Sampson," a 2 year-old male striped skunk, to Animal Health Services showing signs of sneezing and pawing at his nose.

The doctor on the case, Lisa Lannen DVM, was immediately concerned with his dental health as skunks in captivity tend to have diseased teeth. Other symptoms included not wanting to eat and being more easily agitated than normal.
More...

See Spot Shop announces Holiday Food and Toy Drive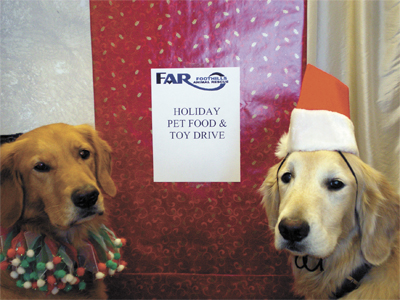 SCOTTSDALE – In the spirit of the season, See Spot Shop is pleased to announce the first annual food and toy drive to benefit Foothills Animal Rescue. Donations of pet food and toys may be brought in for drop off or purchased for donation at the store at a 10 percent discount.
See Spot Shop is located at 32531 N. Scottsdale Rd., in the Summit at Scottsdale. For more information call (480) 595-5006. Please join them in supporting the local animal rescue.

Courtesy Photo
Gus and Beau are anxiously awaiting your donation to benefit Foothills Animal Rescue.
Horsemanship program becoming a reality

By Joanne Holmberg | December 17, 2008
Arena begins construction at Horseshoe Trails Elementary School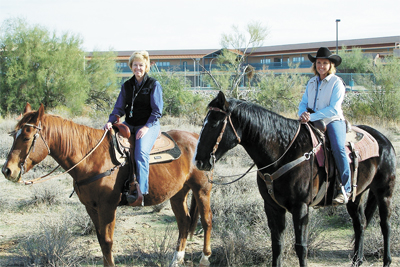 CAVE CREEK – As anyone involved with riding, owning or training horses knows, building a relationship with a horse can be instrumental in the development of character in children. The goal of a new equine-guided education program called TRRFCC Horsemanship at Horseshoe Trails Elementary School (HTES) in Cave Creek is to provide students the opportunity to build character through a hands-on equine experience. More...