Wrestlers at home, Jan. 7
By Pete Mohr | December 17, 2008
GRAY GYM – Raise your hand if you've ever attended a CSHS wrestling match (or meet). I thought so. Put this writer embarrassingly down for only one. Close behind Coach Eric Neibch's FalFins (Swimmers), Coach Merle Nelson's wrestlers are the "Forgotten Falcons." That's lamentable – because the intensity and physicality of wrestling make it an exciting spectator sport – even if you're not knowledgeable about the scoring intricacies. Mark your sports calendars for Wednesday, Jan. 7, 5 p.m., when the Falcon Matmen will host Greenway.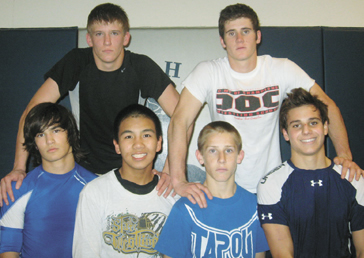 Leading Coach Nelson's grapplers this season are (back, l-r) Co-Captains senior Kyle McCullough and junior Connor Smith. (front, l-r) lettermen Isaac Doederlein (SO), Ben Barr (SO), Stephen Locke (SO), Nick Low (JR).

2008-2009 Roster balance:
Joe Barajas So 125 Lbs.
Gunnar Collier Fr 189 Lbs.
Connor Henry So 145 Lbs.
Andrew Kassir Fr 119 Lbs.
Wil Locke So 103 Lbs.
Nick Low Jr 140 Lbs.
Joey Michalski Fr 152 Lbs.
Saul Monteon Fr 215 Lbs.
Tino Morales Fr 119 Lbs.
Addison Palomino Fr 160 Lbs.
Jack Powers Fr 215 Lbs.
Nathan Rose Fr 119 Lbs.
Zach Sexton Jr 160 Lbs.
Shane Sullivan Sr 285 Lbs.
Steven Tibbits Fr 171 Lbs.
Ethan Walker So 145 Lbs.

Photo by Pete Mohr
Guys stumble, gals rumble; Both to holiday tourneys
By Pete Mohr | December 17, 2008
CSHS – "He knows when you've been bad or good, so be good for goodness sakes!" Had not the Hoop Guys erupted for a 92-48 home whuppin' of the Apache Junction Prospectors, Monday evening, Dec.15, Head Coach Dirk Walker might well have filled their Christmas stockings with ashes and switches! The Falcons head to Horizon's tournament this Thursday at 5-3 (1-1 Region).

MORE ...
Weaver wins 'Falcon Award'
By Pete Mohr | December 17, 2008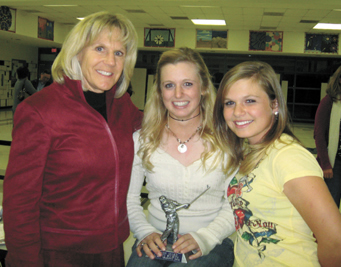 Nationally-ranked, two-time State Champion Lauren Weaver (center) was presented the "Falcon Award" for "determination, diligence and devotion" by Coach Mike Sarraino at Girls Golf awards evening, Monday, Dec. 15. Weaver, a senior, will attend Northwestern University in Evanston, Ill., on a full scholarship following her CSHS graduation.

"Photographically" congratulating her were mother Sandy and freshman standout, younger sister Lindsey.

Coach Sarraino announced the election (by her teammates) of junior Linnea Norton as captain of the Lady Falcons for the 2009 season. The Ladybirds will be seeking their third consecutive State Championship. With a solid nucleus of Lindsey Weaver, classmate Lily Bartell and rising junior Beau Bremer, these GolfGals will be the 4A-I team to beat.

Sarraino praised senior Reba Schneider as "a great captain" and thanked the golf parents for their support. He also expressed special appreciation to Doug Norton, volunteer assistant, for his efforts as Coach Sarraino transitioned into his new responsibilities as a Student Counselor at Cactus Shadows.

Congratulations to Lauren Weaver on her outstanding CSHS career – and to Captain Schneider and Captain-elect Norton.