Soweto Gospel Choir to perform Holiday Concert
December 17, 2008

"African Spirit" Dec. 22, 7:30 p.m. at Celebrity Theatre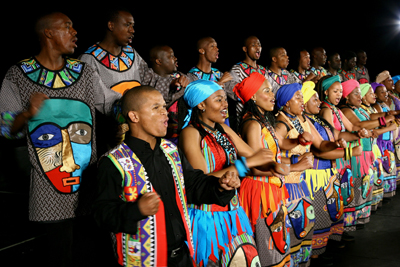 SCOTTSDALE – The Grammy Award-winning Soweto Gospel Choir will perform at the Celebrity Theatre on Monday, Dec. 22 at 7:30 p.m. as part of the Scottsdale Center for the Performing Arts' 2008-09 "Detour" Season. The concert is presented with support from Clara Lovett and Benjamin F. Brown IV. The Steinway piano is available for this performance through the generosity of Steinway of Phoenix. More...

El Encanto Dos hosts Fiesta Market Place every Saturday
December 17, 2008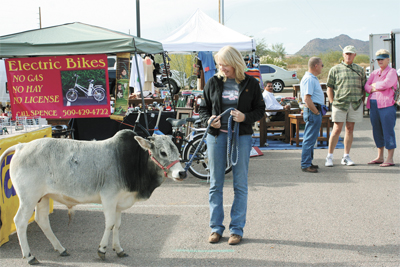 El Encanto Dos Fiesta Market Place, located at 1112 E. Carefree Highway and Desert Hills, brings a unique flavor to the area.

Known for its excellent food and enchanting ambiance, you are now invited to experience the unique Mexican atmosphere every Saturday at their Fiesta Market Place.

Feel free to bring your kids along so they can meet and pet the friendly Zebu, known as a "miniature Brahma Bull," named Meatball.

For more information about El Encanto and El Encanto Dos call (623) 780-5948 or visit their website at www.elencantorestaurants.com

Photo by Andrew Gesell
Winter Vegetable Curry
HEAT UP THE kitchen this month with winter vegetable curry, a hearty and fiery meal that can be served up quickly and easily with rice and chutney. This recipe comes from The Old Farmer's Almanac website, Almanac.com.
3 tablespoons vegetable oil
1 tablespoon grated gingerroot
3 garlic cloves, finely chopped
1 large onion, finely chopped
1 teaspoon ground cumin
1/2 teaspoon ground cardamom
1 teaspoon cayenne
1 teaspoon chili powder
1 green pepper, seeded and
finely chopped
2 large carrots, finely chopped
2 large parsnips, finely chopped
1 cup orange juice
1 large tart apple, peeled and
chopped
2 tablespoons raisins
salt and pepper to taste
Heat the oil in a large skillet. Add the gingerroot, garlic, onion, and spices, and cook, stirring, over low heat, until the onion is soft. Add the remaining vegetables, orange juice, apple, and raisins; stir and cook for about 15 minutes over medium heat, until the vegetables are tender. Season to taste with salt and pepper.