L Skincare in Carefree to hold holiday food drive
By Curtis Riggs | December 3, 2008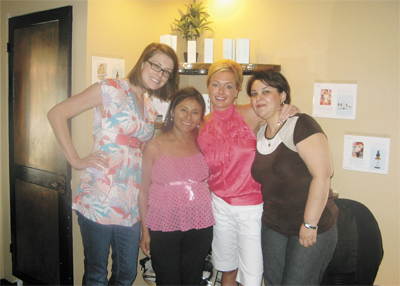 $1 per can off treatments
CAREFREE – Lindsay Jackson, owner of L Skincare in Los Portales Mall, is holding a holiday food drive through the end of the year. The canned and non-perishable food she collects will go to the Foothills Food Bank.

Customers will receive a dollar off any facial or waxing for every can of food they bring in for the collection drive, up to a maximum of five cans for a treatment.

Jackson will celebrate for sixth year in business at L Skincare on Nov. 24.

Photo: L Skincare owner Lindsay Jackson, second from right, will hold a holiday food drive from Thanksgiving until the end of the year. She is shown with her staff, Taylor Jackson, far left, Lorenza Santos, second from left and Paulina P., far right.
Photo by Curtis Riggs
"Kids' Christmas – 2008" courtesy of Kiwanis of Carefree
December 3, 2008

CAREFREE – This year Kiwanis of Carefree will brighten the holidays of children in our community in several ways.

For all children, Santa's "grotto" – actually a house with a mailbox beside it – is now in place at the Carefree town center amphitheater. Come by and enjoy its holiday flair. Anyone who wants to write to Santa can drop the letter postage free in the mailbox. If a stamped return envelope is enclosed, one of Santa's elves will respond. Volunteer elves come from the Cactus Shadows HS Key Club under the capable direction of Manny Gonzales.

During the Carefree Christmas Festival on Friday, Dec. 11 Santa will be in the parade that starts at 6 p.m. and will arrive at this place in a vintage fire truck ready to have children visit until 9 p.m. He will also be there on Saturday, Dec. 12 from 4 – 6 p.m. Photos of the child with Santa will be available for a donation to Kiwanis of Carefree, a 501-c-3 organization dedicated to enriching the lives of children in our community. For more information, go to www.carefreechristmasfestival.com

For many years Kiwanis of Carefree members have bought presents for children in homes where the holidays may be less bright than others. Children of all religions are included in this celebration. This year the Club has partnered with the Foothills Food Bank, Habitat for Humanity, and Salvation Army to generate lists of such families. Presents will be bought, wrapped and available for an estimated 75-100 children ten years and younger living in Carefree and Cave Creek.

Kiwanis of Carefree wishes you and yours a very Merry Christmas. For more information about Kiwanis of Carefree go to www.kiwaniscarefree.org.