Hoop Gals runner up at Moon Valley
By Pete Mohr | December 3, 2008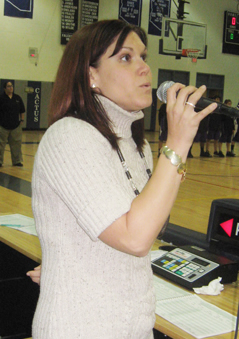 Home debut a breeze
BARRETT GYM – Coming into Monday night's home opener against "new" (third season) Copper Canyon on Dec. 1, senior point guard and Co-Captain Alex Easterbrook needed 16 points to become the first Lady Falcon to score 1,000 career points. CSHS netted 11 in three minutes, with "A.E." notching five and assisting on the other six. You could sense this was going to be her night – and it was.

Easterbrook had 13 in the 1st quarter; and with 2:25 left in the 2nd, Easterbrook nailed a "three" from the rightside arc to reach the magic 1,000! Play was appropriately halted for Athletic Director Bill Dilezal's on-court recognition of Easterbrook's achievement – including awarding her the record-setting basketball. Congratulations, "A.E."!

Postgame, Head Coach Ryan Pletnick to Sonoran News: "I'm very proud of her. She earned every single point of her record 1,000. Her performance over her Cactus Shadows career sets a great example for each of our players. "A.E." exemplifies the leadership we need from our co-captains."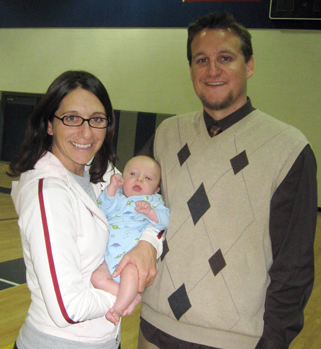 In the 69-18 runaway, Easterbrook (18) and sophomores Gracie Goulder (13) & Kate Accola (10) were the three Lady Falcons in double figures. The LadyBirds journeyed to Flagstaff High for a Tuesday night match-up against the Lady Eagles, before they'll return home to host (Tucson) Sahuaro, Friday evening, Dec. 5.

At Moon Valley's Thanksgiving Week tournament, CSHS, playing without starter Goulder, rolled over five opponents (Centennial, Greenway, La Joya, Westwood and Raymond Kellis) before 5A-I Desert Mountain edged the HomeGirls, 54-51, in the finals. Coach Pletnick: "In our sixth game, we lost our legs and kind of fell flat."

Photos: RETURNING AND DEBUTING were Karen Dolezal (top) who powerfully (as usual) sang our National Anthem; and Daubry Sahhir Pletnick, born September 27, 2008, with proud parents Leslie and "Coach Ryan." Baby Daubry was attending his first Lady Falcons game. Leslie reported that he slept through the entire 2nd half!

Photos by Pete Mohr
Penas headin' for Texas!
By Pete Mohr | December 3, 2008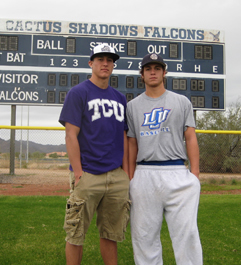 The morning of Nov. 26 was hardly baseball weather; but Jerome "Romey" Pena, CSHS '07, and older brother Frank ("Frankie"), CSHS '05, obligingly met up with Sonoran News for a photo to accompany this update on their collegiate baseball careers. On Nov. 12, "Romey" signed his letter of intent with Texas Christian University (TCU), Fort Worth, Texas, where he'll compete for the start at shortstop in his junior and senior years. In the upcoming 2009 season, "Romey" expects to catch, see outfield duty and "pitch a little" at Western Nevada College, Carson City, Nevada, where as a freshman he earned 1st Team All-Region recognition in the Scenic West Athletic Conference.

He understated to Sonoran News, "I'm excited that I'll be playing my last two years of eligibility at the Division I level. I hope I can help the Horned Frogs win a National Championship – maybe more than one!"

Earlier this fall, after posting impressive strikeout numbers at College of the Southwest, Hobbs, New Mexico, Frankie, a lefthander, signed to play his senior season at Lubbock Christian University, Lubbock, Texas.

"The 'Chaps' have a good program. If I can put up another solid season, I'm hoping I'll be drafted in June of 2009," he outlined. If competitiveness is the deciding factor, CSHS baseball fans just might see the Brothers Pena playing in "The Bigs" someday. And don't forget youngest brother Anthony, who'll be at short or second for the Baseball Falcons in 'spring '09.

Good luck, guys. Don't forget my World Series ticket.

Courtesy Photo/Sarah Prokop
The Brett Jacobsons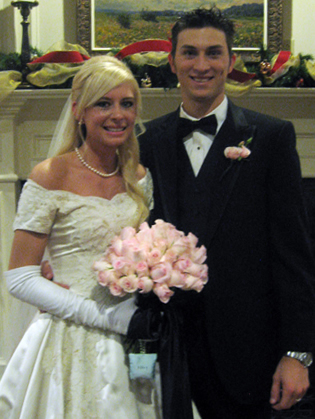 Sierra Briggs and Brett Jacobson, both CSHS '05, were married in Franklin, TN, Saturday evening, Nov. 29, 2008. Sierra's parents are former Creekers Danny and Kim Briggs. Brett is the son of Carefree residents Mike and Barbara Jacobson. The Desert Foothills were well represented in the wedding party: Bailey Briggs, a freshman at Ole Miss, Oxford, MS, was Sierra's Maid-of-Honor. Their twin sisters, Alix and Emma, high school juniors in Franklin, were bridesmaids, as was Brett's younger sister, Maggie, CSHS '07, a sophomore at Oberlin University, Oberlin, OH. Gus Jacobson, CSHS '03, was Best Man. Groomsmen included Dallas Briggs, 13, and Costas Sofianos, CSHS '05. Country Music star Vince Gill, who golfs with Danny Briggs, accompanied himself on guitar and movingly sang, "Standing on the Rock of Your Love," a ballad he co-wrote with Leslie Satcher, the Briggs' neighbor, who tenderly performed two wedding-appropriate songs. All in all, a beautiful wedding for a wonderful couple! After honeymooning in Hawaii, Brett and Sierra will reside in Nashville. Congratulations to the Bride and Groom – and their families.