Horse activities in the beautiful Rio Verde Foothills
By Joanne Holmberg | November 19, 2008
Two ranches: One for beginning or experienced riders and one to
experience the cowboy way from the ground.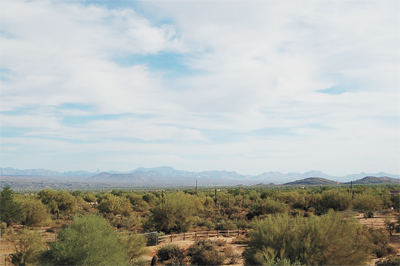 RIO VERDE – Just a few miles "over the hill" east on Dynamite, the Rio Verde foothills offer spectacular views of Four Peaks and the surrounding hills as well as a lush desert landscape. A key part of life in the foothills revolves around horses and there are many opportunities to ride or just learn about horses. Two ranches focus on different levels of horsemanship: For beginners or more experienced riders, LaCaballeriza offers holiday camps and year round lessons. For those novices who want to experience and learn about the language of horses, Broken Road Ranch offers customized group sessions.

LaCaballeriza is a training and boarding facility with over 50 horses located on 144th St. on the north side of Dynamite. Michelle Salazar is an ARIA certified instructor with over 30 years experience in training horses and teaching English and Western riding. Over the Thanksgiving Holiday, Salazar is offering a two-day riding camp on Friday and Saturday, Nov. 28 and 29 from 8 a.m. to 12 p.m. each day. For those who want to learn to ride and riders who want to improve their skills, the camps include horsemanship, riding lessons and skill building.

Salazar has built up her team of excellent school horses and offers instruction in a variety of disciplines. Attendees can choose from Western in both the arena and on the trail, Vaulting which is gymnastics on horseback to build confidence and balance, and Dressage and Jumping for more advanced riders. In describing the camp sessions, Salazar says, "We teach skills in the different disciplines and then have the riders practice by riding patterns and playing games on horseback."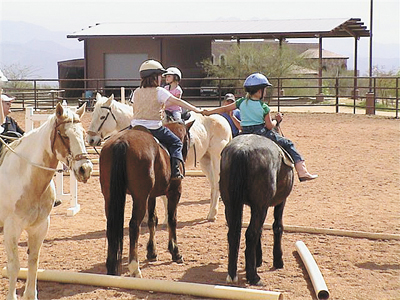 Future camps include semester and spring break and mini camps are available during the year. Salazar also teaches group and private lessons. For more information call 480-471-7866.

Courtesy Photos
The views are endless in the Rio Verde foothills.

Playing games on horseback at LaCaballeriza Horse Camp.

Equi•Spirit Cowboy Camp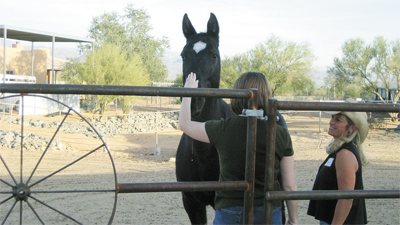 At her Equi•SpiritCowboy Camp, Dyane Golding, a lifelong horsewoman, creates a unique interactive, hands-on experience for families, groups of friends and corporate co-workers who have little to no exposure to horses. Broken Roads Ranch is also located on the north side of Dynamite but further 'down the hill' near 168th St. With breathtaking views in every direction, Golding's goal is to "engage people in an authentic western experience while enjoying incredible horses and learning the basics of cowboy horsemanship."

Golding emphasizes "the Equi•Spirit Cowboy Camp is a customized activity based on the experience of the group. We want people to relax and have fun yet come away with a better understanding of the horse and their 'language'. Our goal is to have guests learn about approaching and communicating with horses." The sessions include horse safety and handling and, depending on what the group wants to do, can lead into grooming, bridling and saddling. Normally lasting two hours, the camp includes refreshments but can be extended for holiday gatherings or celebrations with a catered meal.

Golding is a Certified Life Coach and Equine Guided Educator who also conducts individual sessions. "The Equi•Spirit Experience is an opportunity to interact and communicate with horses to promote self exploration, learning and reflection. We work with individuals (adult and youth), couples and parent/child duos and customize each session to best serve your needs."

For more information on the Cowboy Camp or individual sessions, visit the web site, www.equispiritexperience.com or call Dyane Golding at 480-551-8244.

Courtesy Photo
Dyane Golding (r.) introducing one of her horses to a guest at the Equi•Spirit Cowboy Camp.