My View
By Don Sorchych | November 19, 2008
Blaine Keith, Marine

What a welcome sight! Shari Jo and I were having breakfast at Harold's on Saturday, Nov. 15 when in walked Blaine Keith, a medical miracle. Blaine and Skip Swearington had been at Bible study and stopped to have breakfast. Blaine was using a walker to steady himself but looked fit as I have ever seen him.

Blaine is 83 and a Marine who served in WWII alongside legendary Joe Foss. Blaine was only 17 then and had learned to fly at age 12. Although he is more than willing to talk about his subsequent experiences as a test pilot, a trouble shooter for NASA's moon mission and president of an aerospace company, he will not discuss his wartime experiences.

His most recent bout with Mayo physicians was one of an almost endless list, and the most serious.

This time he was told his chance of survival was substantially less than 20 percent. He had an obstructed gall bladder and because of other health conditions, the outlook was dismal.
First the Mayo team considered a two-step procedure, first using laparoscopic techniques, and then, the scalpel. Because Blaine had incurred a blood infection, which weakened his immune system, he was placed in an isolation room.

The surgeons, with Blaine's cardiologist standing by, opened a three-inch incision and two surgeons using forceps could not remove it.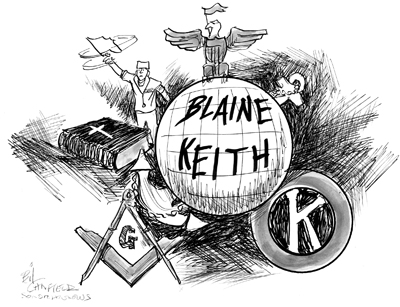 They lengthened the incision and successfully removed the gall bladder, which was chock-full of stones. When Blaine awakened he was told the stench was overwhelming because the gall bladder was rotten. One surgeon jokingly said, the paint was peeling off the walls and Blaine had made him a believer since he couldn't imagine how he could have survived with the rotten organ in his body.

Over three years ago, one of the surgeons who operated on his gall bladder discussed doing a colon resection, which required removing one-half of his colon and rerouting what was left. The surgeon was reluctant because of Blaine's general health and he felt there was only a 20 percent chance of survival. Blaine told him that in his life those were pretty good odds and asked him to schedule the surgery.

The surgeon wasn't convinced. Blaine called him a chicken and ordered him out his room. A couple of hours later, the same surgeon returned waving a white handkerchief and said, "We are going to do it."

A lot of preparation and more testing ensued and after the operation the surgeon came to visit and see how he was doing. He told Blaine, "Now you can't call me a chicken ever again."

Shari Jo and I walked into Blaine's room the afternoon of the operation and found him standing up, with his bare butt sticking out of his hospital gown, programming his C-Pap unit (a breathing device), which his wife, Martha, at his insistence, brought from home. Despite protests from a nurse he completed the task.

Blaine had so many visitors he had a relapse and his doctors asked him if he wanted to be alive or a socialite. He agreed to restrictions and recovered quickly.

Blaine is often teased because Martha's twin sister, Grace, lives with them. Kiwanis made them honorary members, so they volunteer at Flea Market, the Pancake Breakfast and other events. Smart move on part of Kiwanis, since with Blaine as a member, they get a threefer. They are always there when needed.

Blaine relates that he came here in 1992 to build a house for Grace and Martha and die. He designed their house, had Gale Totten, owner of T's Construction, build it on Dogleg Drive in Carefree. Totten later said Blaine's design yielded a home built like a space ship, similar to those he designed for NASA.

Blaine plunged into Kiwanis affairs. He feels his extensive involvement with Kiwanis kept him alive.

He, for years, was seen at the Flea Market, even while ill and braving Arizona heat. He also was at every Pancake Breakfast on duty along with Grace and Martha.

To say he is adored by Kiwanians, friends and family is a huge understatement.

Blaine was also active in Carefree politics. His independent voice was often heard at Carefree council meetings. Councils over the years treated him with great, and deserved, respect.

As busy as he is, well or ailing, Blaine is also active in the Masons. Countless Masons have benefited from Blaine's coaching and support. When Skip Swearington brought him to Harold's last Saturday, they had just come from Bible study at their church. Tough as he is he knows his strength comes from God.

I first met Blaine at a forum for Carefree Council elections, which Sonoran News sponsored. It was an active forum with many voters expressing their views. Several times Blaine got up and said, "You wouldn't be asking that question if you read Sonoran News; it was covered there in detail." After about the third time I stood up and said, "Ladies and Gentlemen meet my dad, Blaine Keith."

Since that time I am Blaine's son, even though only six years separate us.

Once at Kiwanis, Dr. Victor Trastek, the head of Mayo locally, spoke. Blaine stood up and asked if Mayo could do something for Kiwanis member Susan Clancy, who was desperately in need of a liver and kidney transplant.

Susan was near death at that time and Dr. Trastek put together a team that same day. Susan today is healthy and active.

Mayo took her under their wing and she had a successful transplant. Trastek became friends with Blaine, and despite his busy schedule, is always there when Blaine's emergencies arise.

Blaine's amazing endurance in all the medical crises speaks to his being one damned tough Marine. It also speaks to the power of prayer. Shari Jo and I always remember Blaine in our prayers and we are not alone. Kiwanians, friends and family, I am sure do the same.