Planning department takes on variety of topics
By Linda Bentley | November 12, 2008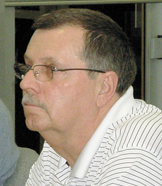 Use of subjective review criteria problematic and may subject town to adverse legal action
CAVE CREEK – Last Thursday's planning commission meeting began with a presentation by Senior Planner Larry Sahr in response to questions planning department staff has received from council members, commissioners and members of the public on a broad array of subjects.

MORE ...

Bigger than Spur Cross
By Linda Bentley | November 12, 2008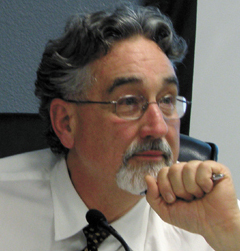 'This will put us on the map as one of the nicest little towns in America'
CAVE CREEK – During Thursday's Planning Commission meeting, Planning Director Ian Cordwell gave a brief overview of how the annexation and creative rezoning of state trust lands will provide the town with thousands of acres of open space for conservation and recreation.

When they began discussions about five years ago, Cordwell said the state initially looked at land uses more in line with the type of uses normally found in Phoenix and initially called for two resort sites.

MORE ...

Carefree council approves move to four-year terms
By Curtis Riggs | November 12, 2008
Voters decide March 10
CAREFREE – Voters will have the option of approving four-year, staggered terms for Town Council members during the March 10 municipal primary election.

The proposal to double the length of Town Council terms was approved 6 –1, with Councilman Bob Coady dissenting, at the Nov. 5 council meeting.

MORE ...

Chief justice takes steps to heed Hispanic Bar's demands

By Linda Bentley | November 12, 2008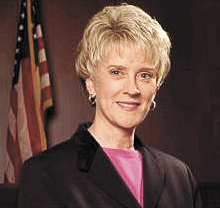 Courts urged to avoid 'hurtful' terms 'illegals' and 'aliens'
PHOENIX – Last week, Judicial Watch posted a short item on its Corruption Chronicles Blog titled, "Judge bans use of 'illegals' and 'aliens.'"

On Sept. 12, Los Abogados (The Lawyers) Hispanic Bar Association President Lizzette Alameda Zubey wrote a letter to Arizona Supreme Court Chief Justice Ruth V. McGregor requesting her "assistance in disseminating some important information to Arizona's judges and their staff."

MORE ...

'Unjustifiable and Impeachable'
By Linda Bentley | November 12, 2008
"... the ugly truth of federal law enforcement corruption ..."
COVINA, Calif. – On Nov. 11, Veteran's Day, Andy Ramirez, chairman and founder of Friends of the Border Patrol (FOBP), released a report titled: "Unjustifiable and Impeachable – FOBP Report on the Courts, Department of Justice & Department of Homeland Security."

MORE ...