Rare wildlife found at Jewel of the Creek, Spur Cross Ranch
By Curtis Riggs | November 12, 2008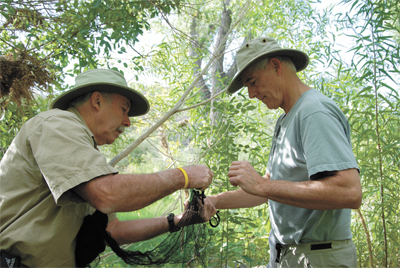 CAVE CREEK – Preservation and wildlife officials are excited about the recent sightings of animals rarely seen in the area at two preserved areas north of town.

Former Desert Foothills Land Trust Executive Director Mike Rigney found an American Red Start bird at D.F.L.T's preserved Jewel of the Creek in mid-October.

MORE ...

Slower Wild West Days blamed on bad economy
By Curtis Riggs | November 12, 2008
CAVE CREEK – The stagnant economy and high gas prices are being blamed for smaller crowds and less commerce during this year's Wild West Days.

'If it would have taken place last weekend or next weekend it would have helped because gas prices have dropped," said Cave Creek Merchant's Chamber of Commerce President Marc Peagler.

Buffalo Chip owner Larry Wendt said, "It was definitely slower this year than on past Wild West Days."

He estimates on Saturday, November 1 this year business was off 30 percent from a normal Wild West Days Saturday. He said business on Sunday was down 60 to 70 percent.

"Bull riding was good on Saturday with 450 people," he said. "But the crowd was not as good as a normal Friday night."

Harold's co-owner Danny Piacquadio said business was off 10 to 15 percent at Harold's on the Saturday of Wild West Days.

While the crowds at local bars and businesses were down the crowds for the Wild West shows at T.C. Thorstenson's riding arena were reportedly good.

Peagler said planning for next year's Wild West Days will begin in July so word about Wild West Days activities can get out sooner.

"We will have extensive planning next year rather than doing it on the fly," he said.

Anyone wanting to serve on next year's Wild West Days committee should call Peagler at 480-488-3317.