Last Friday … Football Falcons 'spooked'!
By Pete Mohr | November 5, 2008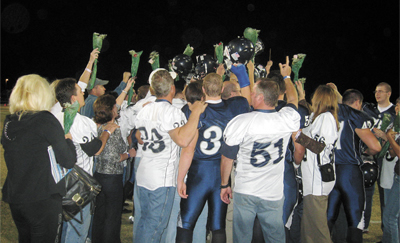 CSHS – Until 10:09 of the 4th quarter, "Senior Night" had been a Halloween "treat" for (in alphabetical order) Marching Band, Cheer, Dance and Football seniors – and their proud parents but then, facing a fourth-and six at the CSHS 29, A.J.'s elusive quarterback, Mike Davalos, scored (with the help of miserable Falcon tackling) the go-ahead touchdown.

Prospectors, 33 - Falcons, 28. G-r-o-a-n! Junior linebacker Zach Sexton single-handedly snuffed the two-point conversion try, leaving the Falcs needing six to win. Here comes, in microcosm, the season's nemesis, unpredictably inconsistent offense.

Falcons start first-and-ten from their own 39, 1:47 on the clock. They strike quickly for a 1st down at the Prospector 35. Time out, 'Birds: 1:05 to play. Plenty of time for a thrilling finish, right? Four plays later, including two demoralizing sacks of QB Danny Classen by Rusty Fernando, A.J. takes over at the CSHS 41.One kneel-down, and the game is disbelievingly "history" – and so, for all realistic possibilities, were the Falcon State Playoffs hopes. Now ranking #19 in A.I.A. Power Points, and headed to Scottsdale's Football Factory No. 2, a/k/a #2 ranked Chaparral, for the regular season's finale, the 'Birds, to employ medical terminology, are in extremis (translate, "close to dead").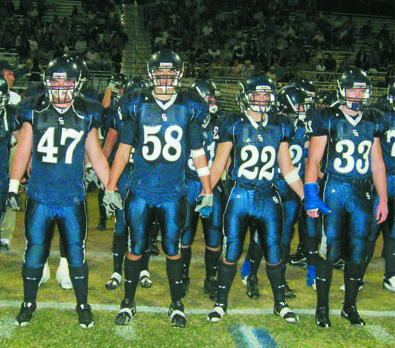 Four Seniors went to midfield for their last home game coin toss (l-r) Kenny Prodan, Tommy Nevin, Anthony Stephens and Bo Campbell. From this writer's perspective, these four warriors are "Falcon Pride" personified. Sorry, guys, for you and your team classmates, that "Senior Night" came to such a bitterly-disappointing end.

Counting on you, Falcons, to play for pride at Chaparral. End this frustrating season with your heads held high! Remember, next year always comes.

Top photo: Pre-game celebration of Seniors and parents
Lower photo: Four Seniors went to midfield for their last home game coin toss (l-r) Kenny Prodan, Tommy Nevin, Anthony Stephens and Bo Campbell.
Photos by Pete Mohr
This Friday, at Chaparral …
Nickname: Firebirds
Colors: Scarlet & Old Gold
Head Coach: Charlie Ragle
How to get there: Route of choice to AZ 51 South; exit at Shea Boulevard; east on Shea to 70th Street; right on 70th to Gold Dust; parking areas are off 70th Street (on your right) or, after turning right onto Gold Dust, on your left.
Last season: At CSHS, "Senior Night", Chaparral embarrassed the badly-wounded 'Birds, 49-13. Freshman QB Brian Gallagher tossed two "honor" TD passes to Sophomore Danny Trittler, the second on the game's final play.
This season: Firebirds (8-1), on their home (artificial) turf, are tuning up for the Playoffs, hoping for a second shot at the #1-ranked Saguaro Sabercats who skunked 'em, 21-0, October 17. In their Sept. 5 first home game, the Chappies needed a TD in the last 30 seconds to get by Cienega, 23-20, so they are mortal. Look for no mercy, as these Scottsdale 'Birds will be playing their last regular season game in 4A-Division I. The School of the Immaculate Enrollment finally moves up to 5A-Division II, commencing with the 2009 season. Hopefully, the CSHS-Chaparral rivalry, a challenging one, will continue in other sports such as Volleyball and Baseball.
What Falcons must do to win: Pray – hard!
"Crow" (reluctantly) predicts: Firebirds, 42 - Falcons, 10.
97 Desert Elite Girls Soccer hold Ladies Night Fundraiser on Nov. 12
November 5, 2008

CAVE CREEK – The 97 Desert Elite girls soccer team will be holding a Ladies Night Fundraiser on Wednesday, Nov. 12 at Vino 100. The event will run from 6 to 8 p.m. Join us for a fun night of wine tasting, food and shopping. Vino 100 will have great wines for sampling and purchasing.

Vino 100 is located in the Tuscany Village Center, 30835 N. Cave Creek Rd. Donation is $15 in advance and $20 at the door. The funds raised from this event will assist with team travel expenses to upcoming out of state tournaments. To purchase tickets or for additional information contact Linda at 480-474-4460.
Local senior in Brophy's annual Fashion Show fundraiser


November 5, 2008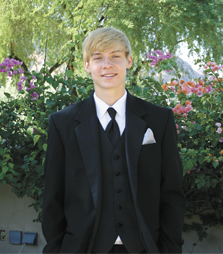 PHOENIX – Casey Rice, a Brophy senior from Cave Creek represented his class in Brophy's annual Fashion Show produced in conjunction with Neiman Marcus, Akris and hosted at the Camelback Inn. Every fall for over 20 years, Brophy College Preparatory's Mothers' Guild has planned the fashion show featuring popular designers providing an afternoon of fun while at the same time raising money for financial aid.

Brophy's President, Father Eddie Reese, S.J. offers, "This show is a tradition that the entire community looks forward to as it brings us all together one time a year. Current parents, former parents, grandmothers, sisters and aunties look forward to having lunch and visiting with each other from the Brophy community.

The Brophy Mothers' Guild and our Dads' Club are the volunteer life blood of our community and the proceeds of this show have always supported Brophy's financial aid fund with proceeds going to students who qualify for financial aid based solely on need. In the past the Mothers' Guild has raised about $250,000 in one afternoon and with our financial aid budget this year of $2,250,000, that money is put to great use by hundreds of students every year.

"Brophy students come from all parts of the Valley, as far north as Anthem, south to Ahwatukee, west Verrado and Fountain Hills to the east so our attendance for the show is equally as far reaching. Even with the distances of our student body, the Brophy community is a close knit one and this show always gives us a great excuse to get together and enjoy one another."