Tonopah Rob's Veggie Farm Stand now a Mini-Farmers Market


By Charles Anthony | October 29, 2008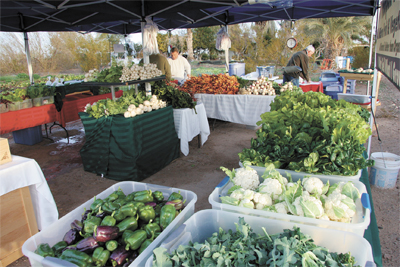 Some Cave Creek/Carefree residents may remember a time when Tonopah Rob had a stand in the weekly Farmers Market in Cave Creek. It was a popular stand and when Rob had to vacate his spot in the Market and return to Tonopah to sell his All Natural/Better than Organic Produce, he was sorely missed by many who had become accustomed to his fine fruits, vegetables and farm fresh eggs.

Rob has not been forgotten by his friends in Carefree and Cave Creek. In fact some of them make the 80 mile trip out to his Farm Stand in Tonopah to stock up on the green groceries they need. Rob has a variety of 'Packages' for folks who want to make the trek out to the farm for a specially made box, filled with the freshest, ripest, fruits and vegetables the Farm has to offer that week.

If you are one of the stalwart fans of Tonopah Rob's Farm Fresh Veggies you'll be glad to hear that Rob's Tonopah Farm stand has been improved and expanded into a Mini-Farmers Market.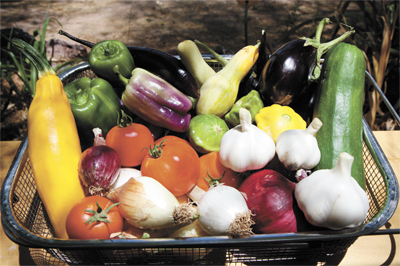 Starting Nov. 1, shoppers will find a variety of other vendors besides Rob in his mini-farmers market and farm stand.

Arizona Buffalo Company will be offering Arizona raised Bison meat including steaks, ground meat and jerky.

There will be Barn Goddess Goat Cheese products made by Tonopah locals Celia and Pam who have been perfecting their goat milk cheese with scrumptious mixes and flavorful ingredients including imported French herbs, cranberries, pecans, sun dried tomatoes, kalamata olives and more.

Mountaintop Honey Company from Flagstaff offers all natural raw unheated honey in local flavors such as mesquite, orange blossom, Arizona wildflower and cat's claw.

Other vendors include; Mister Mushroom with local, ground fresh shitake mushrooms; Terra Verde Farms with marinades, sauces, marmalades, preserves, salsas, and more; Rowie's Bakery with gluten free baked goods. Sproutin Wood Nursery plans to bring local, native potted trees, flowering shrubs and various other landscape plants for your home garden.

Rob expects seasonal vendors to show up when their time is right so stay tuned to the website at www.tonopahrob.com. You can also get the directions to Rob's farmers market there, or by calling 623-386-3033.

On opening day Nov. 1 from 8 a.m. to 2 p.m. you can expect all this along with refreshments, farm tours and lots of visitors; could very well be worth making a 'Day Trip' visit out to Tonopah.