Empty Bowls helps stock food bank
By Curtis Riggs | October 29, 2008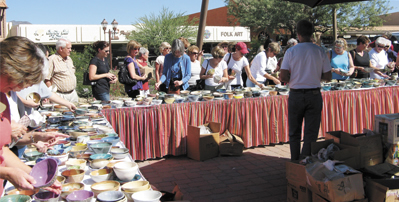 The Foothills Food Bank received a $17,761 donation from the Sonoran Arts League, monies raised at the League's annual Empty Bowls fundraiser held on Friday, Oct. 23.

Photo by Curtis Riggs

Victorian home again on market
By Curtis Riggs | October 29, 2008
Foster, O'Toole home at entry to Spur Cross one of a kind
CAVE CREEK – One of the most unique and remarkable homes in the community is once again on the market.

MORE ...

Consignment shops offer quality at fair prices
October 29, 2008
CAVE CREEK – With the economy in a slump and gasoline at a premium, consumers are shopping at consignment and thrift stores to save money without sacrificing quality. Lately, this has been a hot topic on national news and morning talk shows – and it's a hot topic in Arizona, too.

Local residents are fortunate that two of the finest consignment shops in the Valley are located in Cave Creek. Shoppers can conserve gas and find incredible bargains on quality merchandise at the same time.

Carefree Consignment Boutique and the Collectible Corral are both located in the Village Center, just east of the Dairy Queen at 6554 E. Cave Creek Rd. The first specializes in designer and quality apparel for women and teenage girls, while the second carries collectibles of all kinds and select antiques.

"What makes our store special is its location," says Gail Dudley, owner of Carefree Consignment Boutique. "Our consigners bring us top quality clothing and accessories that we can offer at reasonable prices. In addition to our regular lines of clothing and accessories, we are fortunate to be able to offer designer purses, jeans, tops, dresses and pants."
Purse labels include Louis Vuitton, Coach, Chanel, Fendi, Dooney & Bourke, and Brighton. "We also have just created a special section for young women with labels including Hollister, Juicy Couture, American Eagle, Ed Harvey and Abercrombie."

Dudley says the store is gearing up for Wild West Days by expanding its cowgirl section. "We have boots by Lucchese, Justin and Dan Post to name only a few – and a great selection of Western wear, turquoise jewelry and belts."

According to Collectible Corral owner Gary Cicci, the store offers shoppers an assortment of items including sports memorabilia, estate jewelry, dolls, purses, teapots, cookie jars, fine china, decorator items, paintings, works by local artisans and a variety of collectibles.
"We never know what's going to come in the door next," Cicci says, "and that's part of the fun of it for us and for our customers."

"Our mission is to provide quality merchandise at fair prices in an enjoyable, friendly shopping environment," he says. "Our customers always comment on the great buys we have here."

Both stores are ideal for holiday shopping on a budget, as all items are priced reasonably. Whether it's a limited edition Mickey Mouse collectible or Juicy Couture sunglasses, you'll find unique ideas at both stores for everyone on your list.

The stores are open Monday through Friday from 10 a.m. to 6 p.m., Saturday from 10 a.m. to 5 p.m. and Sunday from 11 a.m. to 5 p.m. For more information, call Carefree Consignment Boutique at (480) 595-8185 or the Collectible Corral at (480) 488-9696.
Stop by and check them out – and happy bargain-hunting.