Chaparral Veterinary Medical Center grand opening
By Joanne Holmberg | October 15, 2008
Over 1000 horse and pet owners attend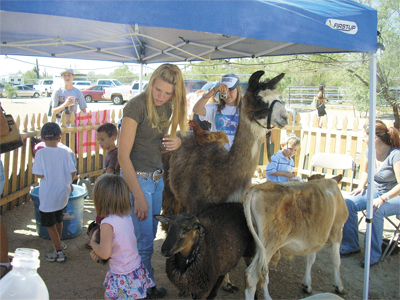 CAVE CREEK – Some families had to make a second attempt to get in the parking lot on Saturday, September 20 at Chaparral Veterinary Medical Center for the Grand Opening celebration of the new state-of-the-art facility at 32100 North Cave Creek Road. But a great time was had by all while enjoying refreshments, pony rides, a petting zoo and the booth where each of the veterinarians took their turn getting "dunked" by clients.
More...
Wag More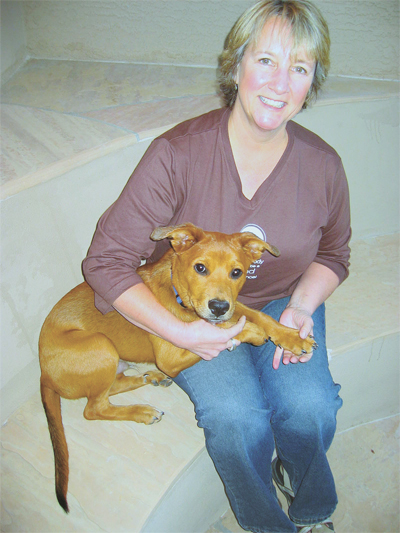 Peace of mind when you're away: Wag More Pet Sitting specializes in developing a program that keeps your pets in the same routine for feeding, walking, brushing, etc. in their own environment at home as they have everyday with you. Run by Eileen Bennier of Cave Creek since the beginning of this year, Wag More customizes their pet sitting service to the needs of your animals. Eileen, shown here with one of her clients Jack, initially meets with all new clients and their owners for a no obligation review of their routine and discussion of services.
Call Eileen today for more information,
480-488-4322.




Desert Palms Equestrian Center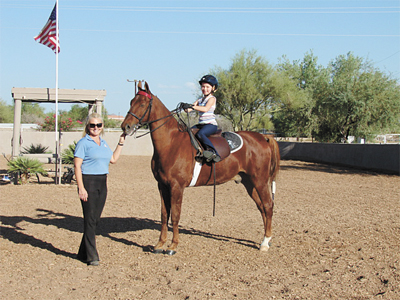 Lauren Lockett is riding a Desert Palms Equestrian Center school horse, Tobias, and preparing with her trainer and owner of Desert Palms, Michele McVey, for the upcoming Arizona Futurity. The seven year old has been a student of Michele's for two years and has worked very hard and is excited to be going to her first show on Oct. 24, 25 & 26 at WestWorld. Lauren is competing with other children her age in the "Academy Division" where all students are riding school horses. Desert Palms is located on 44th St., north of Dynamite, and Michele can be reached at 480-473-1905 or for more info visit www.desertpalms.net