Seriesse International products sell themselves
By Curtis Riggs | October 15, 2008
Great network marketing opportunity
CAVE CREEK – Network marketing has been a snap for 10-year resident Cheryl Howie because the Seriesse International health, wellness and skincare products she is involved with have a tendency to sell themselves.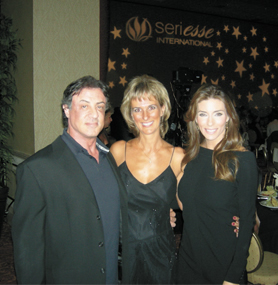 Rocky/Rambo actor Sylvester Stallone and his wife Jennifer Flavin-Stallone are co-founders of Seriesse International. Flavin-Stallone invented the product line when she was a 20-year-old model and her skin condition threatened her career. Her products were so effective she decided to start selling them to the public. She had such a loyal customer base she started Seriesse International in October 2007.

Cheryl uses the entire product line and calls the products "incredible." She had a skin condition no other product line was able to resolve.

"Anybody can sell these products. They sell themselves," she said. "I just have to get the products into people's hands."

As owners, the Stallone name gives Seriesse International great credibility and the effectiveness of the products makes the company a great opportunity for anyone.

"Everything the Stallone's do is first class," she said. The company offers fantastic customer service and a 45-day money back guarantee on all products.

Cheryl regards the Seriesse International experience as only half over when the products are sold. She has extensive experience in marketing and financial services and welcomes others to the Seriesse International team.

"When the economy is down it is the best time for network marketing," she said. "If someone is serious about making money I can show them how."

To contact Cheryl Howie call 480-200-1010.
Photo: Sylvester Stallone, Cheryl Howie & Jennifer Flavin-Stallone; "The Stallone name gives Seriesse International great credibility."