Wild At Heart breeding program off to good start
By Curtis Riggs | October 8, 2008
Four pygmy owls hatched in first months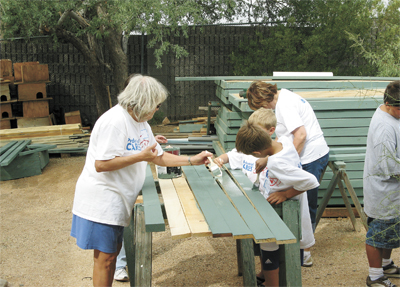 CAVE CREEK – The Wild At Heart raptor rehabilitation center has entered into an important partnership with Arizona Game & Fish. This spring they started a captive breeding program for Cactus Ferruginous Pygmy Owls in an attempt to help recover the species.

The pilot research program has already produced four offspring from five pairs of the pygmy owls, which were brought in from southern Arizona.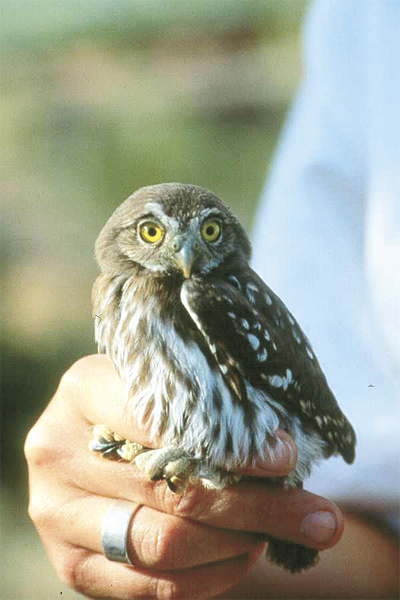 The work of Bob and Sam Fox at Wild At Heart is critical in the attempts to allow the owl population to flourish again after the species was removed from the Endangered Species List in 2006.

Bob Fox called having four chicks hatch so early in the program an "exciting sign." The chicks were hatched in early April.

He said others involved in bird rescue programs throughout the country are encouraged by the Wild At Heart results.

Around 40 Scottsdale Prudential employees, with their friends and family, contributed to the success of the breeding program by building two aviaries to house the new pygmy owls and their babies. Scottsdale Prudential's effort came on the 14th annual Global Volunteer Day.

This meant a great deal to Kathy Yucevicius of Scottsdale Prudential because she is a frequent Wild At Heart volunteer. She donates her time on Saturday nights to feed the Wild At Heart owls.

Prudential also gave a $1,000 grant to Wild At Heart, according to Yucevicius.

The new aviaries built over the weekend bring the number of enclosures at Wild At Heart to 40. The rehab center now houses around 130 birds. There were 250 there at the beginning of the summer.

"We hope next season we will be able to double the number of chicks hatched or more," Fox said about the pilot program while adding the ultimate goal is to release the birds back into the wild.

Fox admits participating in the captive breeding program is different from Wild At Heart's normal role. Typically the raptor rehabilitation center nurses injured owls and hawks back to health.

"But we are here to make a difference in the population. The captive breeding program is a great benefit to the return of the species," Fox said.

He emphasizes Wild At Heart could not accomplish what it does without the efforts of dedicated volunteers and the support of companies pitching on volunteer days.

"It's amazing the amount of work they can get done in a short time," he said.
Photo by Curtis Riggs
Scottsdale Prudential employees pitch in to build two new aviaries at Wild At Heart last Saturday to house the new Cactus Ferruginous Pygmy Owls.

Courtesy Photo/USFWS - Mike Wrigley
Cactus Ferruginous Pygmy Owl